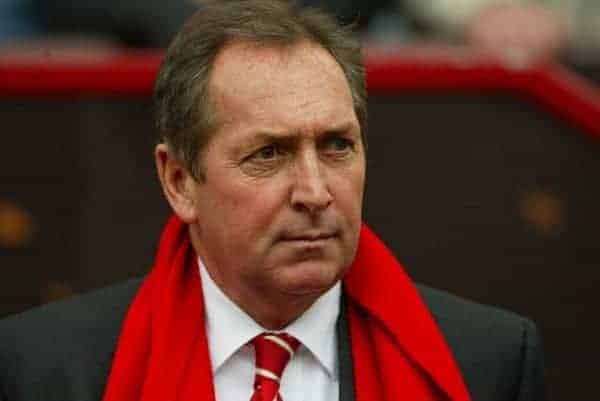 In September 1969 a twenty-two year old Frenchman was standing on the Kop watching Liverpool thrash Irish side Dundalk 10-0. This was the start of a lifelong admiration and support for the club from a young trainee teacher named Gerard Houllier. Whilst studying at Lille University in France he elected to spend one year in Liverpool at Alsop Comprehensive in 1969/70. It was during this time that a great love for everything Liverpool red was ingrained in him. So when he returned to Anfield as manager twenty eight years later it was the culmination of a dream.
Gerard was a handy player in his youth in France and he played part-time, combining this with his career as a school headmaster. In 1973 when he was just twenty six, he became the player manager at Le Touquet Athletic Club and commenced his full time career in football. After three years Gerard moved on to become manager of Noex Les-Mines, a small provincial club in the Calais region of France. He had great success there and led the club through two consecutive promotions up to Ligue Two. This gained him a great reputation and in 1982 he moved to a bigger club RC Lens. In three seasons he led the side to promotion to the top division and then into a qualification for the UEFA Cup. This led Gerard into even bigger things and in 1985 he became the manager of one France's biggest clubs Paris Saint-Germain. He led them to the Ligue One title in 1985/86 and his reputation as one of French football's best managers was confirmed.
In 1988, Michel Platini who was managing the French national side, invited Gerard to become a technical director and his assistant. In 1992 he graduated to become the boss of the national side during the qualifying campaign for the 1994 World Cup. He lasted just over a year in the role and resigned after France failed to qualify for USA 94. Gerard's reign ended in controversy when he publicly blamed David Ginola for a mistake he made in the crucial final qualifying game against Bulgaria. France needed only a draw at home to qualify, but with the game locked at 1-1, Ginola over-hit a pass which was intercepted and led to the winning goal for Bulgaria. Ginola was subsequently branded as an 'assassin of French Football' and he later threatened to take legal action against Gerard for as good as ending his international career and his subsequent barracking by French football fans. Gerard remained as technical director for the national side and was credited as a key person behind the scenes as France won the World Cup at home in 1998.
After the 1998 World Cup in France, Gerard was invited by the Liverpool board to form a joint managerial partnership with Roy Evans. Roy now says that at the time when he was asked about it, he'd just returned from a holiday and wasn't thinking straight. He says that if he had been thinking straight, he would never have agreed. The joint manager role didn't go well and it seemed like Roy's nose was being pushed out. Whenever the team did badly Roy would be blamed and when we won Gerard would get the credit. The image being portrayed in the media at the time was that Roy's ideas and boot room methods were outdated while Gerard was bringing fresh new ideas from the continent. One of the big problems with the joint managers was that the players never knew who the actual boss was. Gerard is well known for avoiding confrontation so Roy (as was Phil Thompson later on) was often made to look the bad guy delivering bad news to players on his own. Both managers would agree to give players being dropped the bad news together, but apparently when the time came Gerard was often nowhere to be found.
Things came to a head after an away game at Valencia in the UEFA Cup. Steve McManaman, Paul Ince and Valencia's Carboni were all sent off after a brawl on the touchline. Roy was furious with his players and the officials and was steaming mad at full time after we'd managed to scrape through on away goals. Roy later revealed that Gerard refused to close ranks in the dressing room and instead seemed more interested in handing out shirts to the officials. On the flight home Roy decided that the partnership would never work and one of them had to go. Gerard wasn't going anywhere so Roy made the ultimate sacrifice for the club he loves so much and resigned a week later in November 1998 after a 3-1 defeat at home to Spurs.
Houllier's LFC Reign
1998 – 2004
Honours:
League Cup 2001, 2003
FA Cup 2001
UEFA Cup 2001
European Super Cup 2001
Charity Shield 2001
Gerard was now free to stamp his own authority on the club and he brought in Liverpool legend Phil Thompson as his assistant. This was a very sensible decision as not only is Thommo very well respected he is also an intelligent man with a great knowledge of the game. He was also a great person to have as a buffer between Gerard and the players. With all the problems during the 1998/99 season, Liverpool finished in a lowly seventh place and didn't qualify for Europe the following season.
In the summer of 1999 Gerard began what he described as a five year program to rebuild the team. Paul Ince was sold as he was considered a disruptive influence and Gerard wanted to establish a stronger discipline within the squad. Also sold were, Jason McAteer, Rob Jones, David James and Steve Harkness. Steve McManaman joined Real Madrid on a free transfer that had been agreed months earlier. Joining Liverpool that summer were, Vladmir Smicer, Sander Westerweld, Titi Camara and Djimi Traore. They were followed by possibly Gerard's three finest signings, Sami Hyypia, Stephane Henchoz and Dietmar Hamman. The signing of Hyypia in particular (for just 2.5 million pounds) was a moment of genius as he went on to become one of the clubs greatest ever defenders.
Also that summer Gerard started the huge overhaul of the training facility Melwood to help bring the club into the future. He also continued with his plans to change the dietary habits of the players and curb any indiscipline. After the 1998 Christmas party got out of hand and embarrassing photos appeared in the tabloids of players frolicking with strippers, Gerard began to make inspirational speeches to the players about how to look after themselves properly and behave away from the pitch. He instigated a ban on alcohol, which had been a staple diet of many Liverpool legends of the past, and encouraged the younger players to settle down and become family men. It cannot be underestimated just how much Gerard did to drag the club into the modern age of football at that time.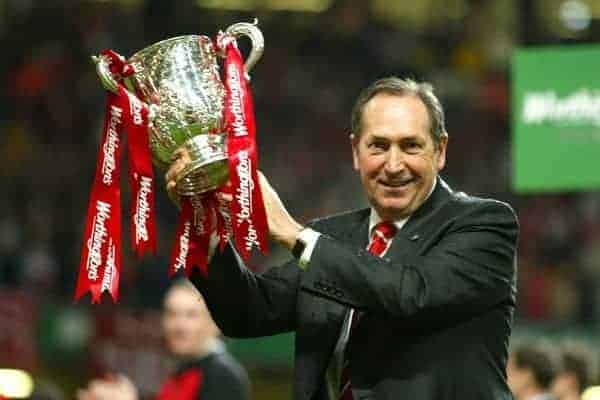 1999/2000 was a big improvement on the previous season and thanks to Hyypia and Henchoz the defence conceded nineteen less goals than in 1998/99. At one stage it looked like we were going to make the Champions League spots as we went on a run of one defeat in eighteen games. Unfortunately there were no wins or goals in the final five games and the team had to contend with a UEFA Cup place instead. The final game of the season was quite dramatic as Liverpool could still have qualified for the Champions league with a victory away to Bradford City. However the Yorkshiremen were playing for Premiership survival and sunk Liverpool to defeat.
In the summer of 2000 there was another overhaul of the playing staff as Gerard sought to continue the good work and improvements of the previous season. Emile Heskey had been bought in March for a club record of 11 million pounds. Joining him that summer were Igor Biscan, Markus Babbel, Cristian Ziege and Nick Barmby who caused controversy by crossing Stanley Park to join from Everton. In my opinion though the most inspired signing of that summer was Gary McAllister on a free transfer. McAllister famously inspired the team to the amazing treble with his important goals and sublime performances in the middle of the park. Departing the club that summer were, David Thompson, Phil Babb, Brad Friedel, Dominic Matteo and Stig Inge Bjornebye.
There isn't a great deal I can say about the amazing 2000/01 season that hasn't been said a thousand times already. Istanbul in 2005 has tended to overshadow the achievements of 2000/01 but they really cannot be underestimated. Apart from the three trophies we won that season there were also a number of memorable games in the final months. The greatest (apart from the finals) was possibly the derby with the last minute goal by McAllister at Goodison Park that inspired us to go on and clinch third place and a Champions League spot. Who can forget the excited look on Gerard Houllier's face at the end of the game? There was also the UEFA Cup semi final victory over Barcelona at Anfield and the win at Roma earlier in the competition. Michael Owen was inspired that season and he was later awarded the European Player of the Year. Emile Heskey also had the most productive season of his career by scoring twenty three goals. The season is most remembered for us winning the fantastic treble of League Cup, FA Cup and UEFA Cup as well as clinching that third league place to enter the Champions league for the first time. At the end of the season, Gerard was robbed of the manager of the year award, when it was given to George Burley for guiding Ipswich to fourth in the league.
Unlike the previous two summers there were no major changes to the side in the 2001 pre-season, though in another inspired signing, Jari Litmanen had joined the previous January. Sander Westerweld was ruthlessly sold in August after making two high profile errors in a defeat to Bolton Wanderers. Jerzy Dudek and Chris Kirkland arrived pretty much the next day and Westerweld was sold to Real Sociedad in Spain. John Arne Riise also joined in August and he proved to be a really tremendous signing, scoring on his debut in the Super Cup Final. He also went on to score some brilliant goals that season against Everton and Arsenal and a rocket free kick against Man Utd.
The 2001/02 season started in style with a victory over Man Utd in the Charity Shield. We then made it five trophies held at the same time by beating the Champions League winners Bayern Munich in the Super Cup Final. Unfortunately these two fabulous victories and the start of the season were disrupted with fights between Robbie Fowler, Gerard Houllier and Phil Thompson. The week before the Charity Shield, the players were practising penalties at Melwood. Phil Thompson was retrieving balls from the net when Robbie blasted one that just missed Thommo's nose by inches. Thompson went berserk and laid into Robbie and demanded an apology as Robbie and some other players were laughing. Gerard informed Robbie that he was dropped for the Charity Shield and wouldn't play again until he apologised for the incident. Robbie travelled to Cardiff with the rest of the team but ended up leaving before the end and making his own way home. Robbie was later sold to Leeds Utd in November 2001.
However all of these incidents were massively overshadowed in October 2001 during a home game against Leeds. Gerard didn't come back out for the second half and speculation was rife that something bad had happened, the game was televised and I remember being really worried about what was going on. I hadn't noticed Gerard looking ill during the first half but after the game had ended the news broke that he had been rushed to hospital with heart problems. He had to have an emergency life-saving operation on a dissected aorta and almost died. While he recuperated, Phil Thompson took over the reins and did a magnificent job steering the side through the Champions League group stages and the Premier League. Gerard returned after five months on one of the most emotional nights in Anfield history as we needed to beat Roma by two goals to advance to the quarter finals of the Champions League. Gerard's presence on the bench inspired the team and the crowd as we won the game 2-0 with goals from Litmanen and Heskey.
Unfortunately Gerard's magic touch with tactics deserted him in the second leg of the quarter final against Bayer Leverkusen. We won the first leg at home 1-0 and went into the second leg full of optimism. With the tie looking firmly in the bag, Gerard controversially substituted Hamman and brought on Smicer. With a huge hole now in our defensive unit, Leverkusen and Michael Ballack in particular, ran riot and we were knocked out of the competition. This moment was probably the start of Gerard being seriously questioned after he had previously appeared to have a touch of genius.

The season did end on a high note though as we played brilliantly in the league, and inspired by Nicolas Anelka on loan, we went on to finish in second place behind Arsenal, and more crucially ahead of Man Utd for the first time ever in the Premier League era. Gerard had guided the team to five trophies and a third then second place finish in two seasons, it appeared that the next logical step was to finally win the league title again. Unfortunately what happened next is still one of the most incredible turnarounds in Liverpool's recent history.
Jari Litmanen and Gary McAllister were both released in the summer of 2002, both were in the tail end of their careers and had been excellent servants during the previous two seasons. Unfortunately they were both vital to the creativity of the side and needed to be replaced with younger players of similar or better ability. Gerard decided to replace them with Salif Diao and Bruno Cheyrou, surely two of the worst signings in the club's history. However, worse was to come when the option to sign Anelka permanently was not taken up and instead Senegalese striker El Hadji Diouf was signed for 11 million pounds. As I write this all these years later I still cannot fathom what on earth was going through Gerard's mind at the time. I have heard that these players had been recommended by Michel Platini, but surely Gerard and Phil Thompson must have scouted them in advance. What they saw in them is a mystery to me, especially to equal the club's transfer record on Diouf.
The 2002/03 season began well with nine wins and three draws in the opening twelve games. It really did appear that our prophecy of taking the next step in the league was going to come true. Diouf had scored two goals on his debut and hadn't yet shown just how awful he was to become. Unfortunately in the next game we lost 1-0 to Middlesbrough and Gerard was heavily criticised for his cautious tactics in that game when we should have been over-confident going into it. After that defeat we then went on our worst run for almost fifty years and didn't win another game until January 2003.
As the season just seemed to get worse and worse, Gerard started coming out with a never ending stream of poor excuses, blaming everything except himself and his tactics. He was replacing strikers with defenders in games we were losing and it really did appear that he had lost the plot. It's been said many times that he was never the same after his illness and it appeared to be true. I wish I could explain why it all went so pear shaped so quickly with some unbelievable decisions throughout that season. I went to quite a few matches that season and was almost always disgusted with what I was watching. This was never worse than during the FA Cup defeat at home to Crystal Palace, the one and only time I walked out of Anfield before the final whistle. We also failed to get out of the group in the Champions League. Making things worse we were then knocked out of the UEFA Cup by Celtic, after Diouf had disgraced the club by spitting at a fan on live television in the away leg. We failed to qualify for the Champions League again with our place going to Chelsea who took it by beating us on the last day of the season.
The 2002/03 season wasn't all doom and gloom though, as we did win a trophy by beating Man Utd in the League Cup Final. It was a fantastic and quite frankly unexpected victory, thanks to goals from Steven Gerrard and Michael Owen and an inspired performance from Jerzy Dudek. This victory probably saved Gerard from the sack and he was given another season to turn things around again and hopefully complete his five year plan.
Harry Kewell arrived in the summer of 2003 and this seemed to be a really exciting signing at the time. Also joining the club were French youngsters Le Tallec and Sinama-Pongolle. Unfortunately the following season wasn't much of a big improvement on the previous one, although we weren't helped by serious injuries to many of the key players including Carragher breaking his leg and Owen missing a fair bit too.
As the season progressed it appeared that Gerard was now living on borrowed time and the noose around his neck seemed to get tighter and tighter with every poor result. The local radio phone in shows and the letters pages of The Echo were inundated with demands to sack him, which I'm sure put a lot of pressure on the Liverpool board. Fortunately for Liverpool, England now had four Champions League spots and Gerard was able to guide the team into fourth place at the end of the season. Unfortunately for him this wasn't enough to save his job and at the end of the season Gerard and Thompson were both dismissed. In probably his final transfer act as Liverpool manager Gerard agreed the deal to bring Djibril Cisse to the club for the following season.
Post-Liverpool
After leaving Liverpool, Gerard returned to France and walked straight into the managers chair at Lyon. The team had just won four successive league titles and Gerard was hired to help take their domestic success into Europe. Lyon won two Ligue One titles in a row under Gerard but were unable to win anything in Europe with their best result being an unlucky defeat to AC Milan in the Champions League quarter final in 2006. After rumours of unrest behind the scenes Gerard stepped down from his role at the end of the 2006/07 season.
After leaving Lyon, Gerard went back into his old role as a technical director with the French FA. He has not been held in any way responsible for the recent problems involving the national side. In September 2010 he returned to club management by taking over as full time manager at Aston Villa.
It is my sincere hope that Gerard Houllier is not just remembered by Liverpool fans for what happened during his final two seasons at the club. What he achieved in his first three seasons should never be underestimated. Not only did we win five major trophies (six if you include the Charity Shield) under his stewardship, he did so much more on top of that. He arranged a major overhaul of the training facilities and the academy, as well as changing the culture of the dressing room to improve fitness and overall attitudes. Gerard is massively responsible for Liverpool remaining amongst the elite clubs in Europe, when it really looked like we were going backwards before he arrived, without meaning any disrespect to Roy Evans. I am able to look back on his early years as manager with a lot of fondness. The treble can never be forgotten and the fact that he was so devoted that he risked his health and possibly his life for the club means that the man should be regarded as a hero at Anfield. He also brought Steven Gerrard through the ranks and helped make him the legend he has since become.
Whenever Gerard Houllier returns to Anfield as either a fan or an opposition manager I for one will stand and applaud him for what he did for our club.
[table id=34 /]