We review the 2-0 victory over Melbourne Victory in Melbourne on Wednesday.
Words: OhYouBeauty
Our third preseason friendly is done. Melbourne turned out quite the crowd, the atmosphere looked fantastic, and the Victory were very enthusiastic. Didn't sit back and let us dominate; they took the initiative, held possession, and got forward well.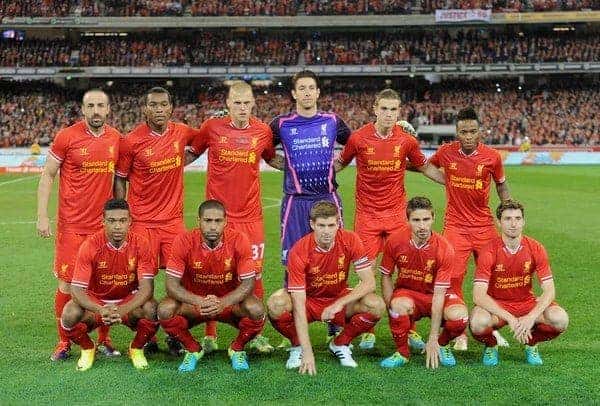 The Midfield, and what comes with it
We started with quite an interesting midfield, once more something of a blend between a 2-1 and a 1-2 style. It was quite clear that Henderson started further up the pitch than his fellow central midfielders Gerrard and Allen, but it became clear as the first half progressed that Gerrard was actually the deepest of the three. Essentially, we had two different systems going on at the same time. Gerrard played most of the first half as the volante-type lone defensive midfielder(1-2); he dropped deep between the central defenders to pick up the ball and spray passes forward and stayed in a defensive position when out of possession.
However, he also made several forward runs (one of which resulted in a goal) that are characteristic of more freedom that comes with a 1-2 midfield. Allen occasionally dropped between the central defenders but for most of the match seemed stuck between two roles; he played as a sort of box-to-box midfielder that just barely fits into both the 2-1 and the 1-2. Henderson clearly played further forward, stuck in a way between the systems as well; he was not quite a number ten, nor was he necessarily a box-to-box player as would be seen in a 1-2 midfield.
Henderson had a bit of a rough match in a role that should not have been entirely unfamiliar to him. He seemed to lack options with the pass with Ibe, Sterling, and Borini all trying to make runs rather than offer an option to release the ball to. Because he was frequently rushed by the Victory's energetic midfield and defense, he didn't offer that much in an attacking sense, and [whether by Rodgers' design or Henderson's own initiative] we did not see the tracking back that we normally see from Hendo. I think this match is particularly noteworthy for Henderson because of his role. That Rodgers would play him in attacking midfield shows that he does not see Henderson as a prospective defensive midfielder. If he did, he would undoubtedly use the preseason to mold Henderson into a new role.
Joe Allen played well; he showed the qualities that frequently made him man of the match last fall. What I like about Allen is his first touch and general ball control. When he receives the ball, he frequently turns into a good passing position or lets it run across his body so that he's set up to distribute. He assisted well to Gerrard and was generally good in link-up play. I'm excited to see what comes of him next season.
Gerrard was the most interesting tactical dilemma for me in this game. He seemed to play in a Pirlo sort of role, distributing the ball almost entirely from behind a midfield of two box to box players and kick-starting attacks. His passing was strong, although he did make a few mistakes and his goal was well taken. This performance didn't say much about the quality of his performances in the coming term, although it did suggest that he might perhaps see himself playing deep like Pirlo does for Juventus. I know for a fact that he's got all the necessary talent, I only question whether or not he has the discipline to stay deep rather than making frequent forward runs like the one that got him his goal. Such a run is fine in a friendly against lower quality opposition, but if it becomes a regular occurrence in the league it will leave holes in defence.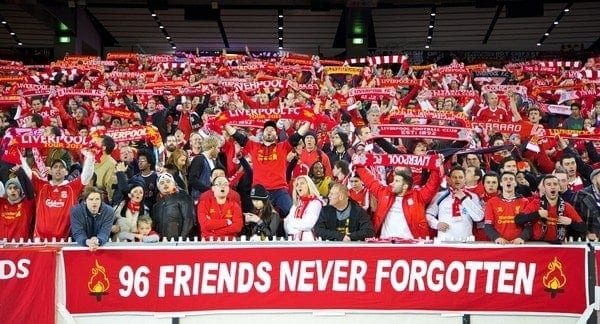 Youngster Watch
Rodgers opted to start Sterling and Ibe on the wings and Wisdom in central defense.
Sterling and Ibe both came up against energetic, pacy, youthful fullbacks who didn't leave them with much space. This allowed us to gain an appreciation for each of their decision making, as the lesser amount of space afforded to the young wingers forced them to make quick decisions. Although they didn't always make the right decisions, they did show a more cerebral side to their respective games that we've not seen as much. Solid performances from each, but nothing outstanding. Alberto seemed to come on and play the left wing role that he excelled in at Barca B, and had some neat touches and link-up play. There was little end result, but you can't expect too much in a 20-minute cameo.
Marquinhos, who? Wisdom was magnificent in central defence; time and again he gained possession either by precision tackles or interceptions, and he looked like a defensive midfielder when he passed or moved forward with the ball. My man of the match, Wisdom was just fantastic. I wonder whether the extended run he's gotten so far in central defence will mean he's thought of as a genuine option for that position, or if he'll leave on loan.
Flanagan got twenty minutes at left back, but wasn't troubled much. It seems to be accepted that he's not going to make it here as a senior player (sorry Nikola) but he might be worth keeping around as an option at left back. He can certainly play better than Enrique when he's off form (like today) and keeping Flanagan around as cover would allow us to loan Robinson out in order to get starts week in, week out for a Championship level club.
Borini had an interesting game. His first half showed industry as always, but poor touch and, surprisingly, a lack of sharp movement as well. He didn't look comfortable, which could also have something to do with the lightweight support which left him a bit isolated. His second half looked better as he seemed to calm down and just play, and he was unlucky not to get something for a strong volley and an ambitious scissor kick.
Fringe Player Performance
Skrtel played a good game. For me, it was slightly reminiscent of the 2011/2012 season where he was Liverpool's player of the season; he was in the right place at the right time and he looked a classy player when on the ball. It remains to be seen if he can maintain that sort of performance and avoid making errors, but he played well enough. I still think he can play well here, but I also think Rodgers won't give him the chance.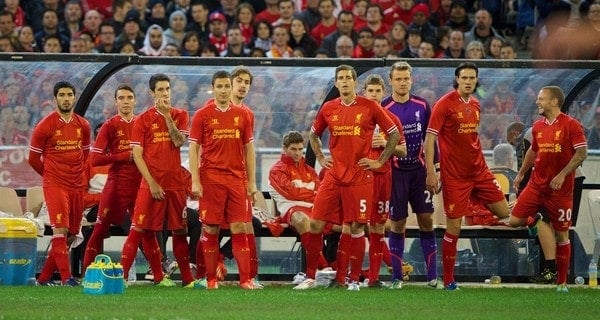 Enrique isn't necessarily a fringe player, but maybe he should be. I thought he was awful against the Victory, giving the ball away for fun in the midfield in addition to his usual trick of offering nothing in attack. With rumors of other left backs being targeted (Bertrand, Cissokho) I wouldn't mind Enrique being replaced outright by a player like Oczipka or supplemented by a more attack-minded Kolarov. I remain unconvinced by Cissokho, however.
Downing in a sweat suit is a happy sight for me. I don't think he should be anywhere near the pitch for us. That being said, he was ever-so-slightly more positive this week in that he actually had the audacity to try to shoot once. Coates and Kelly weren't troubled in their 20-minute cameos in defense, nor was Spearing really in central midfield. Not sure that you can read too much into Coates' cameo other than that Rodgers is evaluating him. Same goes for Kelly, who I'm beginning to believe will be kept as right back cover this season for some time in order to remove pressure while he recovers from his injury. Spearing is almost certainly off; he showed again that he's not bad but won't make it here. He's better than Blackburn, though and I hope he gets to go to Bolton or some other club not managed by Venky's.
Aspas tried to take one on the right wide to get around the central defender when he probably should have taken it on his left foot, although did much better with a right footed effort in the dying stages before eventually tapping in after good work from Suarez. Might have been a tap in, but you still have to be in the right position to do that, so credit the lad for that.
Suarez Watch 2013
The crowd and indeed the world today had all eyes on Suarez. After being the subject of a £40,000,001 bid from Arsenal (and a hilarious tweet from JWH) Suarez started on the bench, his every facial movement scrutinised by television cameras looking for hints of discontent.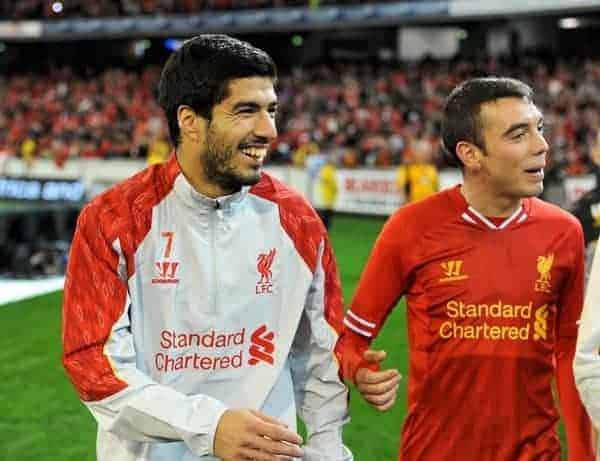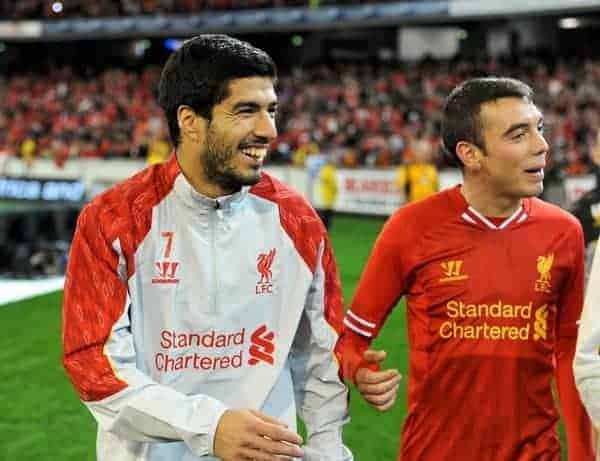 On 70 minutes though, Suarez gave them all they could have wanted. He looked almost completely apathetic, which was very surprising for someone of his competitive spirit. Comparisons were drawn between him and the shell of a player that took the field in Fernando Torres' last few months as a Liverpool player, and they weren't entirely unwarranted. He didn't run about when out of possession like he normally does and he didn't get forward quickly, either. Granted, its only preseason, but he seemed to be sulking.
I still don't think he'll move, but that's something else entirely.
As for his actual play, he still can't resist dribbling his defender even when he's supposed to be sulking and his quality was evident as always. Those who think we can sell him for any amount and get away with buying decent replacements take note: despite putting on quite a sulk, Suarez still was so much better than everybody else that his half-assed dribble and pass resulted in a goal. He's one of a kind, our Luis, and we need to get rid of the idea that we'd be fine without him. It'd be a massive setback, one that might take years to recover from.
New Vice-Captain
Lucas came on to receive the armband from Gerrard with a half hour remaining in the match–only to give it away to Agger ten minutes later. You can read what Gerrard and Rodgers have said about the role so far this week, but the gist is this: Rodgers will choose before pre-season concludes and he seems to be considering Lucas and Agger, while other outside bets (Skrtel, Toure, Johnson) are not outside the realm of possibility.
For my part, I would prefer Agger. He's already Denmark's captain and he's shown in recent years for Liverpool and Denmark that he can be a vocal leader on the pitch and a diplomat with referees. Although Lucas clearly loves the cause, I don't see the same vocal leadership in him that I do in our Dane and his place in our squad is certainly not so nailed down as Agger's.
Notable Omissions
Toure and Coutinho didn't figure due to a mild hamstring issue and a knock in training respectively. Not much to it, I would imagine, being that this is preseason. However, I wonder if Toure's observation of fasting during Ramadan has taken a bit of a toll on his body. I was impressed by his physical shape in Indonesia despite his lack of nourishment during daylight hours but it could be that it has started to catch up to him. No worry, its only preseason and it allowed us to see more of Wisdom, Coates, and Skrtel. I'm also glad that we're being careful with Coutinho.
Robinson played a blinder in Indonesia, so it was a bit of a surprise for me to see him miss out. We don't know whether there's a knock or if Rodgers was resting him or if he's not been as good as Flanagan in training, but he wasn't preferred today, which surprises me. Based on his performance in Indonesia, I would like to see him push for a regular place or leave on loan. He could have been much better than Enrique today.