Perhaps somewhat more interesting than Liverpool's 2-0 victory over an Indonesian XI today was the incredible support they have been subjected to over the last few days.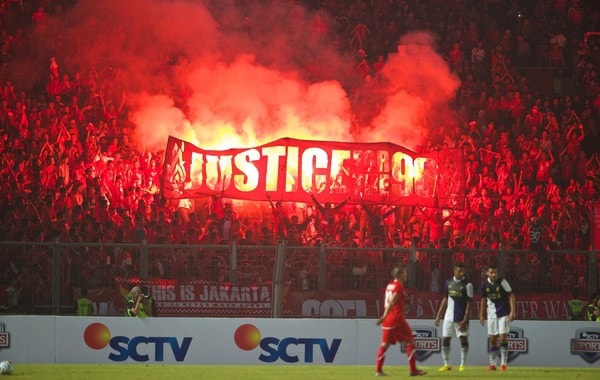 Almost 90,000 loud and passionate fans came out decked in Red and carrying banners to see their heroes play in Saturday evening's friendly.
From before kick-off the atmosphere at the Gelora Bung Karno Stadium in Jakarta was rocking.
A euphoric rendition of You'll Never Walk Alone greeted the players on their arrival onto the pitch, and the place didn't stop singing for the 90 minutes that followed.
It was a carnival of Red, with fans bringing expertly made banners relating to all aspects of the club.
The Indonesians really 'get' Liverpool Football Club and after the game manager Brendan Rodgers said everyone at Liverpool felt "humbled" by the occasion.
"It is very humbling, I've got to say. You hear about how Liverpool is in Asia; but it's only when you come here that you recognise the sheer passion and love for the football club," he told LFC TV.
"The history of the club speaks for itself, but there are lots of modern supporters as well – young kids and families here. It has been great to see.
"They have obviously bought into the culture and the football family that is Liverpool. We have been treated remarkably well, the kindness that has been offered everywhere we have been has been absolutely first-class.
"It is sad to leave because they are so passionate and this is the first time the club has ever come here. I'm sure in the future we'll come out again. It's a wonderful occasion and a great experience for our players, staff, management and supporters to come here.
"Now we go onto the next leg and we're looking forward to Melbourne. We'll leave Indonesia with a heavy heart."
The team had been greeted with incredible scenes on the street as their coach left Soekarno–Hatta International Airport on their arrival in the country earlier this week.
This YouTube video shows fans clambering to get a glimpse of their heroes through the coach window, with songs in full flow.
Banners at the stadium on Saturday night included a tribute to former Reds striker Robbie Fowler and the late Hlllsborough Justice campaigner Anne Williams as bright red flares lit up the night sky.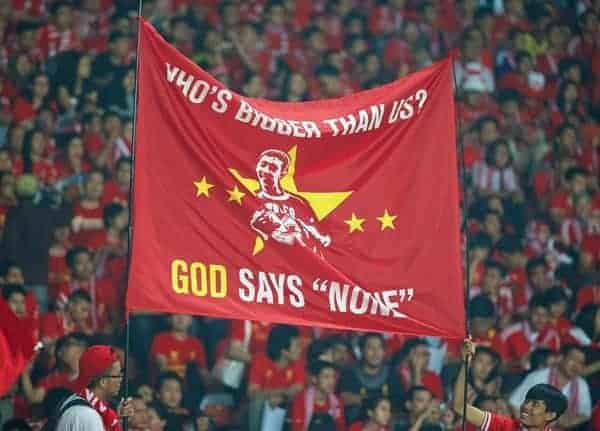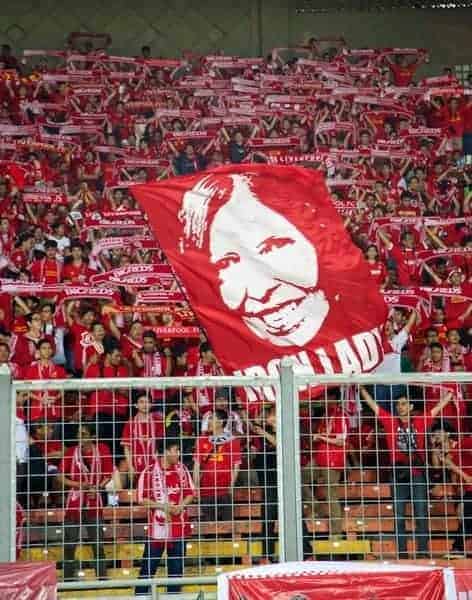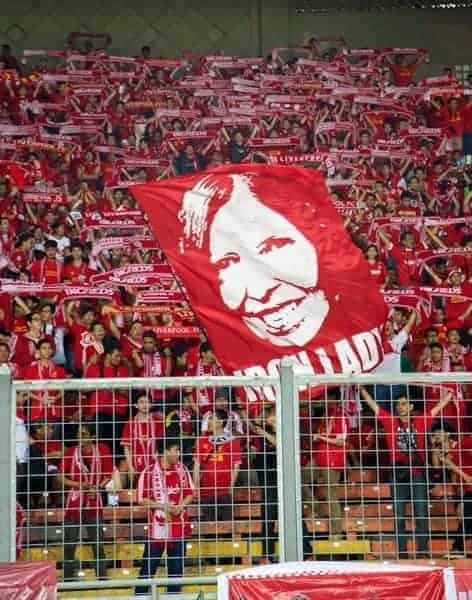 Fans' reactions
After the game, in which Philippe Coutinho and Raheem Sterling got the goals for Liverpool, we spoke to several fans who had been part of the magic in Jakarta.

Althof Hasra said, "From the moment I entered the stadium, I knew something magical was going to happen. This was the first football match I've ever attended, and the closest I've ever been to experiencing the beauty of Liverpool FC was a short visit to Liverpool and Anfield. Even before either teams began warming up, the crowd laid out a hero's welcome, singing classic chants such as You'll Never Walk Alone and Fields of Anfield Road, to tributes to our great scousers with the Gerrard and Carragher songs.
"When the Reds finally entered the pitch, the atmosphere was simply amazing. Every thrilling chance was greeted with rapturous applause, and the audience made sure that Liverpool's first visit to Jakarta would be memorable. Flare-lit banners bearing "Justice for the 96" and "JFT96" were particularly amazing. On the 23rd minute, applause rang out throughout the stadium in tribute to the recently-retired Carragher, and each touch of the ball that Gerrard received was greeted with excitement and applause.

"Ultimately, it was an amazing experience, with an atmosphere that could only elsewhere be felt in Merseyside. It was great to see our heroes in flesh, and to watch our new signings (Mignolet, Toure, Alberto and Aspas) start the game alongside more established names such as Gerrard and Agger. One of the best nights of my life."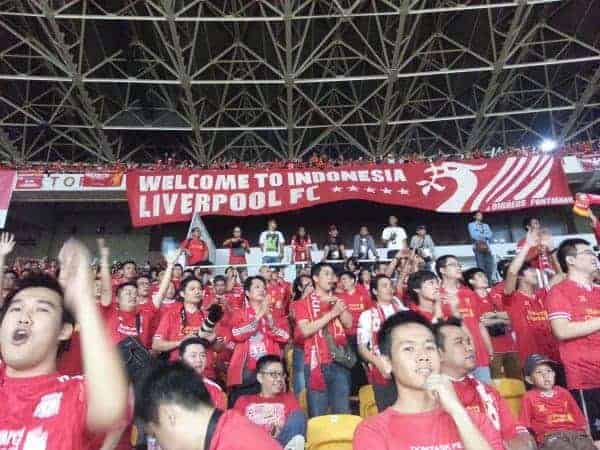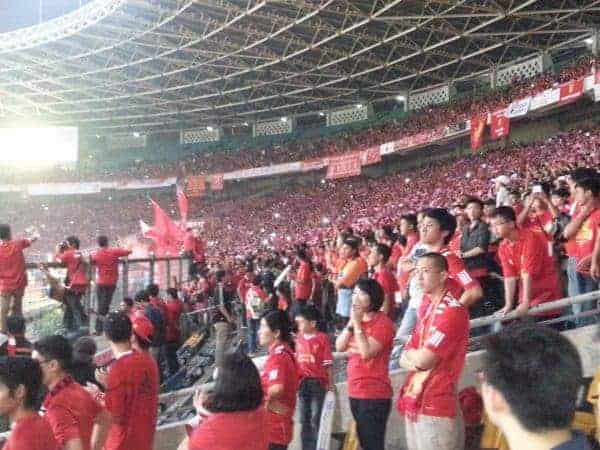 Jogi Sumarya said, "It was like dream comes true, LFC's players just a few metres from my sight. Btw, I come from Medan, ignoring my job as Indonesian Customs in Medan. Medan is 3000 kms from Jakarta.
"Gerrard as Captain and played on the starting line up? Wowwwwww, completely magical. All I want to say is FINALLY. Yes, finally I can see LFC myself. Thanks to LFC.
"As one of members of Bigreds, official Liverpool fans in Indonesia, I saw many Bigreds Member from others Regions, more than 15 regions joined at one stadium, supporting one team."
Anis Fuat Novari told us, "Amazing atmosphere and salute to all my friends in Indonesia! 80,000 Liverpool fans in Anfield Gelora Bung Karno Stadium turned into Anfield for one night, the streets around stadium felt like being in Liverpool!"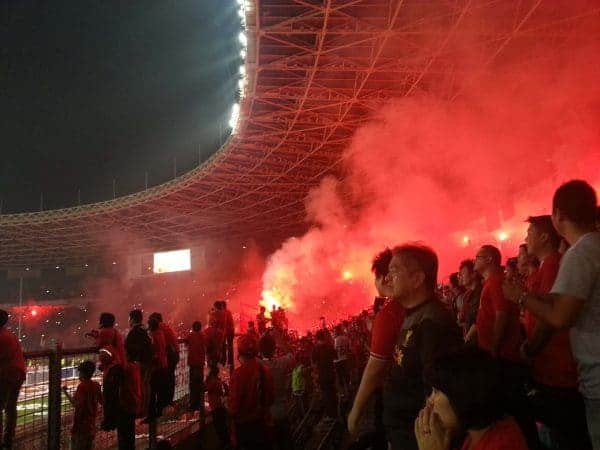 Shinobu Kuraishi Parlindungan said, "Today was fantastic. This is one of my dream that have been achieved tonight. Awesome atmosphere, passionate chants and also the togetherness among the indonesian reds.
"Thank you Liverpool FC for coming to my country, Indonesia. Can't wait to attend another of your visits here. We're Liverpool, yes we do! YNWA"