Liverpool manager Brendan Rodgers has questioned why Luis Suarez would want to join Arsenal, amidst reports that Suarez has told the manager he wants to leave the club.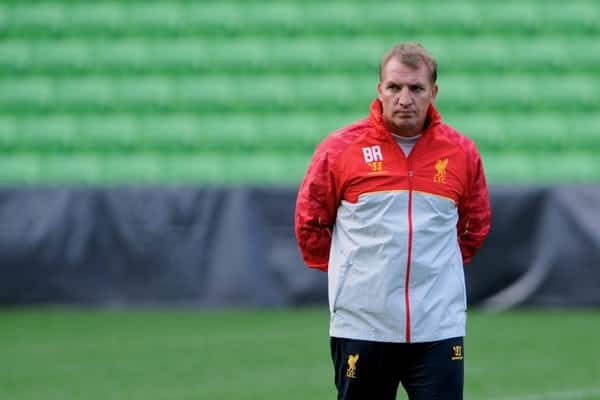 Rodgers, who has handled the whole saga extremely credibly thus far, told the Liverpool Echo that it would "100%" be a mistake for Luis to leave Liverpool:
"The team was built around Luis last season.

"I made some big calls to get the team to work in a way to suit his strengths and it is no coincidence he had a great season apart from the end bit. We would love to have him to continue the next phase."
Of Arsenal's interest, the Northern Irishman said:
"Why would you swap Liverpool to go to Arsenal?

"I am not sure that it adds up to be honest. Arsenal has a wonderful history in its own right, but Liverpool is one of the biggest clubs in the world.

"Okay, we might not be in the Champions League and haven't been for a while now, but our competitors have grown around us and we have to step up to the challenge now."
The Mirror claim Suarez told Rodgers he wants to leave Liverpool at face to face talks:
The 26-year-old claims his agent Pere Guardiola was told by the club that he would be allowed to negotiate a move if an offer was made of more than £35m – irrespective of the clause in his contract.
They claim Suarez wants his future resolved in the next 48 hours and is keen to talk to Arsenal, having voiced his frustration at their £40million (plus a pound) bid being rejected this week.
That 48 hours deadline seems unlikely, and The Telegraph write that the dispute could require Premier League intervention:
Luis Suárez's contract dispute with Liverpool could end up in a Premier League arbitration hearing if the striker persists in trying to force through a move to Arsenal.
It would not be the first time Suarez has taken such action, having attempted a similar procedure while forcing through a move to Ajax from Groningen in 2007. He lost the case but ended up at Ajax anyway after Groningen accepted another bid from the Dutch side once Suarez had made his position untenable.
The Independent report similarly:
Luis Suarez would be happy for the Premier League to step in and settle his contract-clause dispute with Liverpool such is the conviction of the player and his agent, Pere Guardiola, that they are in the right.
The Echo quote defender Glen Johnson saying:
"We want to keep Luis here.

"He loves his football and he always wants to play. No matter what team you play for, it is always important to keep your best players."
Meanwhile, The Mirror report Liverpool's interest in Valencia forward Roberto Soldado, claiming the Spaniard is "their number one target to replace Luis Suarez".
Has there ever been a more drawn out, complicated and tiresome transfer saga?