You have got to hand it to Luis Suarez, he is the master of the unexpected, writes Mark Simpson.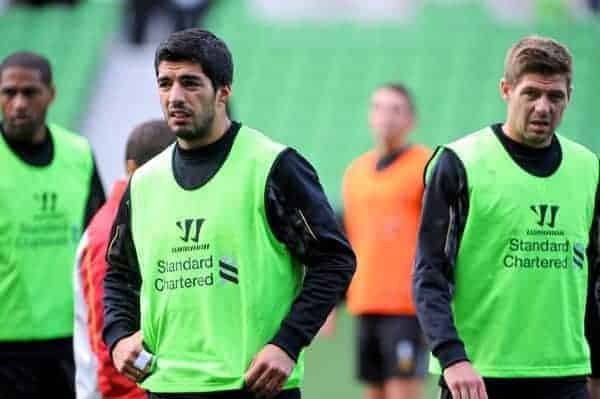 When you think he is going to go one way, he puts the ball through your legs and you're stood where wanting to know where it all went wrong…
The question I'm going to ask is; why would Suarez want to move to Arsenal and why would Arsenal want to sign him?
The obvious response is that he wants to play Champions League football, which is all well and good. However you surely would want to play in Europe's top competition at a team that is going to stand a chance of winning it, right?
Arsenal are no doubt one of England's top teams, they have been in the Champions League every season since 1997. However, with teams such as Bayern Munich, Barcelona, Dortmund and Real Madrid all getting stronger, plus Man City and Chelsea. You really wouldn't put any money on Arsenal winning the tournament any time soon.
You can even go as far to say that this season there is the strongest chance yet that they might not even qualify for the Champions League. Tottenham are ever improving under the excellent AVB, Chelsea and Man City have spent big money and Man Utd even though they have David Moyes in charge, are not going to drop to fifth over the course 12 months (as much as we would love to see it).
This is why I find it crazy that Luis Suarez is – reportedly – thinking of moving to Arsenal. There could be a situation where this time next year he is looking at a season in the Europa League. Suarez is soon going to turn 27; he probably has 4 more years in his prime. Surely in this time, he will want to have the best opportunities to be winning medals and trophies. So why risk that by going to a club that hasn't won anything in 8 years?
It would be good to point out at this stage that in the last 8 years, Liverpool have won five trophies.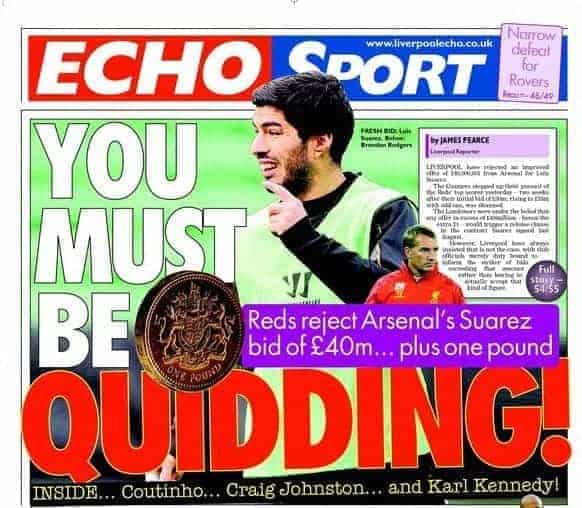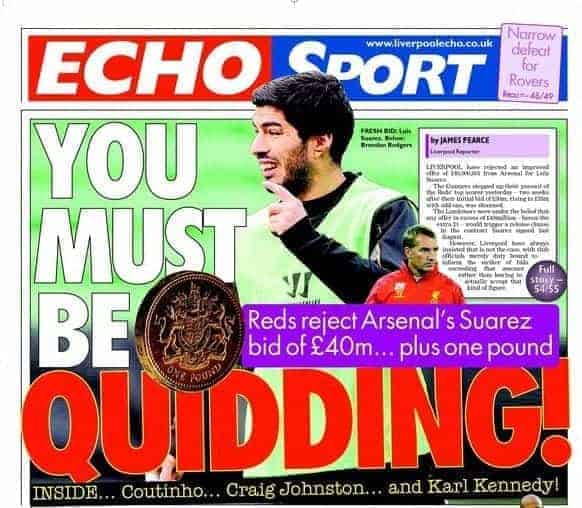 Going on to Arsenal, you can see the short term plus points for signing someone like Suarez. It finally shows the world that they mean business and it will appease the fans that have been crying out for 'marquee' signings for years now. However by doing so, they are going to have to break their strict wage structure and also face the fact that if they don't qualify for the Champions League they will be in the same situation as Liverpool are right now. If that was the case, can you surely see them recouping anything like the money they are apparently willing to spend on him?
Thankfully Liverpool has the upper hand in all of this. The player has years left on his contract and Liverpool does not have to sell. A lot has been made of this "buy out clause". Arsenal and Guardiola have obviously miss read what it actually means.
Here is a link to a TalkSport interview this week on the legal stand point on all of this.
From the off, The Liverpool Echo and The Times have reported that Liverpool FC value Suarez at £50 million plus. Whether Arsenal want to pay that sort of money or not we will soon find out.
One thing for sure is this saga is going to take some twists and turns over the remaining five weeks left of the transfer window. What ever you do, don't rule out a team that hasn't been mentioned yet making a move.
I have been very impressed in how Liverpool have conducted themselves in the last two transfer windows. It is good to see they are finally learning from past mistakes. With the reported bids for Soldado and Sissokho it looks as though they are being pro-active in the transfers coming in too. Time will tell and I'm sure it will be a matter of days not weeks that we will find out more.
It has proved in the past to force a move he is willing to go to all lengths to get what he wants. If Liverpool can convince him to stay, it will be in my opinion the signing of the summer. If he goes, I hope it isn't to Arsenal purely because it just doesn't make sense for Liverpool or the player. Unfortunately when it comes to Luis Suarez, I am no longer surprised at what he does.