Daniel Sturridge is proving those who called him "selfish" wrong and showing all the qualities of a great team player for Liverpool, says Joseph Copeland.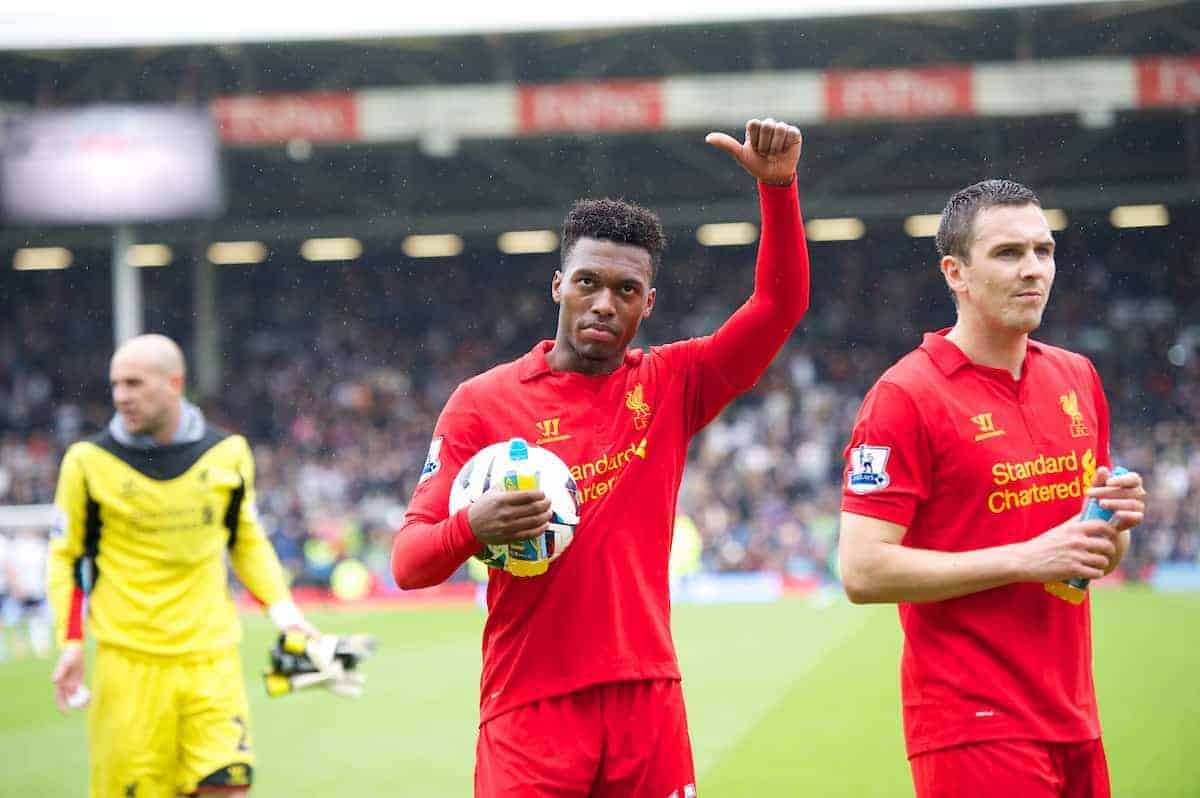 It was only seven minutes into his Liverpool career that Daniel Sturridge latched onto a Jonjo Shelvey through ball and dispatched it into the far corner with the composure and confidence of a seasoned International striker. The 23 year-old, who cost Liverpool 12 million pounds from Chelsea in January, has settled into his centre-forward role at Anfield with aplomb. The Birmingham native has bagged 15 goals in all competitions in only 16 appearances for the Reds. This prolific production makes you wonder what the likes of Chelsea and Manchester City were thinking when they refused to give him a clear chance at their respective clubs.
Sturridge is a player that needs a consistent run of games in order to be at his best. Proof of this comes from his 2010-11 loan spell at Bolton where he netted 8 Premier League goals from 11 starts. A second example brings us to the 2011-12 campaign where he scored 11 times in the League in 28 starts with Chelsea. What makes his Chelsea numbers more intriguing were the majority of his appearances came on the wing.
Sturridge was never going to get a consistent run of games with Didier Drogba at his peak for the Blues. The lack of playing time for Sturridge seemed to stunt his growth. He was seen as an extremely selfish player that spent too much time on the ball and who never met a shot he didn't like. In his defence, clubs were expecting Sturridge to play like a winger. They wanted him to load the box with crosses and set up the strikers. That's just not in Sturridge's football DNA. He is a bona fide goal scorer. He has the pace and power at 6'2 168 lbs. to hold up against any defence he goes up against. Show me a striker that isn't a little bit selfish and I'll tip my cap.
Upon his arrival on Merseyside, there were mixed reviews about what he could bring to a side that already boasted the league's top scorer in Luis Suarez. As it turns out, he formed a voracious partnership with the Uruguayan from the beginning. Goals such as this beauty against Norwich City were early signs of their chemistry together.
Alongside fellow new arrival, Philippe Coutinho, Sturridge has wasted little time in becoming a vital cog in the Liverpool attack. As a result of the fluidity of Brendan Rodgers' system, Sturridge has been able to float all across the front of the attack without the restriction of a striker in a more direct system. This has seen the England International receiving the ball in a variety of attacking positions where he can set himself up for a strike, or create for his teammates. The potential and talent have always been there for "Danny".
The only thing he needed was a legitimate chance which Liverpool have offered him. It's safe to say he has already returned the favour. Such has his wealth in front of goal been, you almost forget that Liverpool's top scorer has been watching all this action from the stands. Should Suarez finally return to the fold, he would only help Sturridge elevate his game even further. There are qualms that Suarez will ruin the chemistry and flexibility of the Liverpool attack. Looking back at the second half of last season, the Suarez/Coutinho/Sturridge trio was absolutely deadly regardless of the opponent. Just ask Joe Hart what he thinks:
The lineage of great Liverpool strikers could be daunting for any player coming to lead the line at Anfield. Robbie Fowler, Fernando Torres, Michael Owen, Kevin Keegan, Kenny Dalglish, Roger Hunt and Ian Rush all plied their trade at Liverpool. There are 45 titles between those names to go along with 1,612 goals of expectation to live up to. So far, Sturridge has not had any issues shouldering the load for Liverpool, if anything he is relishing the challenge of needing to score the goals. He has a long, long way to go until he reaches the category of the aforementioned group, but his tremendous work so far leaves little doubt he is well on his way. Despite all the superlatives you could use to describe his short stint at Anfield thus far, you must also look at the negatives.
In the past, Sturridge has had trouble staying fit for an entire season which has also hampered his progress. Only this summer, Sturridge injured his ankle while on international duty. There were a lot of sleepless nights around the Melwood training facility this summer hoping it wasn't serious. The caveat to his outstanding goal to game ratio with Liverpool is he could actually have close to 20-22 goals. At such a young age, he still has his best years ahead of him and once he learns to tighten up his accuracy on goal, the sky is the limit. But, in reality if the only issue you have with a player is he should have 20 goals in 16 games instead of 15, things are probably going pretty well for both player and club. In an interview in November 2012 with The Guardian, Sturridge was asked if he could be a 20 goal scorer for Chelsea, and his response perfectly sums up what he can bring to a club like Liverpool.
"I'd hope so. It's always difficult to say I'd score 20 goals a season. But if any player's given a regular run then you'd hope that if they're playing at a top club and given opportunities to score goals they'd be able to do that. I do believe I'm a centre-forward, I do believe I'd be able to help the team win games. Whether I can do that by scoring goals, making assists, just being there, being a physical presence – whatever I can do to help the team win I'll try and do that." said Sturridge.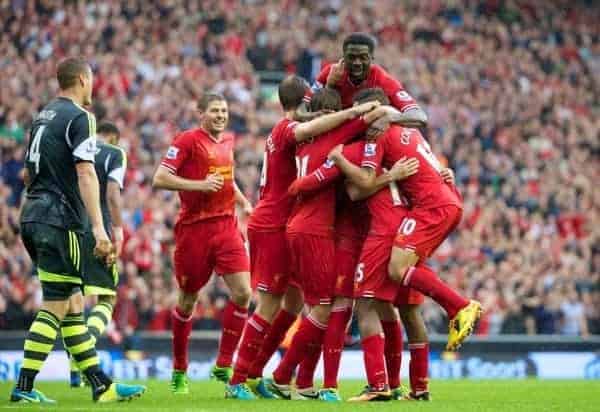 It's this mindset, of team before I, which has seen Sturridge shine at Liverpool. Looking ahead, he must maintain his consistency and become more clinical with his chances. We are only scratching the surface right now, and should he continue in this rich vein of form, not only will both he and the club benefit, we could be looking back in 4 years at his transfer to Liverpool as one of the biggest steals in history. However, that cannot be on his or the clubs mind. The focus must be one game at a time, one goal at a time. The next challenge for Sturridge will be to find a way to score against Manchester United on Sunday and let the pieces fall where they may.