Liverpool fans have taken to Twitter to vent their frustrations and disbelief at Luis Suarez's quotes to several British newspapers on Tuesday night.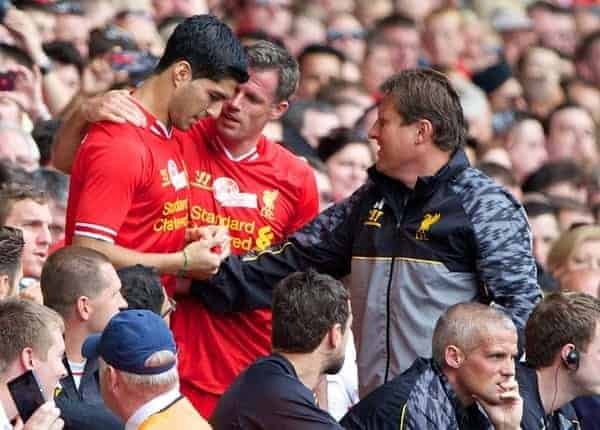 With the Liverpool squad in Norway for Wednesday's friendly at Valerenga, Suarez spoke to the newspapers, telling them he feels betrayed by the club for not letting him leave to a Champions League club this summer.
The 26-year-old Uruguayan believes he had a spoken agreement with the club that he could leave if Liverpool didn't qualify for the Champions League.
Here are just a selection of what fans on Twitter have been saying in the light of these explosive quotes tonight:


https://twitter.com/MostarLFC/status/364873699356196866

https://twitter.com/DaveHendrickTLW/status/364882102346461184
@thisisanfield – I'll give him a round of applause when he does and iI'll help him pack! Just how is he going to repay the ban for biting?

— Ann01 #FBPE #StopBrexit #NotMyPrimeMinister?? (@AnnYNWA) August 6, 2013
https://twitter.com/Kopology/status/364872077943128066
Remember when Suarez promised Dalglish he would shake Evra's hand? Terrible when somebody doesn't keep a promise isn't it @luis16suarez

— Liverpool Family (@LFC_FAMILY) August 6, 2013
Wonderful irony that Suarez now using the English media he despises so much to help him get his transfer #LFC #AFC

— Daniel Taylor (@DTathletic) August 6, 2013
https://twitter.com/Knox_Harrington/status/364871709599338498
I have lost my respect for Suarez completely

— Billy Liddell (@Liddellpool) August 6, 2013
https://twitter.com/Robish13/status/364862154437963776
https://twitter.com/JonBowser/status/364878832454479874
https://twitter.com/shaun4reid/status/364878801257246721
The club will use #Suarez ban/behaviour against him,this is making ridicule of of our club,just get him gone £50mil #Thanks

— RLWilliams (@funkyratster) August 6, 2013
Liverpool stood by Suarez when he twice embarrassed them. Now he deserts them. He's shameless. #lfc are strong. They'll survive without him

— Henry Winter (@henrywinter) August 6, 2013
Let us know your thoughts on Suarez's latest quotes in the comments below, or on Twitter @thisisanfield