Luis Suarez's potential return to Liverpool's team against Manchester Utd in the League Cup next month reminds Steven Harris of another loved and hated figure batting for the other side, not too long ago.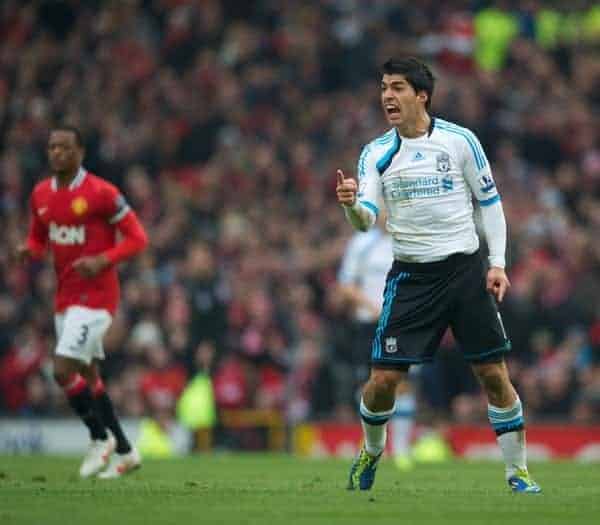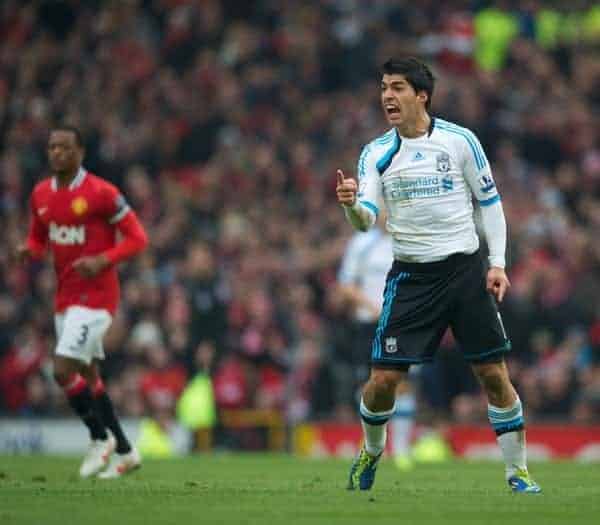 Controversial maverick returns to face club's greatest rivals following lengthy ban. As soon as the draw for the Third Round of the Capital One Cup was made last night the talk was all about how Liverpool's tie against Manchester United at Old Trafford will be the first match in which Luis Suarez is eligible to play after his ten-match suspension for turning Chelsea defender Branislav Ivanovic into a mid-game snack last season.
My mind went back some eighteen years, however. To October 1st 1995, to be precise, when Old Trafford staged a spookily similar story. On that occasion a different but equally controversial maverick made his return from a lengthy ban to face his club's greatest rivals. A truly lengthy ban.
Eric Cantona, one of the very few Manchester United players I'll admit to wishing had lined up in the red of Liverpool instead of signing for United, must have laughed himself silly when the fixture list delivered up the Liverpool clash on the very first game he would be eligible to play again after a nine month suspension. His crime had been to kung foo kick a jeering crowd member after having been sent off in an FA Cup tie against Crystal Palace. Comparatively, Suarez can think himself lucky his ban was not longer, then.
The parallels between events and uncertainty during Cantona's extended holiday and this summer's never-ending saga with the player the papers now all seem to call 'Wantaway Liverpool forward Luis Suarez' are interesting. During his sabbatical Cantona expressed doubts about ever playing football again. A more serious claim than the noises Suarez made at the start of the summer when he complained that the British media were hounding him out of the country, but the need for the respective clubs to attempt to soothe the players, to convince them that the club values them, that the fans love them, would have been very similar.
Things became so bad with Cantona that there is a fabled story of his manager, the Scottish one with the time-keeping issues, heading out to Paris and riding on the back of a motorcycle in a bid to impress upon his star player just how important the club believed him to be. While Brendan Rodgers has stopped short of riding pillion across Montevideo in Uruguay, Suarez has been on the receiving end of ovations from travelling Liverpool fans during the pre-season tour. He already knows the feeling of the arm around the shoulder from a manager following his previous ban during Kenny Dalglish's brief second coming at Anfield.
Perhaps because of the debacle that was Liverpool's unstinting support during the Patrice Evra racism row, only for Suarez to throw the club's patience in their face by refusing to shake Evra's hand at the start of the game when they next faced one another, in recent weeks Liverpool's senior figures have taken a somewhat harder stance. Both John W. Henry and Brendan Rodgers have publicly refused to countenance selling Suarez to another club, not even to one in a different country.
From this perspective it appears that Suarez has reached the last-chance saloon. After months in which he has made ill-advised (or extremely calculating) statements to the media about a desire to play Champions' League football, in which he has clearly courted other sides and become a sulky, distracting influence on the training ground, even his greatest supporters within the club and on the terraces have begun to doubt him. The rose-tinted spectacles have been removed, fans are beginning to realise that the team are performing quite well without Suarez now that the season has finally started. Nevertheless I'm pretty sure we'll all welcome him back with open arms if he strides onto the Old Trafford pitch in a few weeks' time, nutmegs Ferdinand, cuts inside the box and chips the ball over De Gea and into the Manchester United net.
There were doubters too when it came to Cantona. No less a figure than Sir Bobby Charlton admitted that the player "perpetrated a terrible crime as a footballer and we can't avoid that." And Martin Edwards, the Manchester United chairman at the time, put it even more strongly:
"Cantona is a wonderful player but, if there is any recurrence of unacceptable behaviour, that is the end. We have stood by him and we can only hope he appreciates that fact. He knows what we think of him. He has a new three-year contract and a new start with us. It is up to him now – we are all holding our breath."
Uncanny how much of this statement could be from the current Liverpool leadership concerning Suarez. If he stays (still an 'if' until the transfer window closes on 3rd September, despite the reassurances from Mr Henry) then there is speculation that Suarez will negotiate yet another new contract a mere 12 months after signing the previous one. Possibly he wants to properly nail down that clause allowing him to talk to other clubs if they offer £40 million pounds and a packet of fruit pastilles?
For Edwards' statement "We have stood by him and we can only hope he appreciates that fact." read John W. Henry's acknowledgement about Suarez that "the club has stood by him strongly at a time when you could question whether the club should have stood by him, but they did." Rodgers has actually said, word for word, "He knows what we think of him."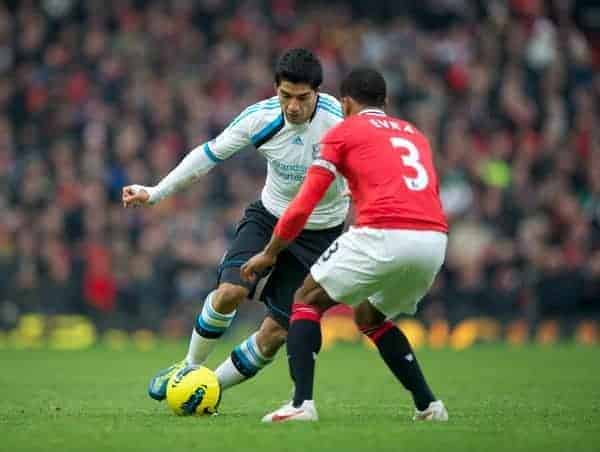 There is no doubt that Suarez is for Liverpool, just as Cantona was for Manchester United, a 'temperamental talisman'. There is no doubt that, just as it always was with the Frenchman, once the Uruguayan steps onto a pitch again his focus will be on giving his all to the team cause. It is to be hoped that he will have learnt enough from past experiences to stop short of biting, abusing or otherwise attacking opposition players. But he will remain a controversial figure, just as Cantona did. Bobby Charlton recognised back in 1995 that when it came to the United number 7 "I don't think anybody can believe he is going to be perfect or anything like a saint…But we have to hope he has learned a lot from his experience. He loves to play and I don't believe he will want to be put out of the game again." Once again these sentiments apply directly to the current Liverpool number 7.
For the past week or so the Suarez story has gone quiet in the media. Gareth Bale's protracted move from Tottenham to Real Madrid has provided slavering newshounds with much of the copy they crave, as have Jose Mourinho's mind games concerning the build-up to what was a very dull Chelsea game at Old Trafford, and concerning Wayne Rooney's future. Suarez has managed not to open his mouth in public and shove another boot in there for several days. There are, as I've already noted, rumours of a possible new contract at Anfield and now there is the mouth-watering prospect of his return to first team action in a cup-tie against the old rivals.
No team, no manager, no owner will ever tame Luis Suarez. If we learn nothing else from this summer we need to learn this. Ferguson never tamed Cantona as such, he simply moulded his team around the man whom, but for Zinedine Zidane, might claim to have been the greatest ever French footballer. Whatever happens between now and the end of this particularly frenetic and angina-inducing transfer window, a match against Manchester United is always going to be a big deal. Players come and go, the balance of power has shifted in the years since I first saw the two teams clash but the excitement and the anticipation remains for a match that, more than either club's city derbies, still sums up the best qualities of the Premier League. And occasionally the worst, of course, but hopefully Luis will make sure he has a pre-match snack in future.