The fallout from Luis Suarez's latest quotes given to the Guardian and Telegraph on Tuesday night has been quite staggering. Here, we round-up some of the best opinion from the journalists Suarez loves to hate. Or so he says.

It is probably most ironic that Suarez chose to use the press that he publicly despised so much earlier in the summer, pleading for an end to it all, a transfer abroad, to smuggle himself through to North London. North London of course being generally much closer to where the press is based, than Liverpool. A point that Daniel Taylor picks up on in the very paper that conducted one of his interviews this week, the Guardian:
You wonder, does he realise how rich it is that he has turned to one of the newspapers he previously blamed for everything? Or whether he particularly cares now it is increasingly transparent how far he is willing to go to get his move to Arsenal and that, next, lawyers will be involved and Liverpool face the ultimate indignity of being reported to the authorities by the player they have cherished and protected and defended, often to the point of ridicule.
But he's an idiot. We know this. The press know it. Liverpool FC know it. Hell, Suarez surely knows it himself.
The Liverpool Way and ESPN's Dave Usher is simply sick of the sight of him:
He was no Fernando Torres, who, in the words of Jamie Carragher, "downed tools" toward the end of his time at Anfield. Suarez never did that, although it remains to be seen what will happen if the club force him to stay. Will he play with the same commitment and insatiable desire he has always shown? I'm not sure I want to find out; right now I don't ever want to see him wearing the famous red shirt again.
Chris Bascombe of the Telegraph points out that Suarez's latest outburst does very little to change the situation. He's still a Liverpool player wanting out, just as was the case last week.
We thirst and consume daily information about Suarez's shopping habits but remarkably little has happened in the affair – which first entered the realms of 'transfer saga' sometime around May – as we enter the fourth month.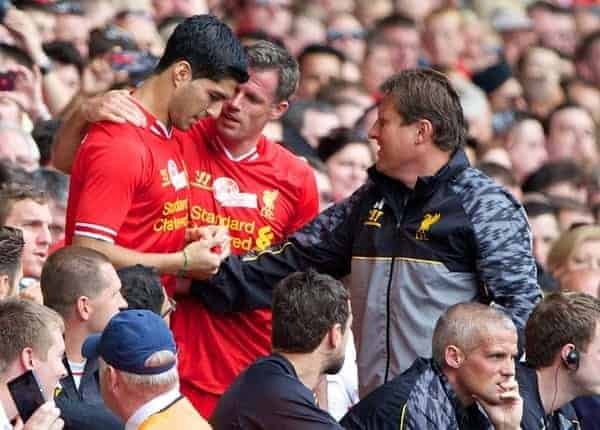 Suarez has threatened Liverpool with legal action if they don't back off and allow him to leave the club this summer, with the only bids on the table from Arsenal to date. However, James Pearce of the Echo asks why hasn't he simply begun this legal action by now, or is it, not for the first time, all hot air?
Not for the first time in a career laden with controversy Suarez tried to portray himself as the victim. In reality he merely succeeded in showcasing his selfishness and complete disregard for those who have stood by him over the past two and a half years.
David Maddock of the Mirror has a thorough assessment of the situation, saying that Suarez doesn't owe Liverpool loyalty, but he does owe them some respect – or at least the truth.
The South American's toddler tantrum attacks were personal, accusing his manager of amongst other thing, "lying" … which is pretty rich coming from a man who was found by an FA disciplinary to have seriously distorted the truth with inconsistencies whilst offering testimony against racism charges.
John Cross, also of the Mirror asks 'Will Arsenal fans accept him at the Emirates?' Probable answer is yes, John, but you do make an interesting point about Rodgers accusing Arsenal of showing lack of class in the saga:
Arsenal didn't go public on either bid. Liverpool did. So it's a bit bizarre to hear Rodgers talking about Arsenal's lack of class. It's agreed that no-one comes out of this well, especially not Arsenal.
And finally, we want to share with you what we thought was a very interesting, if flawed argument from the Huffington Post's Samuel Luckhurst, in which he targets Kenny Dalglish to portion the blame.
Liverpool resembled cartoon chaos under Dalglish, whose legacy from that second spell at L4 is a risible one. After thriving in the previous campaign's after the Lord Mayor's show stage to rise to sixth, Liverpool won their first trophy in six years under Dalglish. But it was subordinated by his bizarre championing of kit deals, defence of a racial abuser and antiquated management. Dalglish had not managed in 12 years and it showed. The Reds finished eighth and won just 14 games in the 2011-12 season.
We'll leave that one with you.