With the new season just days away and only a few weeks of the transfer window remaining, we asked the This Is Anfield writers who would be their dream, but realistic, signing to improve the squad.
Javier Mascherano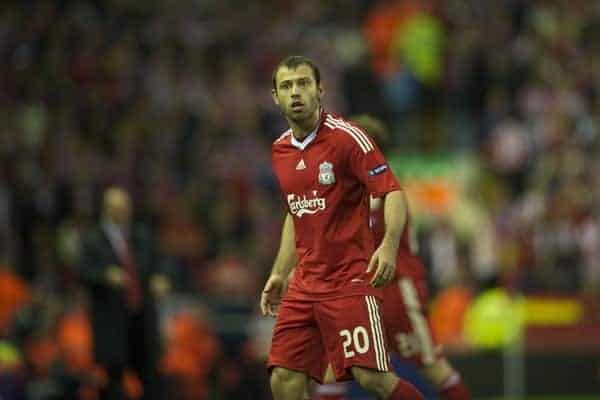 Of all the former players that get linked with a return to Liverpool, the crazy Argie is the only one I'd take. Rodgers wants players who will "fight" for the club, battle and give 100%? Yeah, I think Mascherano ticks that box. He plays the right style of football, perfectly suited to the holding midfield role, but also capable of playing centre back now as he has at Barca.
And it would mean a return of his song, which was boss. Javier Mascheranooooooooo!
– Matt Ladson @mattladson
Javi Garcia
With major concerns about defensive midfield in terms the lack of cover or alternative options for Lucas, a player that could be a viable signing is Javi Garcia. The Spaniard is a product of the youth system at Real Madrid.
It's unclear if Pellegrini will have need for Garcia, especially with the signing of Brazilian Fernandinho. Garcia hasn't been linked with any moves, so it's unclear where he stands at the moment. A move to Liverpool would be an interesting choice for him, and Man City could be open to selling if they aren't planning to use him.
Garcia has great physical presence and good technical abilities. He is familiar playing in a high defensive line, and he is used to covering behind creative players and attacking fullbacks – his teammates at Benfica were the mercurial talents of Aimar, Di Maria, Coentrao and Ramires. He has solid defensive instincts and his physicality makes him a useful combatant for winning aerial or ground duels. His positioning is of a good standard too, and he understands the idea of playing alongside the centre backs as the team pushes forward. He'll be familiar with aspects of Rodgers' system.
Man City may not be keen to lose out having paid a fair price for him. Still, he offers more steel than Lucas or Allen, and is proven in the position, so it would be a justifiable purchase. If Liverpool could get past possible wage demands, and Champions League football, he could be a solid bet.
– Marco Lopes @Footy_MarcoL
Guilherme Siqueira
My pick would be Guilherme Siqueira, so I'm glad to see it looks as if it might happen. I may have gone almost too realistic here, and I could have gone for a defensive midfielder as I think we really need one, but it looks as if that just isn't on the cards. My reasoning is that, although I very much want us to sign Papadopoulos, too, I'm more comfortable with Toure as a first-choice centre-back than I am with Enrique. I'm also reasonably happy with our attacking options, although I'm glad Rodgers is looking to add one more.
Siqueira is a classy left back: quick, intelligent, technically excellent and a good passer. He's better going forward than he is defending, but in our system I don't think that's a problem. He's 27, but with our squad being so young I don't think it's a problem to add someone a bit more experienced, especially as he won't break the bank. He'll be good for at least three to four seasons, which gives us time to either bring through Robinson or Brad Smith, or if they aren't up to it, find a long-term successor.
I'd keep Enrique because I think he's good quality for a back-up, and is also useful playing as a wide forward, especially in games when we want more defensive solidity.
– Steve Maclean @Kopology
Fabio Coentrao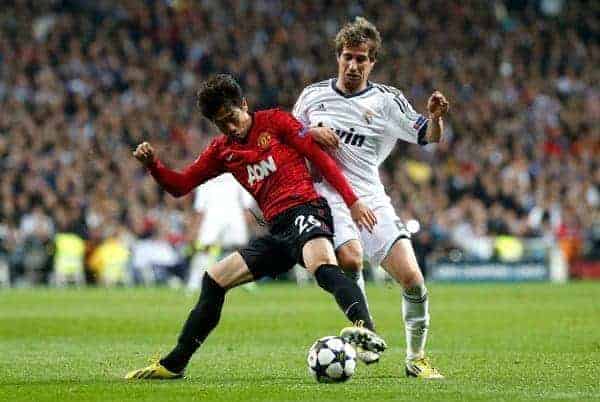 Proviso – ironically, rumours are extremely strong that Liverpool will sign Brazilian left back Siqueira in the next couple of days, making the following suggestion for Coentrão null and void. However, Siqueira has also been linked with Real Madrid and if he was to join the Spanish giants, Coentrão would become an even more viable prospect.
Those who follow me on Twitter will know I rate Coentrão very highly, with good reason. The versatile Portuguese international started his career at Portuguese club Rio Ave, then moving to Benfica after establishing himself as a talented left winger. He was successfully converted to a left back and was part of Benfica's revered title-winning squad in 2010. Coentrão moved to Real Madrid in 2011 for £26m.
Since his move, the left back hasn't been welcomed by Madristas – Coentrão is one of a couple of Mourinho's signings that wasn't favoured at all by fans, and now that Jose in back in England, Brazilian left back Marcelo already looks more favoured by Carlo Ancelotti in pre-season. Coentrão is rumoured to be considering his future at the club, and he's already been linked with moves to Tottenham, and back to Benfica. A move to the Premier League would go some way to putting his career back on track, and he would be guaranteed first choice left back at Liverpool.
At Benfica and Real Madrid, Coentrão has already spent much of his time playing as an attacking fullback in a high defensive line. His natural attacking talents lack very little, and he's a far more effective and intelligent player than Enrique. He would link up very well with Coutinho, Sterling or whoever plays at LWF, and similarly to Johnson, he's able to move wide or cut inside based on whatever the build up requires. He's not the best tackler, but doesn't lack for pace or energy and he tracks back reasonably well. He's versatile and could play as a LB, LWF, and at a stretch, in central midfield.
Real Madrid may not be keen to lose out having paid a substantial fee for him – his asking price will likely be a fair few million pounds more than Liverpool's likely appetite for him – although at 25, his profile is still in the range of being a worthwhile investment (and Liverpool would likely need to over-pay a little for first team ready players). Coentrão may well need to accept a wage cut to move, and he also favour a club offering Champions League football. A loan deal may be a feasible route around the wage issues, though.
– Marco Lopes @Footy_MarcoL
Gareth Barry
After being left home during Man City's recent Scandinavian tour it is clear Gareth Barry has fallen out of favour at Eastlands. A poor England career under a succession of terrible managers have opened the midfielder up to ridicule but what his understated character and less than spectacular style have hidden is the fact that Barry is one of the most consistent performers in the Premier League. He isn't a Match of the Day showman but he is disciplined, tough and a solid passer.
Barry would serve as a perfect back up to Lucas who, since his knee injury, looks to be struggling to regain his previous form. Liverpool have already snatched a bargain from Man City this summer, they could do much worse than take another.
– Michael Sweeting @M_Sweeting
Kyriakos Papadopoulos
A reasonably successful pre-season has not papered over defensive deficiencies, particularly when it comes to aerial vulnerability. The arrival of Kolo Toure will go some way towards rectifying such frailties but he alone cannot fix what has become an Achilles heel.
28% of the goals we shipped last term came from set plays and 21% from headers. Those statistics must be altered dramatically if we are to find any kind of consistency in our quest for the Champions League.
'Papa' will add strength; aggression and character to a fragile backline, ensuring the likes of Stoke and West Ham are unable to bully a side now lacking leadership. His style of play meanwhile is likely to compliment new vice-captain Daniel Agger perfectly. That pair dove-tailing should be a match for any strike partnership the league has to offer. Remember the foundations for success are largely built on a sound defence – just ask Messers Houllier and Benitez.
Yes, his injury record is questionable which may have quelled any early interest. Nonetheless, with Jamie Carragher retired, Martin Skrtel unfancied and Martin Kelly struggling for fitness, Brendan Rodgers may yet have a late change of heart and offer Schalke what remains of any transfer kitty.
Our business to this point can be considered modest, with the squad improved but a net spend practically non-existent. Both the manager and supporters will view the window with far more positivity should one marquee signing be added to the mix. FSG have flexed their muscle in the fight to keep Suarez but will have a rude awakening if they expect to achieve a top four finish on the cheap. Sign Papadopoulos however and we will be set for a real tilt.
– Aaron Cutler @aaron_cutler
Iker Muniain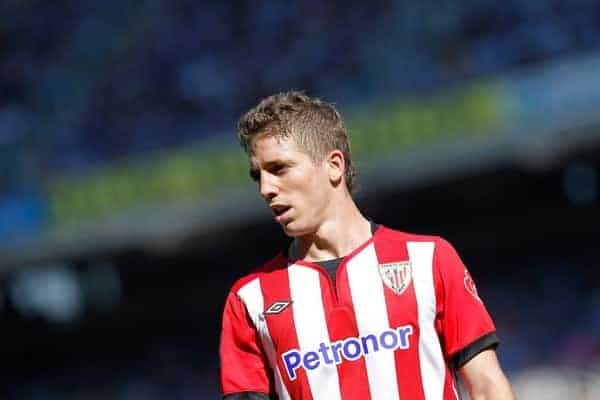 Just like in every transfer window, standard procedure means Liverpool have yet again been linked with enough players to field five different starting eleven's this coming season. Some of the names that arise throughout the window we desperately hope the club go on to sign and others that pop up we view very much as a bullet to dodge – yes, I'm looking at you Alex Pearce!
But if there is one thing the madness and unpredictability of the transfer window does bring, it is dreams. We all cling onto that one report linking us with a player we much admire and pray that a signing materialises or if there is no link, we hope that those in charge are seeing the same as us. We all have our own 'dream' signing that we would love to see don the famous red shirt and for me, that player is Iker Muniain.
Technical and tenacious, Muniain would fit in with Brendan Rodgers' plans to have a team that can play as well as stand strong in battle (don't be fooled by his size!). A player that could be deployed in the '3' behind the striker, Iker snaps at the opponents heels when out of possession but also displays the typical Spanish composure when on the ball and creative ruthlessness in the final third. Pacey and skilful with an abundance of game intelligence and inventiveness, Muniain would undoubtedly understand Rodgers' philosophy and slot in a treat at Anfield.
– Ben Twelves @bm12s
Leighton Baines
I'll be honest the 'dream' part of signing Leighton Baines lies largely in the thought of sitting back and smugly smoking a pipe behind bulletproof glass as bedlam is unleashed in the city and Manchester United also miss out on their target.
Nonetheless, Baines is a player who could add something to this current Liverpool side. He has the energy Rodgers' demands of his full backs, is a better defender than Enrique and will chip in with goals and assists as well as being useful from set pieces. Throw into the mix that at 28 he is at the peak of his powers, wouldn't need time to bed into the league or the city and could be available around the £12 million mark he could be the instant fix we need. Moreover, there will be no problem with us not being in Europe.
It is a long shot and Everton would be unlikely to sell. But Baines is a boyhood Red and I've heard he wears long sleeves to hide his Liverpool tattoo. [Insert winking smiley face here.] You never know, if we dangle the carrot and stoke the red fires that lie within him he could be training on his own at Finch Farm and refusing to apologise before you know it!
– Neil Poole @PooleNeil
Micah Richards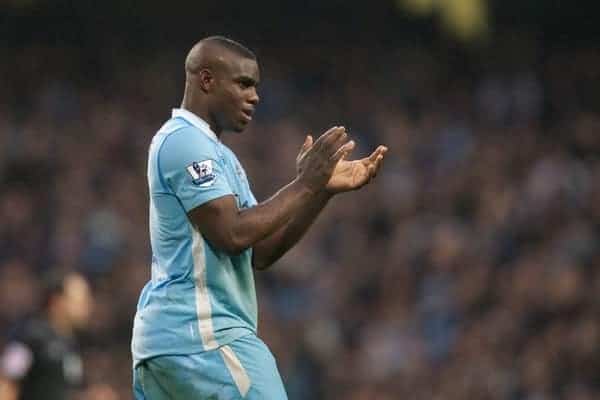 It was only a few years ago people were claiming Micah Richards would be a regular England international and develop into one of the finest defenders in the land. Fast forward to 2013, no longer a Manchester City regular, let alone an England international, Micah's stock has not reached the levels many though it would. Is this the opportunity for Liverpool to swoop in? I would say so. With Carra hanging the old boots up last season, Skrtel seemingly on his way to form Liverpool 2: The Italian Version with Rafa and the only major signing in defence coming in the shape of a 32 year old Kolo Toure, there certainly is a need for reinforcements in the back.
On his day, Micah offers a tough tackling, powering and attacking force from the back. Comfortable on the ball and fairly quick, Micah seems to tick all the boxes Rodgers looks for in a player. Versatility is also one of Micah's strength, with the ability to operate as a full back and centre-back, it is easy to see how he could fit into the Liverpool team. I would look to forge a partnership between Micah and Agger in the middle and have Toure as backup to the two and if need be, Micah could fill in at right back to cover Glen Johnson. There could even be certain games at home where Johnson could be pushed forward to the right side of midfield as it seems we won't be bringing a right-sided player in, which would allow Glen to concentrate on attacking and have Micah defending just behind him.
At the age of 25 Micah should be settled in a team, not still looking to establish and force his way in. Though we may not be able to offer Champions League football or challenge for the top honours, we certainly can offer him a real chance to prove his worth and establish himself as one of the league's leading defenders. Also playing alongside England internationals such as Gerrard, Johnson & Sturridge can only enhance his international ambitions. PS – Sturridge and Micah are good friends, perhaps Dan could put in a good word!
– Amit Sharma @amit_s30
[poll id="135″]