Philippe Coutinho, the "Brazilian Magician", has taken no time in staking his claim for our signing of the decade just 6 months into his Anfield career, writes Ben Twelves.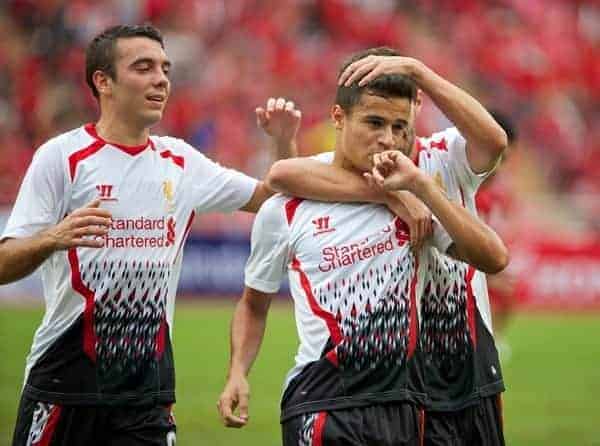 Coutinho has extremely quickly become a firm terrace favourite through his technical brilliance and has already had some sections of the clubs' fan base calling for future teams to be built around him – some statement considering the boy is just 21. But while Coutinho is the perfect modern footballer and very much the future of Liverpool Football Club, he is also a welcome throwback to a previous club hero.
Although too young to have witnessed the days when we wiped the floor with just about anyone and everyone, I've listened to the stories, seen the historic games on LFC TV, watched the 'Big Match Revisited' programmes and have understood just how good we really were in an era where football was completely different to now. Having seen these productions time and time again, there has been one player that I have never got bored of watching, much like my feelings towards Coutinho, namely, Peter Beardsley.
The English game as ever, predominantly built on physical competing, the 'up and at them' approach and limited technical quality, contributed to a lower standard of football. Attributes that dominate today's game and that our number 10 possesses, such as trickery, vision, craft, technique and tactical intelligence were all in short supply and criminally undervalued by most, but not by us. We snapped up a couple of those rare creative assets during the height of the late 80s, including Beardsley, who our current creative playmaker most reminds me of.
Similarities between the two start with their style of play. Beardsley, a footballers' footballer and artist of the game, saw things differently to those around him with a 360 degree, radar like awareness. The Geordie offered an intricacy in the final third of the pitch that was unrivalled at the time. He could punish a team and change a game single-handedly with his vision and ability to execute a killer pass as well as having a graceful elegance that allowed him to effortlessly glide past opposition. These attributes mirror the exact reasons why we have instantly taken to Coutinho.
However, the resemblances go beyond just their playing styles. Their on pitch personalities replicate each other with both players non-egotistical, unassuming and speaking only through their performances. The stature of the players further illustrates a connection between the two with Beardsley at 5"8 shading Philippe Coutinho by just an inch. As we've seen, having a low centre of gravity allows Coutinho to change direction quickly, a huge benefit when trying to break away from opposing players which was also a feature of Beardsley's intelligent play.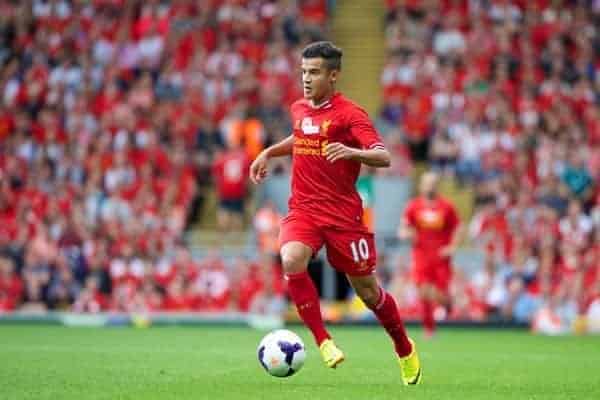 Being blessed with the attributes is one thing, but utilising them is another thing altogether and Beardsley knew how to. He weighed in with countless assists and a respectable amount of goals for a player playing just off the striker, averaging around 11 in league campaigns and 15 in all competitions per season. Luckily for Liverpool fans, Coutinho has made an encouraging contribution in his offensive playmaking role thus far, with 3 goals and 5 assists in just 12 league starts and simple calculations suggest that if he carries on producing like he is, he could finish with around 10 goals and 15 assists.
There is however, only one thing I desperately hope that will be different between the pair and that is the amount of time spent at Liverpool Football Club. Beardsley wore our famous number 7 shirt for a total of four seasons after being signed by Kenny Dalglish in 1987 for an English transfer record fee of £1.9million from Newcastle United. He was then (stupidly!) sold to rivals Everton for £1million by Graeme Souness, a move which he years later admitted was a mistake to Beardsley himself. Football has thankfully moved on and players of Beardsley's and Coutinho's ilk are now more appreciated within the game by managers such as ours.
With Rodgers having brought Philippe to the club and being a manager that craves technical brilliance, there is little chance he will cash in any time soon, especially with the Brazilian being fundamental to the way we now play. The manager also knows that if we want to return to the Champions League anytime soon, embracing the new Peter Beardsley is essential.