There were many differences – positive differences – displayed in the opening game of the season against Stoke at Anfield on Saturday.
When Martin Atkinson blew the final whistle at Anfield last Saturday, Liverpool fans worldwide were united in their feelings of elation and relief following the nerve wracking events that had just unfolded before their eyes.
The emphasis on a good start was enormous especially when we looked at our opening few fixtures and considered the fact that several rival clubs were to be experimenting under new management this season. Three points at home to Stoke was never going to be an easy task given our recent record against the Potters but still, we expected no less. Thankfully, we weren't left disappointed this time. In fact, our 1-0 victory gave everybody a huge lift and instilled some much needed confidence.
However, when reports from the Emirates came pouring in, many of our fans began to feel on edge again. While Arsenal's defeat to Aston Villa may have been a great source of entertainment, we had to remind ourselves that Villa are indeed our next opponents and with that comes the powerhouse that is Christian Benteke.
Given the fact that fact that our defence looked a little bit shaky during the last 15-20 minutes last Saturday, particularly from set pieces, it isn't difficult to understand how the thought of the in-form Benteke roaming amongst our defence might be somewhat unnerving. However, I personally prefer to take a positive stance on things wherever possible. Maybe Villa's impressive start could be a good thing for us, as crazy as it may sound. When we think back to last season, how many times did we win a couple of games, get a bit of confidence and momentum flowing only for it to be destroyed by a team we really should have beaten?
The answer is far too often. West Brom at home, Southampton away, Stoke away and indeed, Aston Villa at home come to mind. None of us expected to lose those games, so maybe our players were guilty of complacency. For example, Aston Villa were very poor last season and were subsequently dragged into a relegation battle. It's fair to say that our lads underestimated them big time and after their impressive performances at Arsenal and Chelsea this week, we should definitely avoid making that same mistake again. So far, they have sent out a clear message that they are no pushovers and hopefully, Brendan Rodgers and the lads will have taken note and will ensure that we go to Villa Park with maximum focus.
As I just mentioned, our defence did look shaky in the closing stages particularly against long balls and set pieces and this was frustrating to see given our dominance and the number of chances we had created earlier on in the game. So, when Atkinson pointed to the spot in the 88th minute, few could fail to notice the agonising cloud of déjà vu that had quickly descended over Anfield. Most of us were already resigned to dropping the points, especially when we consider that debutant keeper Simon Mignolet had shown a few signs of nerves earlier on.
However, those earlier mistakes were instantly forgotten as Mignolet saved Jonathan Walters' effort and then reacted quickly to deny Kenwyne Jones' follow up. Of course, Mignolet's heroics did save our skin on this occasion and had that penalty gone in, the anti-Rodgers brigade would have almost certainly come out in force. In that sense, that victory was worth more than just three points and as most of us know, the score line reflected quite generously on Stoke.
If Asmir Begovic hadn't put in the performance of his life then the result would have been very different and although people will argue that nothing had changed from last season, I have to disagree. The fact is, we always tend to struggle against Stoke because of their style and big physical presence.
In past fixtures, we have looked flat and completely out of ideas as Luis Suarez tries time and time again to achieve the impossible and dribble his way through the brick wall that is Robert Huth and Ryan Shawcross. As Suarez got increasingly frustrated, our play tended to become less inventive and this became the predictable pattern for the entire 90 minutes. I have to admit, when the fixture list was released and I realised we had Stoke first game, my excitement to see our neat open play became quite dampened. I thought we had a predictable 0-0 draw on our hands but I was wrong, very wrong.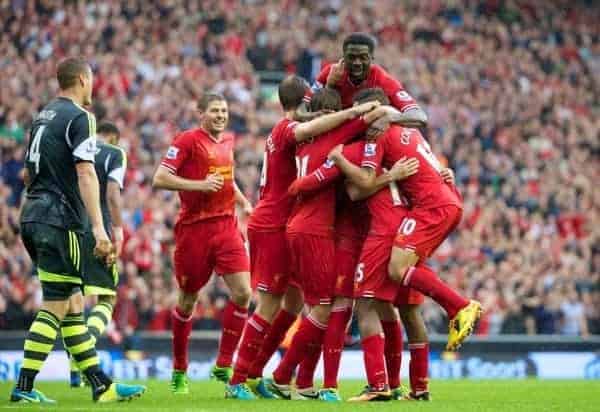 Unlike previous fixtures, our play did not lack flair and fluency, far from it. We were spraying the ball beautifully across the park and penetrating the Stoke defence for fun and it was a very welcome sight. Jordan Henderson had two brilliant efforts saved by the excellent Begovic and on any other day, at least one would have gone in, if not both. Glen Johnson and Steven Gerrard could have scored had it not been for Begovic's heroics and Daniel Sturridge could certainly have added to his tally. So, it wasn't all doom and gloom, same old Liverpool as some have suggested.
I was impressed with the levels of fitness our lads displayed. From the first whistle up until the 70th minute, our lads were constantly pressing Stoke and at times we contained them inside their own half which was nice to see. As much as we love Jamie Carragher and miss seeing him in red, the fact that we now have Kolo Toure instead meant that we were able to play a much higher line, which reduced the gap between our midfield and our defence and enabled us to pass the ball around more accurately.
As far as replacing Carragher goes, I think Toure did a brilliant job and dare I say it, he looked to be an improvement in some aspects. Not only is he strong and good in the air, his hunger to win was there for all to see when he came steaming through the Stoke half like a train in an attempt to join in an attack during the second half. I still feel we could do with some extra depth in defence but if Toure performs every week like he did against Stoke, our defence should be in a better shape than it was last season. Acquiring him on a free is already looking like very shrewd business from Rodgers.
The link-up play between Coutinho, Sturridge and debutant Iago Aspas was very impressive. Their ability to read each other's movement was first class considering they've only played together for a very short time and this can only bode well for the future.
Jordan Henderson's game has improved significantly over the course of the last year and his hunger to get in amongst the goals is evident. Should Luis Suarez stay, his return will feel like a new signing so I doubt we'll have too many problems in the goals department this season. After all, not every keeper is going to perform like Begovic did last Saturday.
If we can tighten up at the back and work on defending set pieces then we could be in for a good season. I personally like how Rodger's has got rid of the dead wood and stamped his own style on the team and I believe that we're heading in the right direction.
It's far too early to discuss season predictions but one thing is for certain; three points was the right way to start and hopefully the confidence we gained from that will help us take another three points from Villa Park on Saturday. It'll be tough but it's certainly not impossible.