Two League Cup games, twice the team selection was odd, with Brendan Rodgers wrongly placing too much importance on the competition, rather than focussing on the League.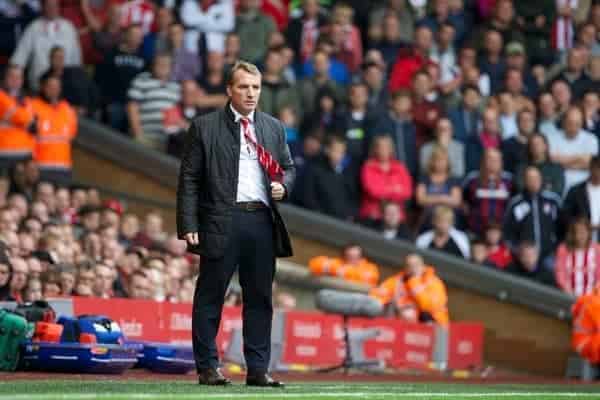 Last night's defeat at Old Trafford left me confused and frustrated rather than anything else. A loss against them always hurts no matter what the stakes are but Wednesday's defeat hasn't produced the same gut-wrenching pain that would normally be felt after a defeat to them.
The blunt truth is that this season's League Cup campaign should be labelled as a 'nightmare' despite only playing two games in the competition. The sloppy and complacent performance against Notts County in which we were taken to extra-time with a ridiculously strong team almost led to disastrous consequences as we suffered injuries to three players ahead of a huge clash in the league against Manchester United. Then to the next round where we head to Old Trafford and Brendan does the same thing again.
Both games were a case of missed opportunities in their own right through team selection and play in the final third. Going back to the first game against County, there is no way anyone will convince me that Kolo Toure, Glen Johnson, Steven Gerrard and Daniel Sturridge needed to start that night.
The careless performance by both team and manager meant we had to introduce Jordan Henderson, Philippe Coutinho and Daniel Agger in order to rescue the game and as if that wasn't bad enough, injuries to Toure, Aly Cissokho and Joe Allen meant we had to finish the game playing with ten men.
That game would have been the ideal opportunity for Fabio Borini or Iago Aspas, who were both on the bench that night, to play instead of Sturridge as they searched for any kind of form and starting a younger and energetic Henderson over the ageing and tiring Gerrard was surely a no brainer.
A battling performance the following game saw us beat United 1-0 and ultimately breathe a sigh of relief that the League Cup debacle didn't cost us completely, despite having to make do without Toure's influence and throwing Martin Skrtel in despite a long period of being out of favour. This catalogue of issues were all self-inflicted by a silly League Cup team selection.
Back to last night's game and again we have the same situation. A desperately poor performance and result at the weekend against Southampton showed the importance of players being fresh. But strangely, the manager opted again for a side too strong for what the game actually was worth.
Did Brendan select a strong team because it was simply Man United? Or because it was a chance to progress in a cup competition that we crashed out of last year? Or perhaps it was an attempt to try to get his team to play their way into some form after some recent poor performances? Whatever the reason, Rodgers repeated the same error. Thankfully this time, it appears that we have escaped from the match with a squad of fit players going into Sunday's game.
A win at Sunderland is now vitally important following the last two results. Anything other than maximum points and our promising start to the season counts for nothing. The task has been made harder by failing to rest players who are in desperate need.
A soft and immobile centre of the park of Gerrard and Lucas means they need to be managed to avoid burnout. Wednesday night was the perfect opportunity to rest them to make sure they were ready for Sunday. The same goes for Daniel Sturridge, who missed a huge chunk of pre-season due to an ankle injury and has made no secret of the fact that he has played this season despite not being anywhere near fully fit. It was an opportunity missed.
We have players waiting for a chance and some much needed game time such as Luis Alberto, Andre Wisdom, Martin Kelly and Raheem Sterling and the game could also have provided a great chance for Aspas to try and play his way into form. Those younger players will see their opportunities restricted this season as it is due to no European competition so why did they not feature in the starting eleven last night? It was the occasion – Man United at Old Trafford, it must have been.
The Premier League is quite clearly the priority for FSG. They showed what they thought of the League Cup by sacking Kenny Dalglish even though he won the competition two years ago. It is strange that their chosen man has such a different interpretation of its value. I said in build up to the game that I would be happier with a win over Sunderland in the league than I would be with a win over United in the League Cup. That is still the case.
Only a win at the Stadium of Light will mean we can move on from this and we can only hope Brendan adopts a slightly different plan for when the FA Cup games arrive. This weekend's game now has an extra significance following the last two results and a third straight defeat could see voices of discontent rise. The occasion is more than it should be, but Brendan must ensure even despite the added pressure, he plays the game.