He may be an enigma wrapped up in a world-class player, but the return of Luis Suarez is just what Liverpool need right now, says Joseph Copeland.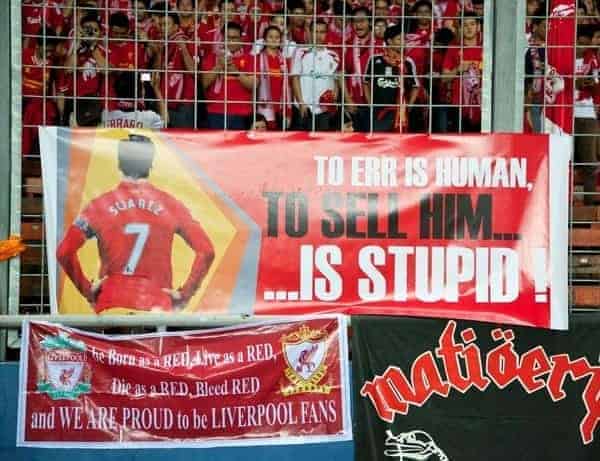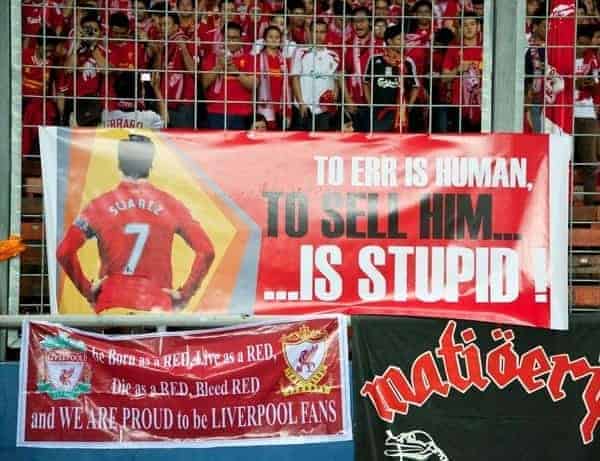 The other day I was watching a collegiate soccer match that pitted an undefeated powerhouse versus a clearly overmatched "cupcake" opponent. The game was ripe for a "David versus Goliath" type of performance. Despite the clear discrepancy in overall talent, the weaker school boasted the most gifted player on the pitch. He was playing in the centre of the park for his team, and he was absolutely bossing the game on both ends. His splendid passing was making even the most mediocre of players look like superstars. He bagged 2 goals and 2 assists in what ended up being a 4-2 upset victory for the underdogs.
The aforementioned story is a prime example of the significant impact a talented individual can have on a football team. This idea might sound obvious to casual fans, but being talented and being a "game changer" are two different things. The Messi's, Ronaldo's, Ibrahimovic's, Pirlo's and Gerrard's are game changers. They have the uncanny ability to take the game by the scruff of the neck and drag their team across the finish line. The last 9 months has seen Brazilian starlet Philippe Coutinho slowly taking over that role at Anfield. Yes Daniel Sturridge has been outstanding bagging goals galore for the Reds, but it has been Coutinho that has been the constant driving force for Liverpool.
Having watched the last 2 Premier League matches for a Liverpool, a 2-2 draw with Swansea followed by a woeful 1-0 defeat to Southampton, it is clear that if Coutinho is missing, so is the creative spark for Liverpool. Once he was taken off in South Wales the Reds lost all their bite in attack and had to claw to salvage a draw. Saturday saw Coutinho miss the first of what will be at least 6 weeks' worth of matches as the result of a severe shoulder injury. Without their brilliant architect, Liverpool were listless all day. Sturridge did not have the service he has become accustomed to. Steven Gerrard looked every bit of his 33 years as he struggled to simply maintain possession of the ball. Iago Aspas, who was deployed in the No. 10 role, failed to impress yet again and questions must soon be asked about the Spaniard if they aren't already. The loss of Coutinho to injury cannot result in the loss of all sense of cutting edge in the final third. Liverpool must find a player that can turn a drab 0-0 match into a 1-0 win as the result of a mind boggling, slaloming run, or an incisive through ball that finally breaks a determined defense. They need a player that has the confidence and ability to turn a game on its head. Look no further than a certain controversial Uruguayan. Luis Suarez has finally completed his 10 game suspension as the result of biting Chelsea's Branislav Ivanovic (Let's be honest, we've all thought about it at some point haven't we?).
All kidding aside, having had to endure the mind numbing daily drama that was Suarez's summer transfer saga, it might be hard for some fans to instantly welcome him back with open arms. They will point to his lack of discipline; accuse him of betraying the club, or they will present the tremendous record Liverpool have posted in his absence (7 W 2 D 1 L) as a few valid reasons for why he is "not needed". Not needed? Suarez was the best player in the Premier League last season, yes he was better than that new Madrid boy. When he is on form, he is a top 5 player in the world. For a club that is striving to reach the summit of English football once more, how is a player of Suarez's ilk NOT needed? Liverpool are a vastly improved team overall from last year's squad, which relied heavily on goals from their captivating No. 7 to salvage results. Now, there is more depth and balance in the squad. Sturridge has taken over the mantle as the goal poacher while the rest of the first XI have settled into their respective roles with aplomb. The excitement and hope brought on by strong start to the season that saw Liverpool rise to the top of the Premier League standings for a few weeks, has quickly dissipated following the two mediocre performances that have looked eerily similar to recent years. Just when you think those days are behind us they come back faster than Manchester City whips out the chequebook for a star player.
Wednesday's Capital One Cup encounter with a reeling Manchester United side is massive for the psyche of the team. Should Brendan Rodgers' men come out lifeless again, and Liverpool get beaten handily, things could quickly snow ball downhill. However, should Liverpool put in a good performance, regardless of the result; it would go a long way towards restoring the positivity that was so abundant only a few weeks ago. Looking beyond United, Liverpool are two games into a 6 game stretch in the league that features Swansea, Southampton, Sunderland, Crystal Palace, Newcastle and West Brom. Prior to the debacle in Wales, fans and media pundits alike were predicting a possible 15-18 points from those games. Now, having only garnered 1 from the first 6, things must change, and quickly. Suarez could be the man that triggers that change. Whether you love him or hate him, the second he steps on the pitch there is no denying his work rate, superb skills and dedication to the team. His reinsertion into the first XI might not be an instant hit, Suarez has only played for his country and a few closed door matches during his suspension, but once he regains full match fitness things should seriously start rolling once again at Anfield. It is impossible to argue the fact Liverpool have taken significant strides forward in the last year, but Suarez is the final piece to the puzzle that could see this team make some serious noise going forward. It's time to put all the petty drama behind us. No more "Will he stay or will he go?". Enough; "Let him walk, we're better off without him!". Now is the time to welcome back one of the best players to grace the Red half of Merseyside, and hope he has matured in his time away. If he picks up where he left off last season, and continues to build a cohesive relationship with Sturridge and Co, all will soon be forgiven at Anfield. Welcome back Luis.