Liverpool fans have taken to Twitter to vent their frustrations at the Reds' first defeat of the season earlier today when they went down 1-0 to Southampton at Anfield.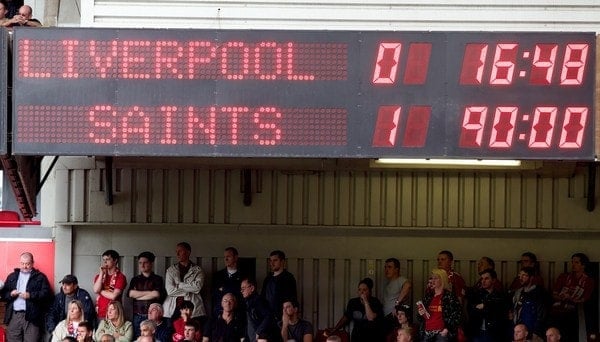 A second half header from Saints centre-back Dejan Lovran separated the two sides in a performance which seemed to lack pace or passion from Brendan Rodgers' men.
There were lots of question marks raised through the game – none more so than the decision to start with four centre-backs in defence.
There was a total of three different combinations at centre-back today with Daniel Agger and Martin Skrtel both substituted in the second half as Rodgers desperately tried to spark Liverpool into attack.
Mamado Sakho looked very uncomfortable in his left-back position until he was given a reprieve from the position by the eccentric-as-ever Jose Enrique.
In the middle of the park, Lucas and Steven Gerrard's performances seemed to run out of steam, which meant there was nothing linking the defence to Liverpool's attack.
Nevertheless, Liverpool were still top of the Premier League when the full time whistle blew. They later fell to 2nd in the table, but only on goal difference, when Chelsea beat Fulham.
Let us know where you think it went wrong for Liverpool against Southampton today. Comment below, or send us a tweet on Twitter @thisisanfield.
Here are just a few things some fans were saying after the game:
These types of performances just aren't good enough, there's nothing in midfield from us, no control, loosing every second ball. It had to

— Ritchie (@JohnRitchie84) September 21, 2013
Happen sometime but I'm appalled by that today. Southampton deservedly ahead and Liverpool will be fortunate to come away from this

— Ritchie (@JohnRitchie84) September 21, 2013
If we're placing our season on the form of a 21-year-old Coutinho there's something seriously wrong. Fans need to catch a grip. #LFC

— Brian Irvine (@btirvine) September 21, 2013

https://twitter.com/Liddellpool/status/381466638337331200

Rodgers believes in high pressing, attacking football & ball possession. Haven't seen it so far at all – why has he changed his ways??

— Jay (@Jay82_LFC) September 21, 2013

https://twitter.com/briankettle/status/381456633110335488
https://twitter.com/pauldalglish/status/381450364559446017

[table id=24 /]