Liverpudlian looks at how Liverpool are changing the team to succeed in a very different way to their rivals.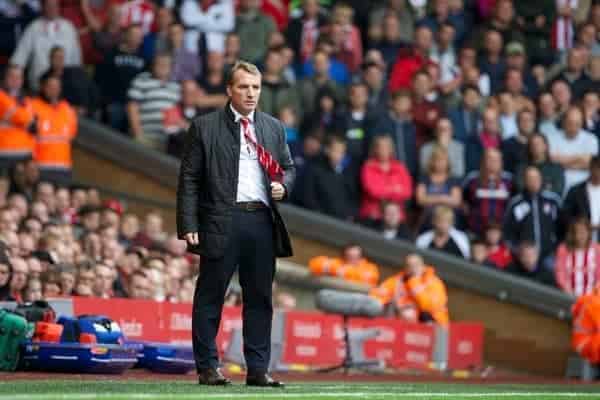 As season 2012 /13 finished, another team in the North West got it right again and with title number twenty safely in the trophy cabinet, the yawning gap in terms of league points was as wide from us as it has ever been. Consistency and stability saw them become champions at a canter without really ever being threatened and as someone who saw us win it all in our halcyon days, watching them overtake every record we ever set remains a very hard pill to swallow.
Being Liverpool nowadays is not just a spy on the wall documentary but is having two new sets of owners plus half a dozen managers within the last ten years and bucking every trend for a club that prided itself with doing all its business in-house behind closed doors, having become an open book in every sense of the word leaving us open to ridicule, banter and unwelcomed universal debate. Changes at boardroom and P.R. level have become almost as prevalent as the playing staff with mistakes being constantly made, providing the press with easy pickings and a ready source for detrimental comment. The only constant in all of this remains the calibre of supporter we have – how about YNWA at the MCG during the pre- season tour – and in particular you have to highlight the dignity of the Hillsborough families support groups, who remain a shining light in the way to go about your business. Indeed, the club would do well to display the quiet resolution shown by these fantastic people in going about their affairs in the future.
On the pitch it remains as difficult as ever to achieve success due to the influx of moneys from outside of the game and we have suffered as much as anyone with first Chelsea and now Manchester City filling up the quota of top four places, along with perennial incumbents, United and Arsenal. The stability of Everton and the fact that AVB hit the ground running at Spurs meant we were never really in with a shout of Champions League football under our new manager last year and that fact itself made difficult reading when you looked at the league table which, as they say, never lies. Floundering on the coat tails of the toffees and above only the likes of West Brom for the right to become the best of the mid table teams, is not exactly what was and is anticipated for a club such as ours with such lofty ambitions – misguided or otherwise.
My realistic hopes then for last term were a second half showing that was better than the first and a real prospect of challenging for the top four this year. How was I feeling about that during the summer? Well to be honest, I didn't know then and I STILL really don't know now, despite our good start. The glass-half-full part of me "drinks" to the very shrewd signings of Philippe Coutinho and Daniel Sturridge as an exciting attacking combination to supplement Luis Suarez up front but the negativity surrounding any prospect of (yet ) another disciplinary interrupted season by the Uruguayan or worse still, another maelstrom if his departure starts to get mooted again in January, means the half-empty-glass part contains unpalatable, stale beer.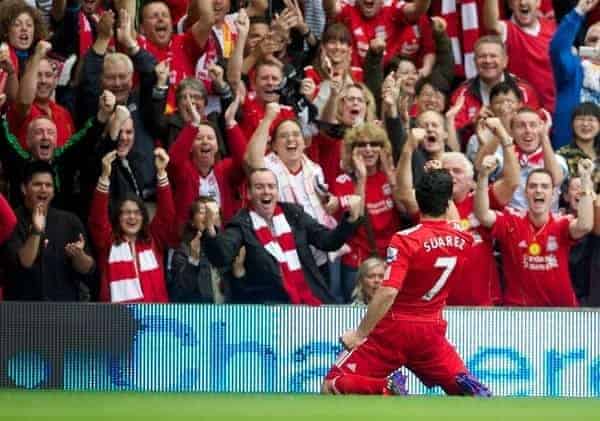 Luis is arguably as skilful as Kenny in his heyday but 1000% more hassle. I love him because he is our player but every time we / he take one step forward, it is two steps back. Many of us who argued the case of a stitch up in the Evra case, are now left totally bemused by the Ivanovic situation and some of his comments since. Whereas United knew exactly what they were doing to exacerbate & milk the racism incident to the full (and we messed it up big time) the biting incident was completely unprovoked and subsequently indefensible. None of us are naive enough to argue that football is all about money and success nowadays and if there is any prospect at all that Luis may be starting to affect us commercially, the owners might just say, enough is enough. The other side of the coin of course is whether the player himself thinks it is worth the hassle any more. The media in this country are as unforgiving as they come and will never have a good word to say about him, even if he never committed another foul in his life, but only Luis will know his intentions, long term, even now. Certainly, a fully fit, consistently-playing, Luis Suarez represents the best player in the premiership. I have said for years that he is in the top five players in the world and many in the game are coming round to that notion too, with some even considering him better now than the likes of Iniesta and Xavi, leaving him behind only the top goal scorers at the Barca and Real.
Last chance saloon or not, if we can supplement his mercurial talents with our current attacking options, there may be enough there to turn some of those poor results round in our favour this year with Brendan Rogers at great pains to stress that we were second only to Manchester clubs in terms of goal scoring and clean sheet exploits. The only plus coming out of Luis's ban being the freedom in which Philippe and Daniel expressed themselves over those last few games when they certainly stepped up to the plate and filled the void and of course, they have more than impressed again so far this term. The whole Arsenal charade though ,was a mess all round and a massive own goal for them in particular and for once, our club acted impeccably, stood firm and we are smoking a cigar now the fat lady is singing that our player is still here whereas at the Emirates, the no smoking signs are shining loud and clear. There was conjecture that both sets of American owners at Old Trafford and Anfield, bemused with the amount of clout a dissatisfied player seems to have, and faced with a similar scenario of a star player deciding to leave mid contract, had discussed tactics and in an attempt to start the erosion of player power in "soccer" and had adopted the same "end play." The identical stance in publicly stating, in no uncertain terms, that their players were going nowhere may well see implications regarding the impact of player power on the game in the future.
Back on the pitch, lingering doubts still remain though in our ability to take our chances in the tightest games against, shall we say, the better opposition and to dominate in midfield and it's those fine margins that have to be overcome if we are going to progress significantly and compete. I said all summer we needed a further, very influential midfield player to slot in between Philippe and Stevie and our marquee signing never did arrive with Mikhataryan, Costa and Willian all actively pursued in addressing that particular shortfall and all choosing to reject us but the incoming Victor Moses may yet become a very useful acquisition and save us a lot of money, we shall see. Certainly, unless someone had asked to leave, I didn't think there were glaring gaps in our squad like the farcical striker situation we endured last summer. Ok Jamie was retiring but that had been on record for months and can I just add my gratitude to the contribution of our number 23 over his fantastic career.
So if we required quality rather than quantity, who could we entice to get us into the Champions league in a season where we are, again unfortunately, out of it? Given that we could not afford the £50 million pounds to buy Edinson Cavani, rather than write off a loss of some twenty million pounds, I could not see why we didn't bring back Andy Carroll as our third / fourth striker and give him the chance to start repaying some of that massive outlay. There is no doubt in the premiership that there are times when alternatives are required, a plan B or whatever you want to call it and he most definitely offered that, but of course that didn't happen either.
The retirement of the magnificent Carra and the injury then to Sebastian Coates meant that at least one centre half was needed. Speculation regarding Ashley Williams, Alex Pearce and Papa the Greek was rife but Kolo Toure on a "free" was a master stroke and the double signing of Illiori and Sahko was a great but of business late on but nevertheless surprising, as to my mind, emphasis should have been placed on our attacking options and as I said earlier, that dominant lynchpin / axis in midfield to supplement our options all over the pitch in the mould of Yaya Toure, David Silva or Juan Mata. The tiring legs of Stevie means he cannot be expected to do this now and against the top teams, I repeat, we failed to impose our authority last year. Yes, Jordan is improving but with Lucas sitting deep and Stuart now gone ( he never ever imposed himself by grabbing a game by the scruff of the neck did he?) we are weak here. Compared to any of the top teams, ask yourself who has the best midfield and it's not us, that's for sure and I truly believe that is why, individual errors apart, we failed to beat the top teams last year. Eriksen went to Spurs late on and Thiago was snapped up by Pep at Bayern and either of these could potentially have been the answer and they certainly fitted into the FSG transfer criteria of being young, with lots of ability and looking for a stage to flourish in their career. Yet again, obviously youth will now be given the chance and Raheem and Jordan will need to thrive on the wings, like Philippe and Daniel have done in the centre, for us to succeed.
All of this will unfold in the coming weeks and months but what is not open to projection is the seismic changes that have occurred with as many as four of the six teams who finished above us with new managers in place. Conventional footy wisdom says that stability has been the key to the relative successes of Manchester United and Everton and I am firmly of the conviction that both teams will conversely now suffer accordingly this year. I have stated many times that the current United side is not great but Sir Alex's fantastic leadership skills were the difference by instilling that winning habit into his players. The choice of David Moyes as manager then left me incredulous when either Mourinho or Guardiola could surely have been acquired at some stage over the last twelve months if it was known that the great man was considering retiring. Quite how he is expected to fill the void puzzles the hell out of me and one of his early comments about being overwhelmed by the job came as no surprise whatsoever. It is one thing sending out a team to be resolute, compete and look to profit from dead ball situations but quite another to retain the expected values of expansive attacking football up to the final whistle at the highest level both home and abroad. The gnashing of teeth by the Evertonians aimed at the Scotsman after the semi – final defeat to us will be nothing compared to the outcry from the Stretford Road End if Moyesy bottles it on the big occasions with regularity he did when managing our friends across the park. After twenty odd traumatic years watching them win everything, we will find out how good this United team actually are now with a new manager on an absolute hiding to nothing, his predecessor still in situ at the club (as an ambassador, I think?) and according to reports, Van Persie is already suitably unimpressed with Moyes's managerial acumen and we can only hope the resultant changes throughout the club will have an adverse effect where it matters – on the pitch. Given the RVPs goals were a major factor in them winning of the league title, it is hoped for their sake that the Dutchman and indeed, one disgruntled scouser are brought onside very quickly. At the time of writing though, the Scotsman is still looking for his first wins at Old Trafford and Anfield so it's good news all round there then.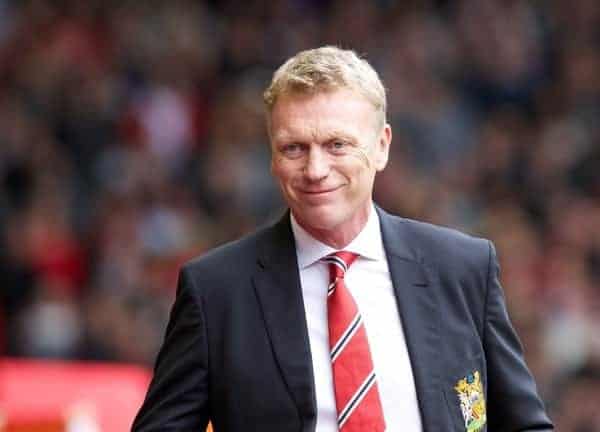 Likewise, at Everton, the former manager's influence was, I believe, the overriding factor in maintaining a standing to far greater than the actual player quality on the pitch and Martinez coming in at Goodison could well be another poisoned chalice. Accordingly then, all reds will hope the Spaniard maintains the standards he achieved at Wigan in consistently retaining them just above the relegation places for so long. A quick glance at the league table, even after three games, shows he is already doing remarkably well in finding that level.
So if Moyes to United is indeed the classic win-win situation for us then, conversely this is tempered by the potential return of Mourinho to Chelsea though quite why he allowed both Moses and Lukaku to go out on loan with only two recognised strikers still at the club remains a mystery. The over abundant midfield though, is like a who's who of international stars and they rightly are favourites to wrest the premiership if the expected demise of Manchester United takes shape with perhaps the Spanish approach of playing without a regular centre forward being adopted at the Bridge.
Pellegrino moving to City plus the new signings would also represent a totally different proposition in contrast to the ineffective Mancini, especially with the disproportionate wealth at the Etihad and I believe they will also thrive, eventually, with a manager that actually knows what he is doing. The way that they squandered the title to their neighbours must have been even more of a sickener to them than us and their woeful performance at Wembley in the cup final defied belief, for a team that cost so much.
Spurs will really fancy their chances to monopolise on the situation and have spent heavily in the summer with AVB having a much better start to his managerial career than our own "long serving manager" and they must be pinching themselves over the amount Real Madrid have paid for the vastly over rated "good- but- certainly- not- great" Welshman. Yes Gareth Bale was a match winner for them last year but is he worth so much more than Falcao or Neymar? Never in a million years and as Dominic King said from the Liverpool Echo on LFCTV, Bale wasn't even in the best two players in the premiership last year. The gamble is whether the massive influx can blend and score the quota that Bale did. Likewise though, you would suspect there will be massive disappointment at the Lane if they do not fill one of those fabled top four places.
Arsenal, meanwhile, continued to defy the many critics even within their fan base and for the umpteenth time strung together a run of success to get that fourth place. Again we saw Arsene Wenger pilloried unmercifully from within but yet again the man proved his worth when it counted at the business end of the campaign. OK they won nothing, but when you consider how many players they have let go over recent years, their league consistency is amazing and likewise, we were reading that large amounts would be spent here during the summer on reinforcements but it turned out to be a PR disaster and the £40 million plus one pound bollocks made them a laughing stock. The subsequent single panic buy of the ineffective Mehmet Ozil for in excess of the amount offered for a Luis says it all really when they desperately need strikers in the mould of Higuain, Negredo or Soldado to turn them into potential champions.
Whoever "manages" the managerial upheaval the best will succeed in what promises to be the most open title race for years. It is a very different landscape in the premiership now with everything up for grabs and no outright favourite. Let us hope our plethora of youngsters can all step up to the plate now that Philippe Coutinho has raised the bar in terms of performance level. At just twenty years old, he has been a revelation and has the potential to make this is a very big season in world cup year and the little Brazilian who has been a magician so far will need to pull all the strings if we are to succeed. With the defence significantly reinforced, they all will have to do the business and play their part in our squad now because continued stagnation in our current position, outside the fabled Champions league places, will surely see optimism in the project Brendan is overseeing start to evaporate.
Uncertainty and a lowering of standards, real or perceived, at most of our adversaries means this is our best chance in absolutely years to take advantage of any levelling out at the premiership hierarchy, provided we can get it right both on and off the pitch. Strong flawless leadership from FSG, continued backing in the transfer market and a tangible start to the stadium project is essential if we are to succeed in our long road back to the top. Nine points out of nine is light years away from the start we made last year and with the main man to return, we are justified in the guarded optimism spreading around Anfield currently.
Promising times to be a Red?
Liverpudlian