Craig Rimmer looks ahead to forthcoming games and asks, where will the returning Luis Suarez fit into the present Liverpool team?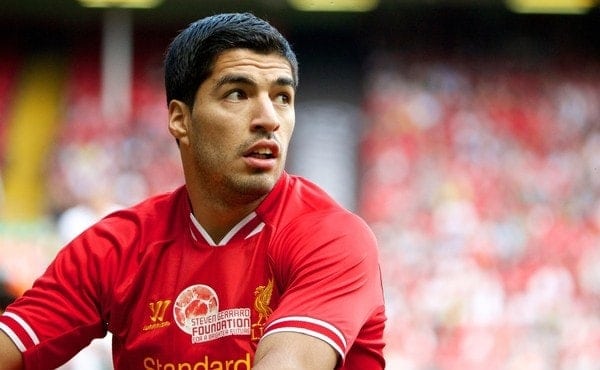 Luis Suarez will make a timely return to the Liverpool squad this week in the wake of the disappointing 1-0 home defeat to Southampton – a result which drew to an abrupt halt Liverpool's strong start to the new season.
Whilst the end of the Uruguayan's 10-match domestic ban will prove a welcome distraction for both fans and teammates alike, the belated start to Suarez's season may also pose some interesting questions to manager, Brendan Rodgers. Not least where last season's 30 goal top scorer will fit into the current Liverpool team.
Let us makes matters clear; this certainly cannot be viewed as a problem per se. After all, the addition of such creative, potent attacking energy, which will almost certainly accompany Suarez's imminent return, can only act to improve Liverpool as a team; not least in the attacking third, where Liverpool have somewhat lost their way in spite of some promising early-season signs.
What is more, the signals are positive in terms of Suarez's match fitness. Suarez came through a couple of crucial world cup qualifiers for his country, Uruguay, just a couple of weeks past – international football which has, for a change, proved to be of great convenience to his club side. Whilst Rodgers has himself revealed that Suarez has also been involved in a number of practices matches hosted at Melwood over the course of the early weeks of the season. No substitute for the intensity of Premier League football; but we can assume that Suarez will not require too long to get up to speed.
However, the role in which Suarez is to be utilised may well go some way to deciding the direction that Liverpool 's season takes over the coming months and determining whether this current Rodgers' team are able to make a sustained challenge for the much-coveted Champions League qualification spots.
There is little doubt that Liverpool's strength and depth in the attacking third has improved beyond bounds over the course of 2013, with the additions of Daniel Sturridge, Philipe Coutinho and, to a lesser extent, Iago Aspas, Luis Alberto and Victor Moses. Yet, Suarez is the one man at Rodgers' disposal who is able to consistently produce the type of match-winning performance which can allow Liverpool to compete with their key rivals at the top of the Premier League.
The fact that Suarez is able to cover any of the front four positions, and probably perform equally as effectively in each, is a huge bonus. However, with Sturridge in such a rich vein of goal-scoring form, there can be little argument for the England forward to be dislodged from his current central position.
Instead, Suarez may be best utilised on the left of an attacking three. A position which he became accustomed to during his spell in Holland and one which we saw intermittently last season. Even playing as a centre-forward, Suarez is often inclined to drift into the channels and expose the opposition full-back.
Despite some doubters, there were brief signs that Sturridge and Suarez were able to develop a good understanding during the limited time which they have spent together on the pitch. Given a free rein to drift inside and exploit space regularly vacated by Sturridge – who has a tendency to drop deep, Suarez can complement the existing attack whilst still contributing the number of goals which Liverpool need.
This is not to say that the days of Suarez as the centre-forward are numbered. With Sturridge's injury record far short of encouraging and Aspas seemingly unsuited to a central attacking role in the Premier League, the Uruguayan may yet see plenty of football from a position which proved so effective last season.
Suarez may equally have been considered for the berth in behind the central striker – the oft-termed 'No. 10' role. In the short-term absence of Coutinho this may be the obvious option. However, by my mind, Liverpool's most glaring deficiency so far this season – one which was particularly exposed against Southampton – is the lack of balance in midfield.
Liverpool's midfield is desperately calling out for somebody who wants the ball to feet in midfield; somebody who is comfortable and intelligent with possession. It is a role which Coutinho, when deployed centrally, can fulfill. Despite not playing an especially starring role against Swansea City, the young Brazilian proved his value in this regard and was missed when forced to leave the field through injury.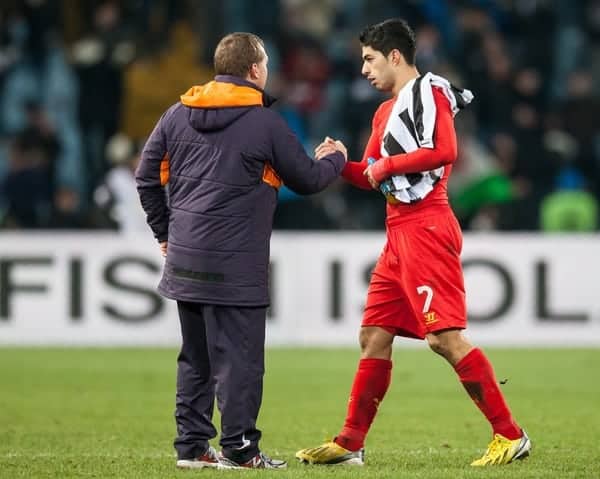 In the short-term absence of Coutinho, Luis Alberto should be given the opportunity to stake a claim to the role; or perhaps Joe Allen if he can prove fitness. Players who are comfortable in possession and would add an extra dimension to midfield; allowing Suarez to cut-in and threaten from the flanks.
Fitness permitting, Suarez from the left and Coutinho centrally in support of Sturridge, with Aspas or Henderson from the right, may be the most effective set up. That would leave Moses as a very effective impact substitute – an element which has often been lacking and a role which Moses played effectively for Chelsea at the back end of last season.
All told it will be intriguing to discover just how Rodgers approaches the task of reintroducing Suarez to his team over the coming matches. Yet, one thing is for certain. Liverpool will prove a much tougher proposition for the renewed presence of the enigmatic Uruguayan.