Monday's match at Swansea will see Steven Gerrard captain Liverpool for an incredible 400th time. Joseph Copeland pays tribute to the inspirational midfielder.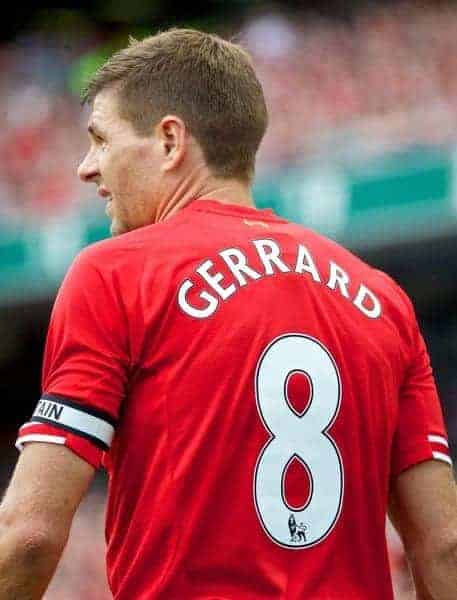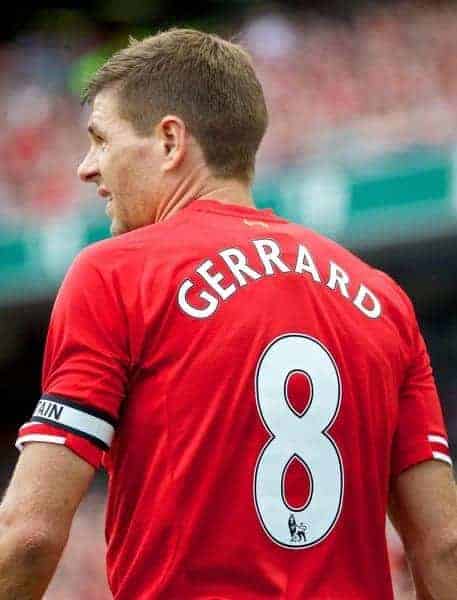 In the modern game of football, it is very rare for a player to be synonymous with a solitary club. Recently you think of; Alessandro Del Piero and Juventus, Francesco Totti for Roma, Ryan Giggs at Manchester United and Paolo Maldini with AC Milan. The list could go on and on. However, there is a talismanic local hero that has almost single handedly willed his club on to glory and honor who deserves to be considered in the aforementioned class. That man is the Liverpool legend himself, Steven George Gerrard. The 33 year-old midfielder has won the hearts of the Anfield faithful through his grit, skill, passion and undeniable love for his local club.
You see many players kiss the badge of their respective club after scoring a goal, but few actually understand what the badge truly means. Gerrard is one of those select few. Born in Whiston, Merseyside, Gerrard has known nothing but Liverpool Football Club his entire life. He realises the significance of the Liverbird. He appreciates the legacy that was left by names such as Dalglish, Shankly and Paisley, a legacy of unparalleled success that will forever be the standard at Liverpool. He has relished the chance to build his own identity at Liverpool, and for the better part of a decade, he has succeeded. 159 goals in 634 appearances for the club. Winner of 11 trophies. These are just a few bullet points on the novel sized resume of Stevie G.
Throughout his illustrious career Gerrard has proven a knack for the dramatic. For example, there is no greater call of goal than this beauty on a cold winter night in December 2004.
He inspired Liverpool to FA Cup glory in 2006 with this pair of superb strikes.
It seemed that the moment when things seemed lost, when all hope had seemed to vanish into the Anfield air, "Captain Fantastic" would grab his mates on the pitch, the fans in the stands and the entire city by the scruff of the neck as if to say, "Not on my watch." He was the driving force behind the miracle in Istanbul that saw Liverpool capture one of the most dramatic Champions League titles ever. The amount of times that Gerrard has covered up the blemishes of the club has become nigh impossible to count.
You would be hard pressed to find a better Captain in club football today. He epitomises what any manager would want from their leader. His leadership qualities have never been questioned, nor should they ever be. However, for as great as Gerrard truly is, prior to last season, it seemed like father time was finally catching up with the England International. He only played 24 times during the 2010-11 season, only to follow that up with a meagre 28 appearances in the 2011-12 campaign. He has struggled with injuries in the latter stages of his career, but now, he seems as fresh as ever. He made 46 appearances last term, silencing the majority of his critics.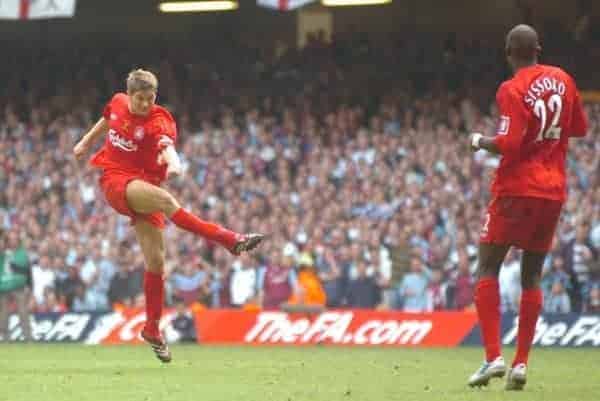 Throughout his career, the English media have often compared him to Chelsea's own number 8, Frank Lampard. They have been without a doubt 2 of the 5 best Premier League players of the last decade. There is no denying the world class abilities of Lampard, as his 200+ goals for the Blues would attest to. Lampard's trophy cabinet is just as full as Gerrard's, including the Holy Grail, a Premier League title. This is the one black spot on Gerrard's sparkling resume. If there was ever a "Best to Never Win a League" title, it would be quite difficult to find a better candidate than the Reds captain. His failure to form a lethal partnership with Lampard for the England setup has seen him garner a lot of flak over the years as well. However, he has persevered and now is the undisputed Captain for the Three Lions. Ultimately, these failures should not lessen the impact he has had on the game. One of the greatest players ever, Zinedine Zidane, has nothing but glowing remarks about his counterpart.
"Is he the best in the world? He might not get the attention of Messi and Ronaldo but yes, I think he just might be. If you don't have a player like Steven Gerrard, who is the engine room, it can affect the whole team. When we were winning league titles and European Cups at Real, I always said Claude Makelele was our most important player. There is no way myself, (Luis) Figo or Raul would have been able to do what we did without Claude and the same goes for Liverpool and Gerrard. He has great passing ability, can tackle and scores goals, but most importantly he gives the players around him confidence and belief. You can't learn that — players like him are just born with that presence." Zidane said.
I'm not sure about you, but Zidane knows this game inside and out, and I take whatever he says as quality insight. Thousands of players across the world dream of one day being able to captain a club just once, let alone reach the 400 milestone. It is not only a testament to his loyalty and talent, but it is a reflection of his character. Even now, with the finish line on the horizon, he still approaches every game with the vitality and enthusiasm of a 20 year-old kid trying to impress the boss. Those attributes are not taught, they are naturally built into a players DNA. Liverpool supporters have been lucky to witness his greatness over the years. The opposition never mattered, whether it was Barcelona, Real Madrid, Bayern Munich, you knew Liverpool would have a chance if Gerrard was on the field. He not only raised his level in the big moments, he had the uncanny ability to raise his teammate's games as well. That is the mark of a true leader. The ability to inspire your comrades to reach new heights in their game is a magical gift that only a few have been allowed to wield.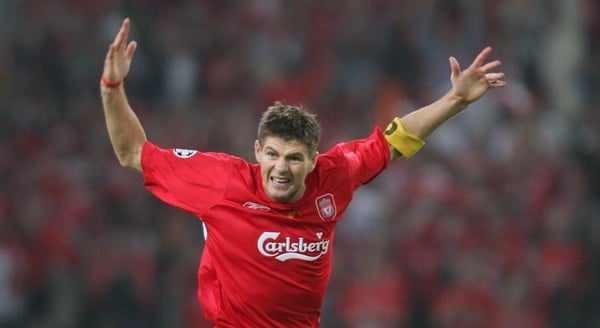 It is extremely rare for a player to even make 400 appearances for a club, let alone captain them for that many times. Steven Gerrard has nothing to prove to anybody at this point. He could've retired this summer and still gone down as one of the greatest Liverpool and English players of all time. As it were, Gerrard has turned back the clock in the early stages of this season, which has seen the Reds surge to the top of the table. He is no longer needed to make the bombing runs forward, rather he is needed in the centre of the park, where his vast experience and knowledge of the game is on full display.
Come Monday's trip to Swansea City, the footballing world will see Steven Gerrard lead his club out of the tunnel for an unprecedented 400th time. To us, it is a truly amazing accomplishment, one that warrants serious plaudits, but to the Skipper, it is just another chance to lead his beloved club back to the top of the game, a place where Gerrard is no stranger to being.
"When we find ourselves in times of trouble, Stevie G runs past me,

Playing the game with wisdom, Stevie G,

And in my home, the Spion Kop, We watch him jog, right in front of me,

Spreading balls with wisdom, Stevie G,

Let it be, let it be, let it be,

Stevie G, The local lad turned hero, Stevie G

And when the jubilant Kopite people, All living in The Park agree,

That we all know the answer, Stevie G,

And although we may all be fooled, There is still a chance that we will see,

The footballing phenomenon, Stevie G,

Let it be, let it be, let it be,

Stevie G, Spreading balls with wisdom, Stevie G

And when the night is cloudy, There is still a man that we all see,

A young, committed Kopite, Stevie G,

Playing to the sound of music, Stevie G runs past me,

Playing the game with wisdom, Stevie G,

Let it be, let it be, let it be, Stevie G,

For we all know the answer, his name is Stevie G"