Guest writer Alex Irimia shares his interesting piece with us on the makeup of Liverpool's squad, dispelling some everyday assumptions.

There's something strange going on these days in the Liverpool FC world. We, the fans, have accustomed ourselves in these late years to an annoying habit of explaining ourselves more often than necessary. Why did our team lose? Why did this loss occur against an "accessible" opponent? Why did we draw when we were supposed to win? Why did we, yet again, drop points? Why aren't our transfers paying off? Why are we finishing constantly in the 6th-8th area of the league? Why aren't things working?
Well lately events have taken quite an interesting turn – things have finally started to work. And this somehow new situation has created confusion amongst the fans. We are out of our shoes happy but we are afraid to show it wholly, I included.
We are still afraid that this could only be a false misty morning horizon line, and when the fog will dissipate it will show an entirely different picture then the one we're seeing right now. A less coloured, greyer picture. The fear of being disappointed, as we constantly have been for the past several seasons is still in our bones holding us firm on an inferior pace of the ladder.
But as our team ascends we must accompany them, raise our spirit, take a leap of faith, and support the hell out of them. Yes, we all have doubts and fears but we mustn't let those transpire through our attitude, or else our team and our team staff will feel it and they will begin to doubt themselves. And that's the last thing we want. I truly believe that there are bright days coming our way and here is why.
1). Last season's squad was thin, especially at the back. The most appropriate word to describe last season's performance would be a windmill, because of the discrepancy of it. We all witnessed the occasional joyful flowing game that blended chaotically with the reoccurring disempowering defeats and draws. It was hot and cold, and it was frustrating, leaving behind only a helpless feeling and a sour taste. Thankfully, January came and much needed change happened through the squad with the completing of two masterstroke transfers under the names of Daniel Sturridge and Philippe Coutinho.
But the idea that stuck with me at the end of the Championship was that our squad's frailness was at the back end of it. Our squad's weakness was definitely the defence and it needed urgent attention. By defence I also mean the paramount position of the goalkeeper. The simple truth is that the defence was not only good enough, but quite bad. Although ranked 5th as per goals conceded (43) at the end of the season, it was a constant source of worry and disappointment. To be fair, the overall performance wasn't poor per say, but the constant howlers from both the defenders and the goalkeeper were nerve-breaking. And I say this with all the respect and admiration that I have for players like Jamie Carragher, Pepe Reina, Daniel Agger or Martin Skrtel.
I truly believe that a powerful team is build on a strong back, and a strong back is always anchored in a confident, constant goalkeeper. And ultimately, yes, "a good offence will bring you goals but a great defence will win you the championship". We couldn't possibly have been a powerful team in the past years because, to put it cold, our defence was plain mediocre, and our main goalkeeper was nowhere near constant, nor confident enough. So the team was playing with a bugging chill regarding its back end. Everyone was nervous when we defended, dealt with set plays or even played the ball from the back. It was like driving with the handbrake on.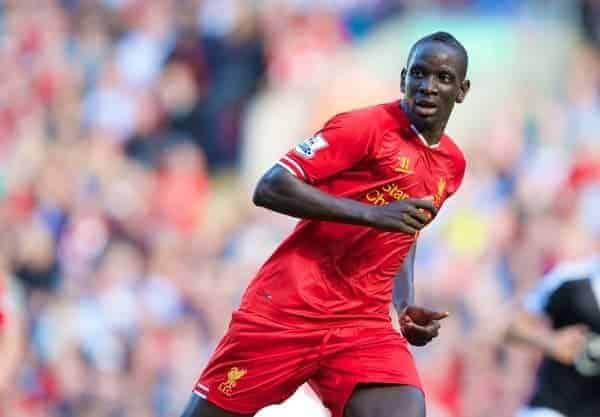 2) The summer transfers have been mainly about strengthening the defence. Having that feeling from last season in mind I was really excited to see that this summer's transfer window addressed, first and foremost, this particular problem, the defensive line. I have read almost everything that has been written about our summer transfer window and I know that there are two stories out there: yea and nay sayers. I found myself among the first ones. Yes, you can always do better, but in reality you have to prioritise your goals, do the stringent ones first and take care of the others as you go. And I think that's exactly what the manager has done. He has taken care of the most imperative problem. We have seen no less than four quality defenders entering our gates: Kolo Toure, Aly Cissokho, Mamadou Sakho and Tiago Ilori. On top of that we've welcomed a very good, promising young keeper, Simon Mignolet, to replace our out of form veteran, Jose Reina.
I would venture to say that through these actions, Liverpool consolidated the best defence in the league, substitutions considered. From that annoying uncertainty and constant fear that the injury of one defender could bring down our entire team play we've had in the past, we've come to the point that we can pleasantly scratch our heads, debating which one of our SIX combinations is the best choice for our center back duo. Or which one of Jose Enrique or Cissokho would offer more, defensively and offensively, to the team. Without any doubt, these are the best sort of problems for a manager to have, and for us, fans, to debate. And, as it proves, Sakho is a beast of a defender with certain quality, accommodating very fast to the EPL, Mignolet is making Reina forgotten faster than anyone would have guessed and I don't think there's any point in going in the "the giant" Toure subject.
As an irony, nowadays our defence looks like our best squad compartment, and that can only be a great think. Now we have the luxury to keep our calm even if one of our best centre-backs gets injured, or even if our first choice right side full back gets a knock concomitant as our best centre-back lies in the infirmary. Remember what havoc produced at the club this scenario last year (Skrtel out of shape and Enrique injured)? That's why I personally think that the manager's approach in strengthening the defensive department as first priority this summer was the right choice and it will pay good dividends starting this very season.
3) The attacking department looks very sharp. In the attacking department things look just peachy with our unstoppable striking duo of Luis Suarez and Daniel Sturridge, lately dubbed as the new SAS. Add to that the Philippe Coutinho ingredient and, if you're an LFC fan, you will start drooling any minute. Unfortunately this is more of an ongoing concept than a proven fact, considering that "the three musketeers" have actually played very little time together so far (only 5 games to date). We all hope, and somehow know, that when our little magical no. 10 comes back, this brilliant trio will give us moments of crazy bursting joy. As a cover striker however, we only have Iago Aspas, a summer signing still stuck in the terrible striker's limbo. Hopefully he will get past it and prove a good, effective sub striker, scoring several goals in this season time, mostly in the FA cup that will take place in the second half of the season. Realistically speaking though, I can't really see him catching a lucky break with these two superb strikers in front of him. But it's still early to tell if he is going to be a hit or a miss.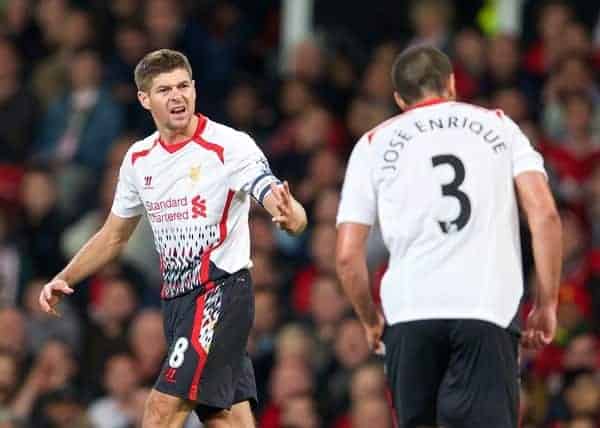 4) Our centre midfield is not the team's Achilles' heel. You must have noticed that I skipped the midfield jumping from the defence straight to the attack. Well, that's because the midfield is a different story altogether. And it's a bit complicated too. Our midfield is basically built on two central pillars: Steven Gerrard and Lucas Leiva. Lately the "midfield issue" has taken a lot of time and space in the LFC dedicated columns. And that for a fairly solid reason: it's the area of our squad that looks thinner than others and it shows in our performances. To answer the unspoken but obvious premises of this debate I will state that yes, Steven Gerrard is still our best central midfielder with a lot to offer to the team, and yes, Lucas Leiva is our best defensive enforcer, if not, in truth, the only real one. Stating the obvious though, one could rightly point: "If your premises are correct, and judging by the performances they've put in so far, does that mean that we have a poor midfield?" Not necessarily. I did say that Gerrard is our best CM and Leiva is our best DM, and I stand by my affirmation, but:
• As pretty much every LFC fan on the internet states, S. Gerrard needs a rest. Let's look at the facts: since the championship has started the guy has played every minute of the seven league games, four full international games for England, a full cup game against Man Utd and a full game plus added time in the Notts County shady business. To sum it up that is 13 games, or an astonishing 1200 minutes of playing time, in a period of only 60 days (since 17th of August). That is an average of a game every 4.6 days.
• LFC fans, who have been with the club for more than a few years, know that our skipper is a diesel. All jokes aside, the guy simply starts his seasons on a lower note, just to pick up as the games go by. He did that almost every season, and we know that, judging on the past behaviour, Captain Fantastic is going to reach his peak sometime in December. And that is just perfect, considering he is kept fit (to be read rested), if we think that the month we're talking about can be accurately described as an absolute massacre for the EPL teams. That's when all things go haywire, and stop making sense, which (how ironically!) makes sense if you look at the schedule and see that for more than a month there's a game every 3 days or less.
• Lucas, on the other hand, is a different scenario. He is, simply put, our mop up crew of one. The man does the dirty work, and he does it quite well – he has quite good stats despite the general belief. Yes, he has picked up 5 yellow cards in only six games, and yes, he is sometimes sloppy, but that doesn't happen very often, and could pass as a momentarily mood, as he usually tends to be pretty tidy. And it is a reality that the enforcers are, in modern football, the players to pick up most yellow cards during a season, due to the so called technical faults they have to take for the team. And last, and most important, we simply don't have any other midfielder to be better than him at protecting the back four from midfield. And that is not, by any means, a good thing.
If we take a close look beyond the Gerrard-Lucas conundrum we can see that the situation is not as desperate as some are stressing. The undeniable thing about all this midfield problem is that, in order to perform at their best, players will need to compete for their places in the starting lineup. Even a proven club loyal and experienced player like Lucas Leiva or even an absolute legend like Steven Gerrard. The certainty that he will be amongst the starting eleven no matter how his play goes down can only drag a player into complacency, and lead to his downfall. Many tend to believe that in this area we have no depth, no real competition, and thus the two aforementioned cannot perform at their best, being complacent, but is it really like that?
5) We do have options in the centre of the park. In truth, we actually have in the squad two quite decent players in the central midfield area. Although a natural central midfielder, Jordan Henderson has been used lately as a utility player. He has been employed on different positions of the midfield, depending on the need of the moment. However, the young man acquitted himself honourably of his duties when deployed on the right or left flank, but it was his natural position, CM, that he really impressed on, in the last league game, against Crystal Palace. I must take responsibility and admit that I've never been a big fan of Henderson's, whom I used to consider careless and wasteful when in possession, but during that last league game I did say to myself "This guy is someone I would really like to have on a regular basis in my team." So yes, if Henderson can keep his level of performance up, like the one he had against Crystal Palace (my choice for MOTM for that match) than I can definitely see him as a strong competition for both Gerrard and Lucas.
Joe Allen is something of a delicate subject these days for the LFC fans. The young player is a prodigy, for sure, his talent being there for everyone to see. But it seems something is keeping him from releasing it for the team's obvious benefits. Of course, one factor has to be the injuries he has had since joining the Reds, two quite serious ones to be precise (shoulder surgery and hamstring). But I'm getting the feeling that there is something else as well keeping him from taking off. And for whatever reason I can't really put my finger on it. Be it his round numbered transfer fee pressing hard on his young shoulders, be it a temporary lack of self esteem, or a chemistry problem with colleagues? I just can't say. What really baffles me is that he and Brendan Rogers truly seem to have an ideal manager-player relationship. Rogers really cares about him and knows him probably better than any other manager, being the coach that nurtured Allen's development and his becoming as an influent, pass master midfielder. All I can say is that I hope Allen gets over his rainy days as soon as possible and continues his ascendant as a player and as a playmaker. Because he really possesses all the ingredients and here, at LFC, he has all the conditions to become our own Xavi.
6) The matter of concern is actually the winger's area. At this point we look quite shaky on the flanks with only Victor Moses, Raheem Sterling and Jordon Ibe natural wingers in the first team. Out of these three the stand out must be the summer loan signing Victor Moses from Chelsea. As we were able to see in the four games he already played for us, the fast paced, direct winger is a good man to have around. In these four games he already racked up a goal and created numerous occasions to score to other team mates.
Sterling and Ibe are two very promising teenage players who are really lucky to be rubbing shoulders and train right next to giants like Gerrard, Suarez, Agger, Johnson and Toure. They will benefit greatly to be in the squad and even cumulate few appearances with the first team this season. Also they can bring to the team their age freshness and enthusiasm, on top of their lightning pace and their quick feet. Unfortunately I can't see any of them taking a stand to claim a starting place in the team this season.
As for Luis Alberto, I prefer to place him among the wide midfielders because that is the position on which he impressed at Barcelona B – left wing, but the Spanish can play very well in the middle of the park, in a more creative role. The youngster has a good vision in him that comes with a good pass and a decent positioning. But, as most fans around, I too see that there is a lot to improve here and I consider this one a vouch for the future. Come January, I would definitely opt for loaning him out, if we manage to bring someone else with an immediate impact instead.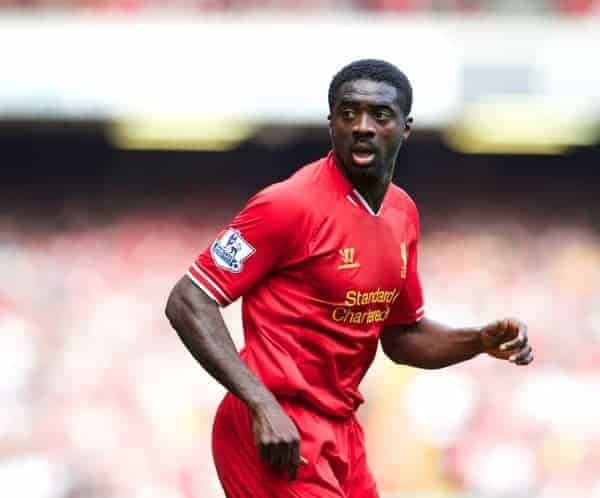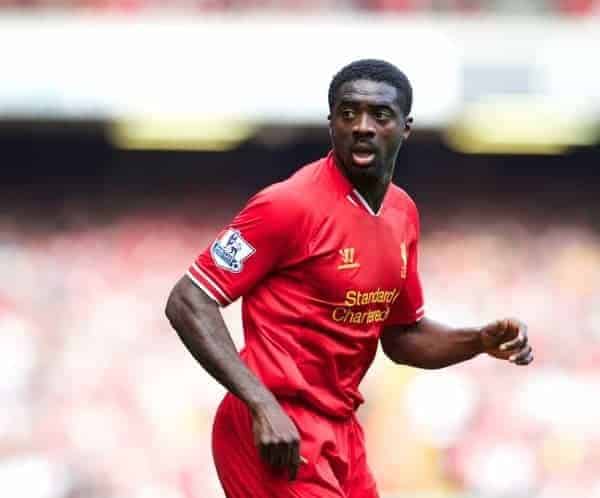 7) The squad is a good mix of youth and experience. Zooming out, we can actually begin to grasp the picture that Brendan Rogers and his staff are creating at our beloved club. There's not only promise and potential but also experience in our ranks providing a good feeling of balance in the squad. We have an equable mix of youngsters, who bring in their energy, enthusiasm, and their raw potential, and proven players, who contribute with their experience, intelligence, and their baggage of past success. And both in the right amount, if we consider that our squad's average age is only 25,3 years, making us the second youngest side in the Premier League, second only to Paul Lambert's Aston Villa. And it is this incredible mix of our squad that I treasure more than individual greatness. If only Brendan Rogers, aided by the formidable veterans he has in the side, like Gerrard and Toure, will be able to infuse in the squad the right attitude and that all mighty passion you can see so vividly in a winner's manner.
8) Strengthening is a must in the following transfer window. Although I find our squad to be robust, I must say that I think we need strengthening and refreshment in the January transfer window, but a moderate and carefully considered one. A must would be a defensive midfielder to compete with Lucas, and it would be really good if he could be a Wanyama type of player, bringing some muscles to the team in a position were physicality is much needed. I would also like to see a fairly young, experienced and proven at a decent level winger or attacking midfielder come in to add not only quality to our squad but options, and even a new dimension to our play. A needed addition would also be a young, talented goalkeeper to provide competition to Simon Mignolet, for I think that Brad Jones is out of motivation and form for being too long on the bench.
All things considered, I think we have a really good squad, one to rival any other squad in the League. Used with intelligence and guided with vision, as I trust Brendan Rogers will do, it will reach a potential few would dare to imagine. Yes, slip-ups like the one with Southampton will occur from time to time, the key is not to dwell on those set-backs rather than turn the page and start a fresh story, one with an immediate successful response. We, as fans, only need to get behind the boss and his staff, and of course, behind the lads, and accompany them through this exciting new and promising journey that lies ahead of all of us. Keep your spirits high and your chants going because You'll Never Walk Alone!