Liverpool lie second in the Premier League table, and their performances so far this season are generating genuine belief that a top four finish is possible.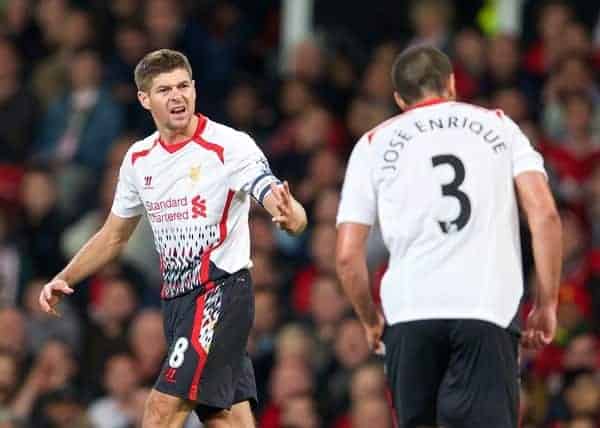 But, for all the consistency of Simon Migolet, the leadership of Steven Gerrard, and the superb partnership of Luis Suarez and Daniel Sturridge, there is arguably one player who is a weak link in the side: Jose Enrique.
The 27-year-old Spaniard has plenty of good aspects to his game, whether it be his brute strength or his speed when recovering back, but there is always the nagging feeling that he is a disaster waiting to happen.
Defensively he switches off far too often, and he is also guilty of holding on to the ball for too long, before losing it in key areas. The latest example of his poor defensive work was the key reason Liverpool were knocked out of the League Cup by Manchester United.
The Reds outplayed United on their own patch for a large part of the game, with every player doing his job in the side expertly. Their hard work was ruined by Enrique though, who inexplicably let Javier Hernandez run off him and score the only goal of the game from close range. Games of such magnitude are decided by small errors from individuals, and Enrique has been guilty of this more than once. He will often play well for 89 minutes of a game, but there is always a mistake in him.
Jose Enrique *loves* a curling cross-field ball. Doesn't matter who it goes to. He just likes watching the pretty ball spinning wheeeeeeeeee

— Liverpool Offside (@LFCOffside) September 29, 2013
As hard as it may be to hear, United's vast success over the last 20 years has been down to their remarkable consistency and lack of errors at the back. At their peaks, the likes of Nemanja Vidic, Rio Ferdinand and Patrice Evra gave away nothing, particularly in big games.
Similarly, look at Liverpool under Rafa Benitez during the 2008/09 season. Their full-backs at the time, Alvaro Arbeloa and Fabio Aurelio, were not the most eye-catching players, especially Arbeloa, but how often did they let the side down?
On Sky Sports' Monday Night Football two weeks ago, Reds legend Jamie Carragher spoke about the frustration of playing alongside Enriqu:
"I stopped talking to Enrique in the end, I had no idea what he was going to do and he didn't listen to me anyway."
That sums him up really.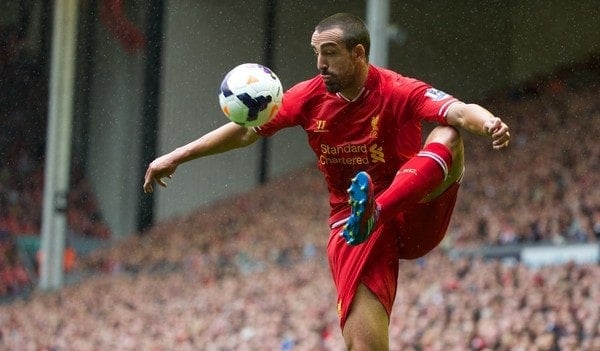 When he signed from Newcastle in the summer of 2011, Enrique was regarded as one of the best left-backs in the country. Many Liverpool fans were excited about his arrival, seeing him as the perfect man to fill a position that had been an issue at Anfield since John Arne Riise best days in the mid 2000s. A very bright start to his career under Kenny Dalglish seemed to justify the excitement, but his form tailed off dramatically and he hasn't been the same player since.
A gun spins across the lab floor. Walt & Jesse lunge for it. José Enrique shields it to safety then acc passes it to Todd who kills everyone

— Breakfast Percy (@BreakfastPercy) September 29, 2013
For a player respected more for his attacking qualities than his defensive work, his statistics aren't exactly groundbreaking to say the least. Two goals and eight assists in 78 appearances are not good figures by a more defensive left-backs standards, but for one whose defending is his weakness it's even worse.
As mentioned previously, the Spaniard does have positives to his game and there is no doubt he gives his all in a Reds shirt. If Rodgers and his side are going to push on and become a regular Champions League participant again, however, they need to find a player with more game intelligence than Enrique.
Perhaps the injured Aly Cissokho is the answer? The 26-year-old was injured on his debut for the club against Notts County, and therefore hasn't had the chance to battle with Enrique. Glen Johnson has played on the left before, and playing him there when he returns from injury could be an option, with Martin Kelly or Andre Wisdom on the right.
There is no doubt that this is the most exciting time to be a Liverpool fan since Benitez's team almost clinched the title four years ago. The squad has some wonderful attacking players coupled with a very solid defence, and there are signs that Brendan Rodgers is improving all the time as manager.
If Jose Enrique remains a regular in the side this season, however, he will do more harm than good to Liverpool's top four aspirations.
Henry Jackson
Henry can be found on twitter @0nFootball at www.onfootball.co.uk.