Dan Holland joins the masses in enthusing over Suarez and Sturridge, but also looks at a couple of worries on what was an ultimately very positive day at Anfield.


It's Sunday morning and I still can't believe the quality of goals we were treated to yesterday by Messrs Suarez and Sturridge. Three out of the four goals are 'Goal of The Season' contenders in any season, and to think they were both the thickness of the bar away from scoring another contender each.
The form of these two phenomenal strikers is undoubtedly the main positive to come out of yesterday's game but there were many other sub plots that left me with a very warm feeling as I walked away from Anfield yesterday but as always there are a couple of worrying points but these were massively outweighed yesterday.
Liverpool's line up showed only one change, with Lucas returning at the expense of Victor Moses who, let's be honest, struggled with the 'number 10' role – this isn't to say he's not a good player and won't play an important part in our season. The bench also showed a lot of quality which is the first positive and to think we are still missing Coutinho, Enrique and Aspas, all of whom will be in and around the matchday squad. Lucas' return saw Gerrard move into a slightly more advanced position which brought about positive number 1.
It would be foolish to say it was the Gerrard of old as he still isn't reaching those peaks, and by the way Fergie he is a top top player, better than you've ever had in that position, but I digress. The skipper looked a lot livelier and a lot more involve, especially in the first 45 minutes. He had a wide range of passing, strong in the tackle and effectively ran the game.
This was all encompassed in the build-up to Luis' first, he was quick to read a pass from a West Brom player deep in our own half, the slightest toe-end saw him break free and a strong run to around the halfway line saw him feed Aly Cissokho and the play built up before finally arriving at Suarez's feet and the Uruguayan did the rest with a delightful nutmeg before finishing neatly inside the near post. Gerrard also supplied a delightful cross from a 2nd half free kick which ultimately resulted in Suarez's hat trick goal.
Sandwiched between these two goals was a header from Suarez that in my humble opinion is the best headed goal I have seen in over 27 years of watching football.
Positive number 2 is Cissokho's return from injury, whilst he lacks the pace of Jose Enrique which may be limiting in some games; he is far more assured defensively and appears calmer and more precise in attacking positions with nearly all his advances into the final third seeing him provide a meaningful chance. On this occasion his tenacity was rewarded with a goal, the ball broke from Sturridge and what looked like being a 50/50 tackle for Cissokho ended with him playing an elevated ball along the edge of the box which Suarez met with unerring ease. The result was a speeding bullet of his head finding the very top corner of West Brom's goal. Wow just wow!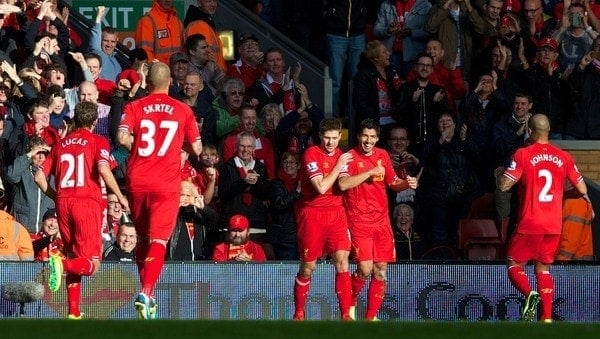 Positive number 3 came in the shape of Lucas, the Brazilian was outstanding yesterday; the 'penalty' he gave away should never have been given so that aside it was a faultless display. He broke up the majority of West Brom's forays into our half, he made last ditch tackles in his own penalty area and he was tidy in possession – everything you want from a defensive midfielder, on any other day he would have been a man of the match contender.
Positive Number 4 was Martin Skrtel, another excellent display from the Slovak, yes he will come up against stiffer tests than Anichebe and an ageing Anelka, but he was commanding in the air and strong in the tackle with his headline act coming when he got back to an Anelka shot, clearing a goal bound effort before it crossed the line.
West Brom rarely troubled our back line yesterday but did have a 5 – 10 minute spell in the 2nd half after they were inexplicably given a penalty, Morrison sending Mignolet the wrong way. The Belgian keeper's performance yesterday is my first negative but a very minor one at that. His form this season has been very encouraging so I know he is more than capable but yesterday he flapped at several crosses and was on a couple of occasions slow at coming off his line to collect the ball in his area meaning the defence had to deal with a ball facing their own goal. I'm sure it was just a bad day at the office.
As West Brom grew into the game I said to the guy sat next to me "we need to be careful because they look like getting the next goal and then we've got a game on" and about 60 seconds later I was made to look rather foolish as Daniel Sturridge scored World Class goal number three was scored.
Jordan Henderson won a strong header in the midfield, it broke to Sturridge who strode purposefully toward the West Brom goal before releasing the most delicious of chips that had Myhill floundering and the ball nestled beautifully inside the far post. Take a bow Daniel Sturridge, he and Suarez seem to be having a 'goal off' each trying to outdo each other and as I eluded to earlier they could have both had one more each Sturridge had a thunderbolt left footed shot from the edge of the box rattling the cross bar at the Kop end. Suarez also struck that cross bar with audacious overhead kick. Positive number 5 Luis Suarez, Positive number 6 Daniel Sturridge, Positive number 7 SAS!
When you have two players playing at their top of the game it rubs off on the fans and the atmosphere ultimately improves with the best 90th minute version of You'll Never Walk Alone I've heard for some time. Also around the 90th minute was an interesting incident involving our new cult hero – Kolo Toure – and West Brom's Sessegnon. When both were stood just in front of me ready to receive a throw-in the Ivorian had a good grab of Sessegnon's backside! That is just a quick light hearted comment before a main negative to come from yesterday's game.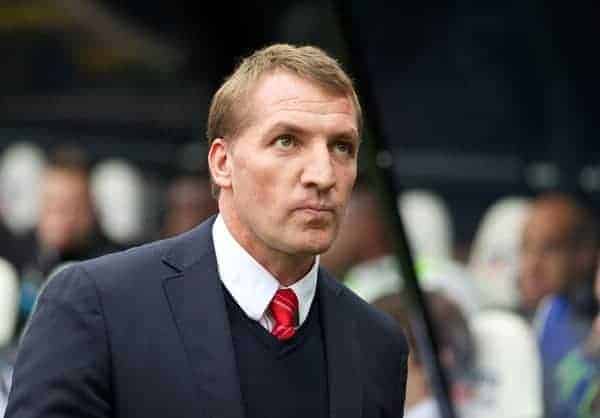 The main negative is the mood of our gaffer! He seemed a very angry man yesterday despite probably our best performance of the season. Some of the rumours flying around yesterday regarding his personal life were also very worrying, mainly because it could be an unwelcome distraction in what promises to be a great season for LFC. Hopefully the rumours aren't true and yesterdays 'mood' is just a reflection on BR's strive for perfection from his players, but at times yesterday his moaning's were picky at times.
On several occasions he berated Lucas and/or Glen Johnson for only being a few yards out of position when we had a set piece in advanced areas. He also was quick to criticise Cissokho despite him just having a hand in our first goal, he was shouting at the officials which is very unlike Rodgers. All in all he didn't seem a happy man.
I don't want to end on a negative note as I came away with a great feeling and a real positivity about the season. I am convinced we will finish top 4 this season and if we can get 8+ points away from home at the Emirates, Goodison, Stamford Bridge and the Etihad all before the turn of the year coupled with maximum points at home then a title challenge is very much a possibility. Cheer up Brendan, keep these results coming, its god to be a Red again.