After Liverpool FC's opening ten games of the Premier League season, Oliver Smith provides insight on where it's going right for the club.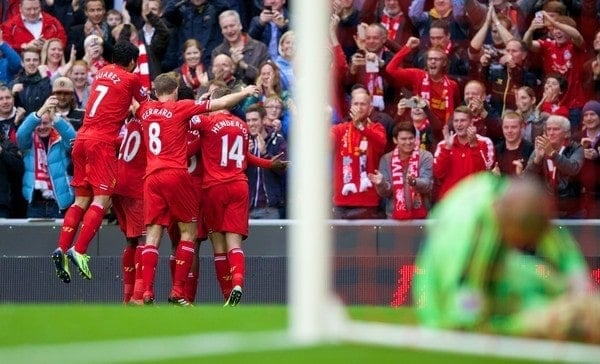 "Ignore the table until 10 games have been played" is a mantra repeated ad nauseam at the start of every new season. Now that we are ten games into the 2013/2014 campaign and are officially allowed to look at the Premier League table, it's time to take a step back and look at the bigger picture of the season so far. It will be a pleasant experience for Kopites, as things are undoubtedly looking rosy for Rodgers' Reds.
What a difference a year makes.
This time last season things were much different and Liverpool fans had good reason to be worried. Languishing in thirteenth place, level on points with Norwich City and the eventually relegated Wigan Athletic, the Merseysiders had managed to secure only two wins and a mere eleven points, and Brendan Rodgers was enduring  a difficult start to life at Anfield.
Admittedly, the fixture list had been unforgiving, throwing up home matches against both Manchester clubs and Arsenal, as well as a trip to Goodison Park for the first Merseyside derby of the 2012/2013 season. However, that could not excuse a points return from the first ten games of the season one point lower than that achieved by Roy Hodgson, who didn't sit in the Anfield dugout for much longer as results and performances remained disappointing, to say the least.
How times change.
In comparison, Liverpool have started this season at breakneck pace, filling Kopites with confidence, Rodgers with joy and opponents with fear. With six wins and 20 points under their belts, the Reds sit third in the table, level on points with Chelsea and Tottenham and ahead of both Manchester City and United. Instead of competing with relegation candidates, Liverpool are fighting it out with the big boys, returning to where they belong in the upper echelons of the table.
The transformation in Liverpool's fortunes can be explained by two main factors; firstly, the form of Daniel Sturridge and Luis Suarez. Dubbed the SAS due to their military-like ruthlessness in front of goal, the pair have scored 14 of the Reds' 17 League goals this campaign. There were doubts about Suarez's commitment to the club after he was forced to stay in the summer and Sturridge could have taken a while to regain top form after missing most of pre-season through injury. Those fears have proven unfounded, though, as the pair have both been brilliant individually and have struck up one of, if not the most lethal strike partnership in the Premier League. Should they continue to fire on all cylinders, there's no reason why Liverpool can't retain their lofty position in the table.
Secondly, Brendan Rodgers has devised a well-thought through and effective formation, which provides not only defensive solidity, but also attacking fluidity. Designed on the principle of employing five attacking players and an equal number of defensive players, the Reds' 3-4-1-2 formation is remarkably innovative. Three centre backs and two holding midfielders provide security, while Coutinho or Moses is given licence to wreak havoc in the number ten role behind the SAS and the wing backs have freedom to join in the fun as well.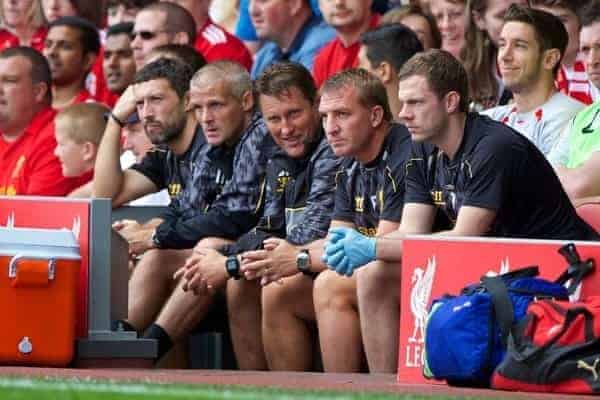 It may need moderating depending on the opposition, as evidenced on Saturday, when Arsenal's creative midfielders  took advantage of the space afforded them due to our centre backs' pre-occupation with Giroud,  but in general the unique formation Rodgers employs has been beneficial. Not only has it helped gain positive results and win points, it has also stamped the Northern Irishman's mark on the club and resulted in his footballing philosophy being reflected out on the pitch. It reminds me of the 4-2-3-1 formation that Benitez made his own with so much success during his time at the club. In a similar fashion, Rodgers has come up with a formation that meets the demands of both defence and attack and facilitates a balanced but effective style of play.
Another positive that has contributed to the improvement this season is the extra depth and competition within the squad. This is most evident in defence, where Rodgers brought in a raft of reinforcements during the summer. The competition for places in the starting line-up has been so fierce that even vice-captain Daniel Agger has been left on the bench in recent weeks due to the form of Skrtel, Sakho and Toure. Combined with the principle of keeping in form players in the team, which has seen Skrtel come back in from the cold, this extra competition can only keep the players on their toes and increase the probability of good performances.
With so many positives to take from the opening ten games, pointing out negatives may seem like pointless nit-picking. There are, however, some areas in which Liverpool need to make more progress. Most obviously, there has been a tendency for performance levels to tail away during the second half of matches. In fact, it took the Merseysiders until the end of September to score their first goal in the second half. This is probably a short-term anomaly, though, and nothing to be overly concerned with.
A perhaps more serious long term issue is Liverpool's defending from set-pieces, which so often seems to be ineffective. Time and time again the Reds have been caught out from corners and free kicks, while comparatively little has been created at the other end from dead-ball scenarios. However, it's in all likelihood simply a case of sorting this out on the training ground with much practice and then we should start to see a difference on match day.
Talk of a title challenge has always been premature, as it would take an unbelievable transformation to go from seventh to first in one season. The Reds' start to the 2013/2014 campaign has shown us that they are certainly capable of competing for Champions League qualification, however.
Ten games in, Liverpool's goals for the season appear clearly in sight. Kopites have every reason to believe that their beloved team will achieve them.
YNWA