As part of a series of articles looking at the idea of safe standing, John Darch of The Safe Standing Roadshow answers the most frequently asked questions.
What is safe standing?
Standing in any well-maintained, well-managed area of a sports ground designed and operated in compliance with the Guide to Safety at Sports Grounds (the 'Green Guide') is safe and could be termed 'safe standing'. However, in the context of the campaign to overturn the ban on standing in the Premier League and Championship, 'safe standing' means 'safe standing at rail seats', i.e. standing in designated safe standing areas fitted with seats that incorporate a robust, waist-high rail along every row, as seen below in the new stadium at Klagenfurt, Austria, built for Euro 2008: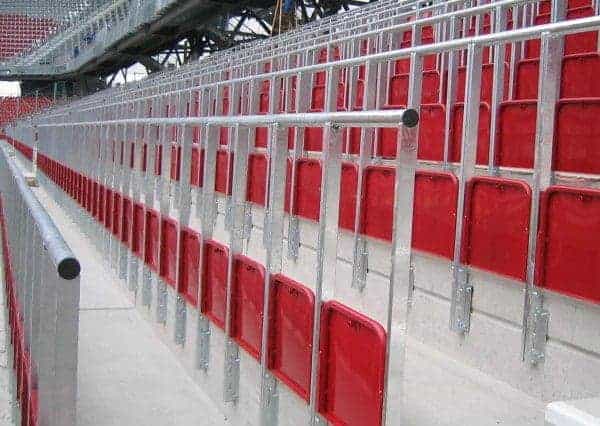 Wasn't standing the cause of Hillsborough?
No. To quote Tony Evans, a Liverpool fan who was at Hillsborough and is now the football editor at The Times:
"One of the fundamental myths of Hillsborough is that standing killed people. It didn't. Bad policing killed people and a stadium that didn't have a safety certificate."
Tony said this in a video on safe standing filmed for BT Sport at Anfield. The Taylor Report also concluded that "standing is not intrinsically unsafe" and that "the main reason for the disaster was the failure of police control."
Would standing mean a return of perimeter fencing?
Absolutely not. Nobody campaigning for an end to the standing ban wants a return to perimeter fencing, with clubs treating fans as though they were animals that needed to be caged in. That mentality has thankfully been consigned to history. With the huge improvements in CCTV technology, better stewarding and the increased use of football banning orders, encroachment onto the pitch has now also largely become a thing of the past, as anyone tempted to encroach is fully aware that they will be identified on film and may face a lengthy ban.
While fans still stand in their thousands in areas bordering the pitch every weekend, very few ever encroach. So fences are not necessary now and nor will they be in the future, when the integrated waist-high rail along each row of seats in safe standing areas would make pitch invasions even less likely than they are today. (Photo: Safe standing area pre-match at VfL Wolfsburg)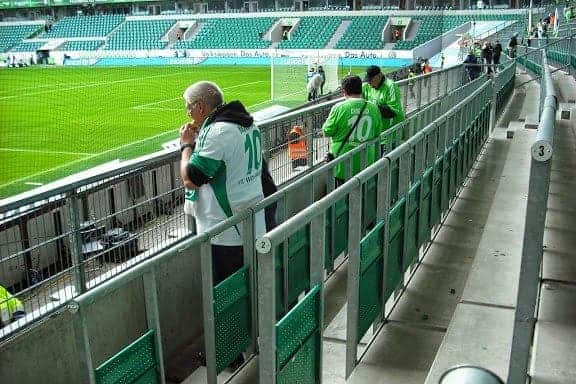 If it's unsafe, why is standing allowed in Leagues One and Two?
Good question! Obviously the government don't regard standing as unsafe, or it wouldn't be allowed anywhere. Obviously Premier League clubs don't regard it as unsafe either, or they would turn down ticket allocations to standing areas when drawn away in cup competitions at grounds that still have terraces (e.g. Liverpool at Wycombe in the FA Cup in 2001 and at Yeovil in 2004) or when invited to play exhibition games in grounds where standing is encouraged (e.g. at the MCG for Liverpool's friendly this summer against Melbourne Victory where part of the conditions of sale for tickets to the 'Active areas' was that fans accepted "that standing is expected". Clearly if Liverpool FC, who managed that event, thought standing was unsafe, the club would not have allowed the 'Active Area' to be promoted in this way).
While standing is clearly not unsafe, the ban is also wholly illogical and is not confined to the Premier League and the Championship. Spectators at Stockport County in tier 6 of the football pyramid and at Luton Town in tier 5 are not allowed to stand, either. Why? Because both clubs had the temerity to play at Championship level many years ago and once a club has played at that level for 3 years (since 1990) its ground has to go all-seater and cannot be converted back, no matter how low down the pyramid the club may fall. So Stockport now play in a division where every other club is allowed to offer their spectators a choice of standing or seated accommodation, but they can't. And it has nothing whatsoever to do with safety.
Conversely, Yeovil Town are playing in the Championship this season with terraces. Last season Peterborough did. Had they stayed up, their terraces would have been deemed unsafe (because their 3 years would then have been up). Because they've gone down, they're deemed safe. If Yeovil stay up for 2 more years, their terraces will suddenly be deemed unsafe, too. If they go back down, they won't be. It's daft!
Is standing at Liverpool games against the law?
No. The law requires certain grounds, like Anfield, to provide "only seated accommodation", but it says nothing about spectators having to sit. When the entire Kop stands on a big European night, nobody is breaking the law. The fans are, however, in breach of the ground regulations, which prohibit 'persistent standing in seated areas'.
When you buy a ticket, you enter into a civil contract with the club and part of that contract is that you will adhere to the ground regulations. Stewards are therefore within their rights to ask you to sit down. However, many clubs choose to waive that regulation by simply not enforcing it and allowing fans in certain areas of the ground to stand. Most do this informally.
Cardiff City, however, do it very formally and with the full agreement of their local police, council and safety experts (as described in this report by Prof. Steve Frosdick). As 'rail seats' are clearly "seated accommodation" and as clubs can, like Cardiff do, permit standing with the agreement of their local council, there is in theory no legal impediment to clubs installing rail seats and allowing safe standing behind them right now.
Who supports safe standing?
Nine out ten football fans, as shown in numerous reports, including a national survey conducted by the Football Supporters Federation in 2012. Plus an ever-growing number of clubs: in May, three-quarters of the Football League clubs passed a resolution at their AGM charging the League's executive team with the task of "exploring the steps necessary" for a few trials of safe standing to be run.
In the Premier League, so far six clubs (Villa, Sunderland, Swansea, Cardiff, Hull and Palace) publicly back the call for trials, while at least the same number again are privately supportive. In Scotland the newly formed SPFL has scrapped the need for all-seater grounds in any of their divisions and Celtic have publicly said they want to install rail seats and are in the process of getting the necessary consent from their council. Numerous politicians (it is LibDem party policy to support safe standing, for instance) and other high-profile individuals have also publicly expressed their support.
Can rail seats be fitted retrospectively into any stadium?
In theory, yes. In Germany, for instance, they have been retrofitted into existing stadia in Hamburg, Bremen, Leverkusen, Nuremberg and Stuttgart, included as part of major redevelopments in Hannover and Dortmund and incorporated into new builds at Wolfsburg and Hoffenheim. Just how easy or difficult it may be to fit rail seats into an existing ground in this country will depend on what rules are laid down in respect of things like the minimum required rail height and the maximum permitted gradient. Until those parameters are set (and trials would help to work out what works best) nobody can say that stadium X or Y would or would not be easy to adapt.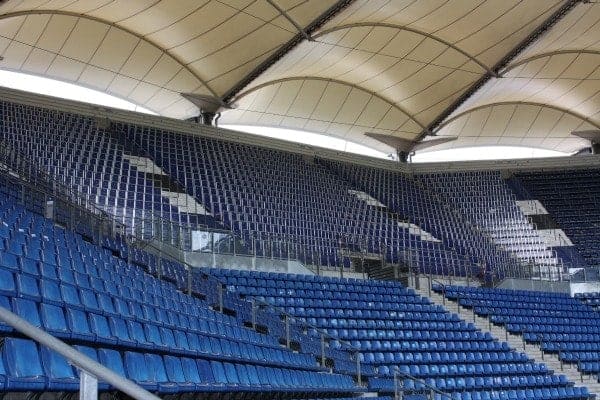 Photo: rail seats retrofitted into an upper tier of previously standard seating at HSV in Hamburg
How will overcrowding be prevented?
Access controls would be just as strict as they are now to seated areas. Typically this would be barcode readers at the outer stadium access points and ticket checks by stewards as you move from the concourse to your designated block. You may then be free to find your own place, as you are today in stands that have unreserved seating, or be requested by the steward to stand in an allocated spot (both concepts could be tested in trials and best practice then duly adopted).
Capacity would be controlled just as for a stand with conventional seating, i.e. through issuing the correct number of tickets and through computerised checking of the number of spectators entering each area of the stand. What's more, even at full capacity any risk of falling forward into the row in front, surging or crushing is completely eliminated by the rail along every row, thus making standing in such areas even safer than standing in a big crowd behind the shin-high backs of conventional seats as thousands of fans do today.
Won't safe standing attract hooligans?
People with the sort of prejudiced view of football fans held by many in authority back in the 1980s might think so. Thankfully most people today realise that a person's character is not shaped by how they watch their football. At a presentation on safe standing at Westminster organised by the Football Supporters Federation in 2012, Superintendent Steve Graham of West Midlands Police summed things up nicely:
"If you put a decent person on a terrace, they're a decent person. If you put someone with criminal intent in a seated area, they're someone with criminal intent who may misbehave. To say that just because you put someone in a standing area, they will misbehave, is fundamentally wrong."
Why not just formalise the current situation, i.e. standing at normal seats?
Well, you could do that and it would certainly be the easiest solution to implement. It is also, in effect, what Cardiff City have done through a local agreement with their council and safety advisors (as described in this report by Prof. Steve Frosdick). However, while there is no formal data to suggest that standing behind conventional seats is unsafe, all fans who have done so will know that it often leads to bruised shins, as the seat backs curl into your lower leg and can catch nastily as you leap into the air to acclaim a goal and many will have seen more exuberant fans even fall into the row in front when celebrating a little too wildly.
Conventional seats are simply not designed with standing fans in mind. So, while standing behind such seats may not lead to serious injury, it can certainly lead to cuts and bruises. Rail seats, by contrast, are designed with a dual purpose in mind: sitting and standing. Wouldn't it be better, therefore, to ensure that those fans who like to stand are able to do so in the safest way possible, i.e. standing behind seats with an integrated waist-high rail? And with no curled seat back to cut into your shins either!
Wouldn't installing rail seats cost the clubs too much?
That is something that safe standing campaigners would like the clubs to have the freedom to consider for themselves. At present they can't even sit down with their architects and accountants to weigh up the costs and benefits. Hopefully after a few trials are run, the government will give them that freedom.
They'll then find that a rail seat costs around 30% more than a standard plastic one, but that they never break. They'll discover that, if rules permit, the increased space created by the fact that the seats fold up flush between the uprights could potentially let them safely accommodate more than one standing fan per seat space, thus making it possible to offer lower prices and still maintain or even increase overall revenue.
They would also find that they had a product to help them to overcome the criticism that football is pricing out the working class supporters, as they could, if they wished, offer admission prices to safe standing areas that were cheaper than those for seats, without in the process undermining their pricing structure for their primary product, i.e. seated accommodation.
There are many financial benefits. And there are costs. Campaigners believe that the clubs should have the freedom to weigh these up and decide for themselves if they wish to invest in rail seats, not be told by the government that they cannot even consider it.
Can clubs play in Europe with rail seats installed?
Absolutely! And host international matches! Rail seats were invented by the Germans for precisely this reason: to enable the clubs to provide their fans with standing areas for Bundesliga matches and yet be able to convert their grounds quickly and easily to all-seater configuration for games in the Champions League or Europa League.
Grounds like those in Dortmund, Hannover, Stuttgart and Hamburg also hosted World Cup 2006 games and regularly host German internationals. So, yes: UEFA and FIFA definitely regard rail seats as seats and have no problem with grounds fitted out in this way.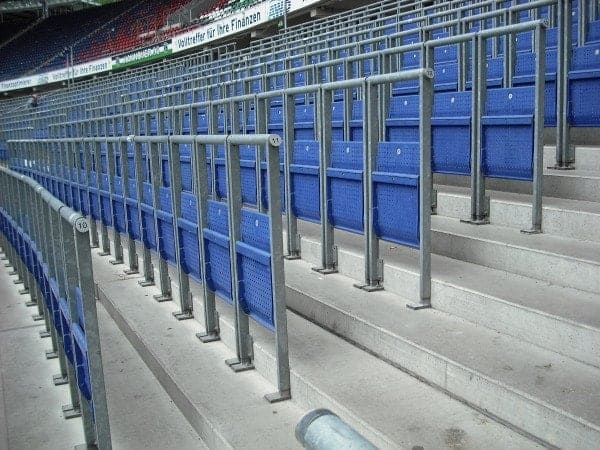 Photo: Hannover – World Cup 2006 and regular Europa League venue
You can contact John on twitter at @SafeStandingRS