Kopites have got some tasty festive fixtures to get their teeth into as a complement to the Christmas turkey.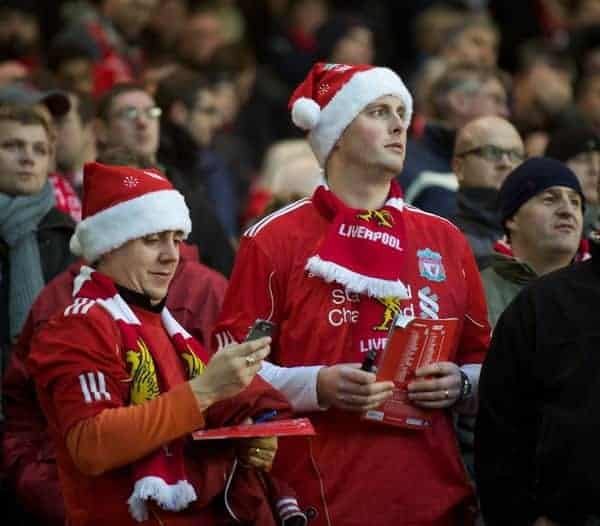 Up to this point, Liverpool supporters can be satisfied with the Reds' season so far. Few were brave enough to predict that Brendan Rodgers' side would sit second in the table come the middle of December, but that's where they find themselves, boasting the second highest goals tally in the League and enjoying a highly respectable average return of two points per match.
However, the next few weeks contain three season-defining fixtures that will give strong indicators as to whether the Reds can sustain their brilliant start and keep pace at the top or fall away from the dizzying heights of the upper echelons of the Premier League table.
To make things even more difficult and, at the same time, interesting, Liverpool will have to complete those three matches without two of their talismanic players, as skipper Steven Gerrard and star striker Daniel Sturridge spend the festive season on the treatment table.
First up on Sunday, Liverpool make the long trip south to their bogey ground White Hart Lane to face Tottenham Hotspur.
Worryingly, the Merseysiders have returned home from North London after suffering a disappointing defeat in their last six matches at the stadium, as May 2008 was the last time Liverpool took any points from an away match versus Spurs.
Moreover, after a difficult spell in which the future of manager Andre-Villas Boas was somewhat pre-maturely called into question, Spurs' form has improved noticeably.
After hitting rock bottom at the Etihad Stadium when they embarrassingly lost 6-0 to Manchester City, Tottenham have turned a corner, picking up a point against City's local rivals United and coming from behind twice to secure morale boosting wins on the road against Fulham and Sunderland.
Hopefully they'll be tired after their Thursday night exertions in the Europa League, although a 4-1 home victory over Anzhi can only do good for their confidence and they did not face an exhausting trip back home from some far flung corner of Eastern Europe either.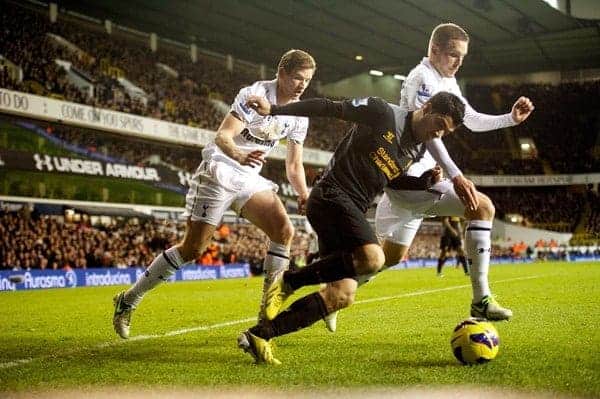 Tottenham's goalscoring record gives Liverpool hope, however. The Londoners have struggled in front of goal this season, scoring only 15 goals, the same as Luis Suarez has managed despite his suspension at the start of the season.
If the Reds can tighten up at the back and keep Tottenham out, they can reasonably rely on their magical number seven to bang them in at the other end.
After a home match against Cardiff City, from which three points are an absolute must, Liverpool face their toughest two games of the season in the space of four days.
Both Manchester City and Chelsea have imperious home records that it will take a mighty effort to break on Boxing Day and on the 29th December respectively.
City have had a schizophrenic season. At the Etihad, they have been world beaters, winning all seven of their home matches so far and achieving a remarkable goal difference of +27 in the process.
On the road, however, City switch from Dr Jekyll to Mr Hyde, being beaten four times and achieving an underwhelming goal difference of -1.
Chelsea, meanwhile, possess an even more intimidating home record under the managerial reign of the ever-controversial Jose Mourinho.
With the Portuguese boss in the dugout, the Blues have an unbeaten home record in the League stretching back an astonishing 67 matches across his first spell at the club between 2004 and 2007 and since his return for this campaign.
While I'd like to be naively optimistic and think Liverpool have a realistic chance of breaking those two records and having the Christmas to beat all Christmases, I must be honest and admit the festive fixture list is a daunting one from which I'd be ecstatic if we collected eight points out of twelve.
Victories over Tottenham and Cardiff and draws at the Etihad Stadium and Stamford Bridge would make it a very Merry Christmas for Brendan Rodgers' men.
On the other hand, setbacks in matches against our main rivals for Champions League qualification could leave Liverpool with a nasty hangover come New Year.
Let's hope Kopites are savouring the taste of a successful Christmas spell and not just the taste of tender turkey this festive season.
Merry Christmas!
YNWA