Tom McMahon argues that the constant change in defensive positions is costing the team points, with Brendan Rodgers needing to decide on his best back-line quickly.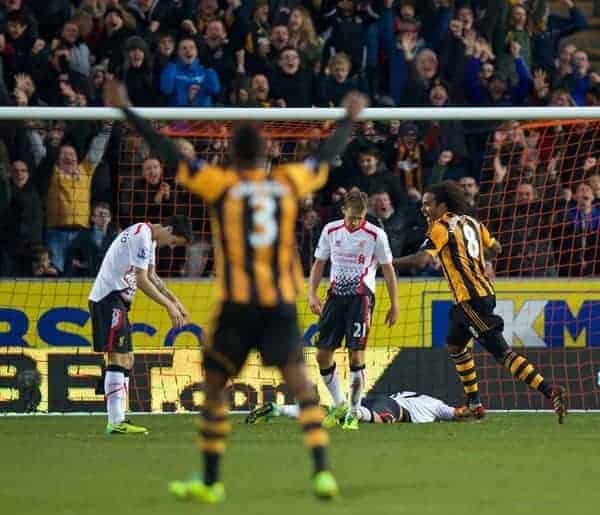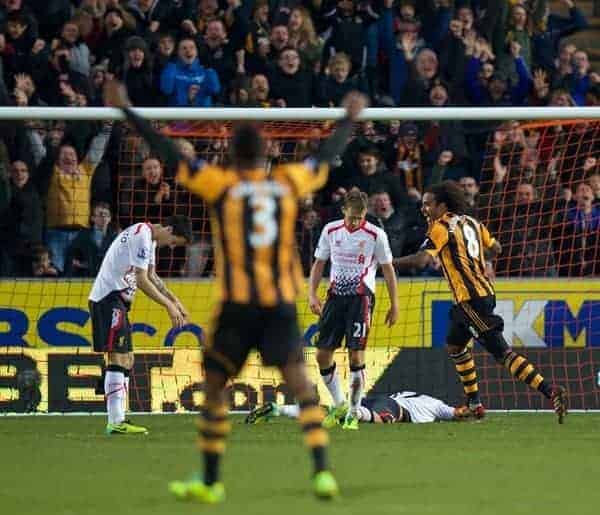 As Martin Skrtel's thumping header into his own net put the icing on the cake during Liverpool's poor 3-1 defeat to Hull City, Liverpool's constantly shifting defence resembled yet another unorganised mess.
Since Liverpool's impressive start – with three clean sheets in three games and a 100% win record – Liverpool have chopped and changed their defensive line a staggering nine times.
Admittedly, some of these changes have been down to a change of formation, a change of players available and a change in defensive form.
"As a team, defensively, it's been difficult for us because we've had to change a lot. The only stability we've had has been our goalkeeper.

"We've had a lot of changes to make defensively this season after injuries and people out. So that hasn't helped us."

— Rodgers discussing the lack of stability in defense.
However, the defence is one area of the pitch where constant rotation and change can lead to a disadvantage.
Hull: Johnson, Skrtel, Toure, Flanagan = Conceded 3 goals
Everton: Johnson, Skrtel, Agger, Flanagan = Conceded 3 goals
Fulham: Johnson, Skrtel, Agger, Cissokho =  Conceded 0 goals
Arsenal: Flanagan, Sakho, Skrtel, Touré , Cissokho = Conceded 2 goals
West Brom: Johnson Touré, Sakho, Skrtel, Cissokho = Conceded 1 goal
Newcastle: Jonhson, Sakho, Skrtel, Touré, Cissokho = Conceded 2 goals
Crystal Palace: Henderson, Touré, Skrtel, Sakho, Enrique = Conceded 1 goal
Sunderland: Henderson, Touré, Skrtel, Sakho, Enrique = Conceded 1 goal
Southampton: Toure, Agger, Skrtel, Sakho = Conceded 1 goal
Swansea: Wisdom, Skrtel, Sakho, Enrique = Conceded 2 goals
Man Utd: Johnson, Agger, Skrtel, Enrique = Conceded 0 goals
Aston Villa: Johnson, Agger, Toure, Enrique= Conceded 0 goals
Stoke: Johnson, Agger, Toure, Enrique= Conceded 0 goals
Clean sheets since opening 3 games: 1/10
Goals conceded since opening 3 games: 17/10
As evident from the above stats, Liverpool have only kept one clean sheet (against a lacklustre Fulham) in 10 games, conceding goals to teams such as Crystal Palace, Sunderland and Hull.
There has also been an astonishing 17 goals conceded in just 10 games – conceding 1.7 goals per game on average. That simply isn't good enough for a top four position.
You can see why; while playing in defence, organisation, confidence and routine are sacrosanct to a cohesive and successful defensive unit.
So, how can a player feel confident when one poor performance can see them sitting on the bench? How can a defender benefit from routine when the formation and personnel are constantly shifting? How can the back line be organised when they are not used to playing as a consistent unit?
Rotation is key to prolonged success over a season, but more so in attacking areas than in defence. This is because offensive play requires a creative mind, physical stamina and a variety of assets to help expose the oppositions weakness.
Players with pace are also prone to injury if played on a too-regular basis, further reinforcing the importance of rotating the personnel on occasions.
This is where Rodgers has made his biggest mistake this season. He's got the balance wrong and allocated too much resource into the central defence, and not enough in offensive areas.
Against Hull, Liverpool had central defenders such as Daniel Agger and Mamadou Sakho warming the bench, which would most likely find a starting position in most other Premier-League teams, while the likes of Raheem Sterling and Victor Moses started with little competition from the bench.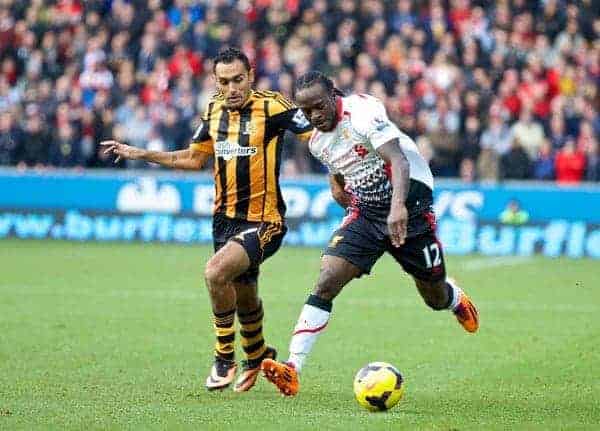 With Daniel Sturridge out for the next 6 to 8 weeks, there seems to be nobody who can fill his boots. Sterling and Moses continuously lost possession of the ball and regularly failed to play incise and to create opportunities for Suarez.
Outside of the pair, Iago Aspas has struggled with the intensity of the league so far, failing to net a single goal. Luis Alberto hasn't made an instant impact either, failing to get an assist or score in the Premier league so far.
None of these, based on their performances so far, can challenge Sturridge for a starting berth, so a lack of competition for places up-front is apparent.
So could Rodgers have spent more of the transfer budget on attacking options instead? Did Liverpool really need £7 million Ilori -who has yet to make a senior appearance-and £15 million Mamadou Sakho, who has struggled to start since changing to four at the back?
Arriving into a hectic December, Rodgers needs to learn from the opening three fixtures of the season by deciding his best back-line and sticking with it. With this consistency, Liverpool should concede less goals and therefore hopefully more points.
This may leave established defenders such as Cissokho, Touré and Skrtel out of the starting 11, which in turn may lead into 'dressing-room' issues, raising the aforementioned question of whether it was correct to allocate such a high budget to defensive depth.
Regardless, rotation of defence is clearly disrupting the back line and  costing the team precious points. It is paramount that Rodgers addresses this immediately if Liverpool want to stay challenging for the Champions League positions.
[poll id="151″]
Follow Tom on Twitter: @TomMC_Sports