Liverpool fans left Anfield in a confident mood on Saturday after seeing the Reds score their ninth goal of the week and leapfrog Manchester City and Chelsea into second place.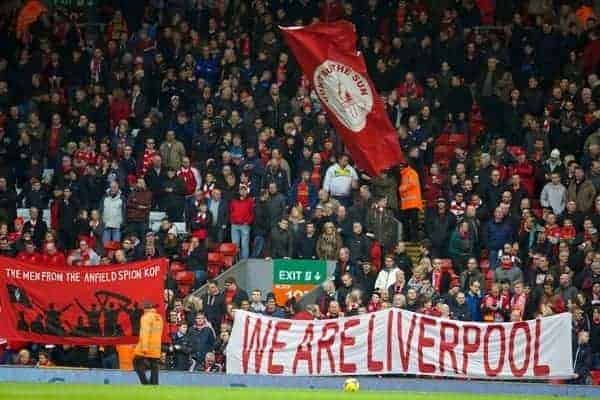 The 4-1 win over West Ham wasn't pretty throughout the game, but Liverpool defended well and clung on to a flattering scoreline.
Liverpool are now second in the Premier League, just four points behind Arsenal, who play Everton at 4pm today.


https://twitter.com/thisisanfield/status/409374806937575425

Fans and players also took to Twitter to discuss the performance against the Hammers.
Here is a round-up of some of the tweets that caught our eye. Let us know your thoughts on Saturday's win over Sam Allardyce's men in the comments below, or on Twitter @thisisanfield.


https://twitter.com/david_lynch88/status/409640898570383361

Very happy to have scored my first goal for #Liverpool this afternoon. A great victory ! Thank you everybody !! #LFC pic.twitter.com/qnAcyAeV1a

— Mamadou Sakho (@mamadousakho) December 7, 2013
Have to say Liverpool's work-rate 2nd half was excellent,improved fitness levels since the start of the season looking evident. No let up.

— Chris Maguire (@chrismaguire73) December 7, 2013
[VIDEO] #LFC 4-1 West Ham: Reds Win Suarez Inspired Own Goal Fest (Uncensored Match Reaction Show) https://t.co/SmqYeWPYy6

— The Redmen TV (@TheRedmenTV) December 8, 2013
West Ham briefly threatened a comeback but once Lucas & Allen reasserted control in midfield #LFC were able to take the game away from them.

— Tony Barrett (@TonyBarrett) December 7, 2013
Full time, 4-1. Thought we were in for a hairy time after Skrtel's OG, but we responded well & buried the game #YNWA

— LFC Liverpool FC (@Liverpool_FC_) December 7, 2013
Made up for @NathaLFC she travelled all the way from Jerusalem to Liverpool, saw a Suarez master class and the reds hammering the hammers.

— Ritchie (@JohnRitchie84) December 7, 2013

https://twitter.com/Kopology/status/409474426355204097

Thanks so much 2 @LFC for hosting my family and I today. Fun day! Gracias!! pic.twitter.com/gGCrCM64Hd

— Guillem Balague (@GuillemBalague) December 7, 2013
I like the way LFC is picking up points under the radar. If they take a healthy cushion over Spurs and MU into 2014 we could be back in CL.

— Didi Hamann (@DietmarHamann) December 7, 2013
LFC vs WHU : Match Overview – pic.twitter.com/SLrSUEZUs0

— LFC 360 (@LFC_360) December 7, 2013
I know I'm biased but I think Raheem Sterling has massive talent and can be an excellent player for Liverpool. Amazed at the criticism

— Sponge Sports (@monkey_sponge) December 7, 2013
Feels like the Spurs game is a massive one for #LFC. If we can get a result it sets us up for a tough Xmas period. Will give us belief.

— Si Steers (@sisteers) December 8, 2013