There's seemingly a simple formula for the 'average' football fan – hear something on TV, believe it as gospel and repeat it ad nauseum.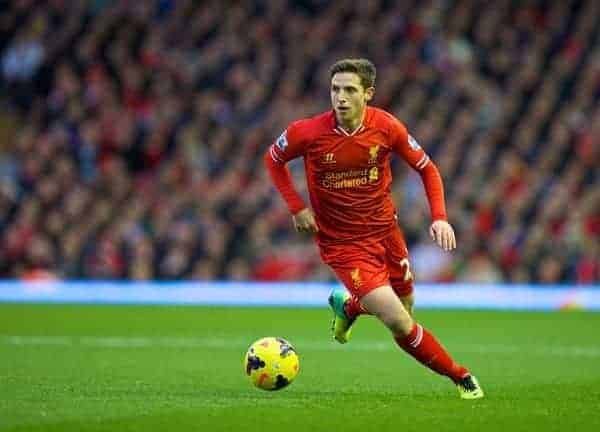 That's certainly the case when it comes to Joe Allen and his passing.
It all started when Alan Shearer criticised the Welshman on Match of the Day for what he claimed was being too safe in possession and not attempting enough penetrating passes – something which earned a firm rebuttal from Brendan Rodgers:
"I saw someone recently criticising Joe Allen for not playing risk passes. Unbelievable. So-called pundits who don't know the dynamics of a team and how it functions. Joe's role is to keep the ball and that, in Britain, is a special talent. It is why Paul Scholes is still playing at his age. It is such a rare talent for a midfielder to rarely give the ball away."
Doesn't matter though, over a year later, the same boring, misguided criticism is continually pointed at Allen. He could play every single pass forward in one game and still some "fans" wouldn't notice.


Ah, bless. There's somebody who, just liked Rodgers said, doesn't understand the importance of possession. Not least, clearly doesn't actually watch Liverpool games – as if they did the last two at least they'd see that not all Allen's passes are "backwards and sideways". Still, as a football "fan" they're perfectly placed to regurgitate some ridiculous myth.
Allen made 131 successful passes in the two games against Norwich and West Ham in the past week. Of which, 26% were in the attacking third, 55% in the middle third, and just 19% in the defensive third (stats via FourFourTwo StatsZone).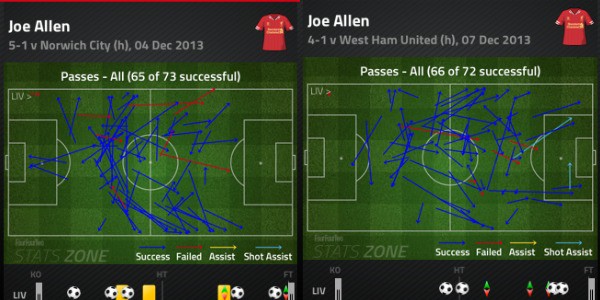 Look at the graphic above — are all those passes "backwards and sideways"? Of course they're not.
It's a shame such myths are peddled by the ignorant but vocal few.
https://www.youtube.com/watch?v=LUccTbpU01A