Brendan Rodgers addressed a room of journalists at Melwood on Thursday afternoon ahead of this Saturday's Premier League clash against Aston Villa at Anfield.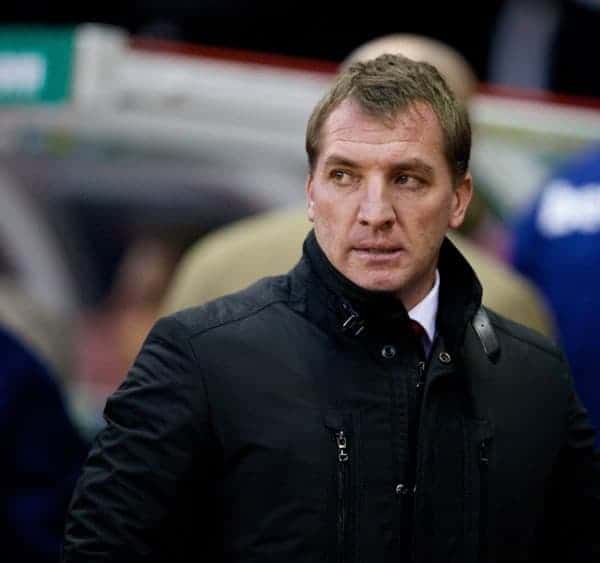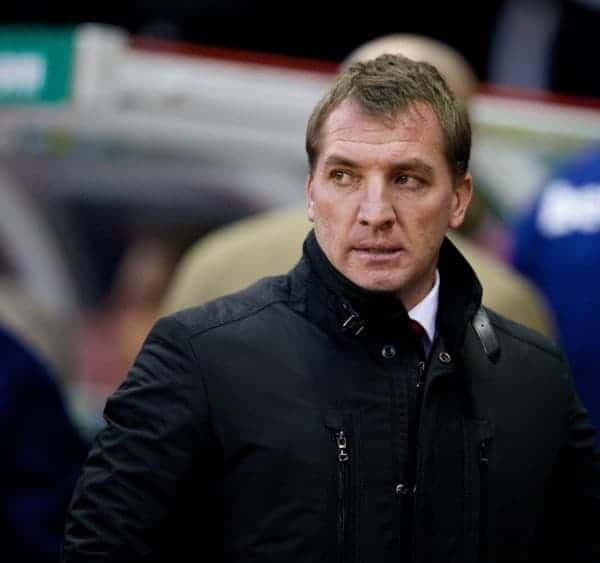 After a 100% start to 2014 for the Reds, the odds on Liverpool winning against Aston Villa are 8/5.
Wins over Hull City on New Years Day and away at Stoke City last Sunday leave Liverpool fourth going into this weekend's fixtures, with league leaders Arsenal at home to Fulham, Man City at home to Cardiff, and Chelsea at home to Manchester Utd. Fifth place Everton are away at West Brom on Monday.
Here's what Rodgers had to say ahead of another must-win game for his side:
On the fitness of players for this weekend's game at Anfield…
We've got Joe Allen back. Joe returned in training and we'll just wait and see how young Sakho is over the next day or so.

We're slowly getting our players back. Jon Flanagan and Jose Enrique are still out but we're looking better.
On having Luis Suarez and Daniel Sturridge playing together again…
Suarez and Sturridge are outstanding players, both have great qualities. Last week I could effect the game from the bench.

Having someone of Sturridge's quality to bring on from the bench was fantastic.

Overall, Sturridge has a wonderful opportunity of being world class. He has every tool and ever quality to be as good as Luis Suarez.

If Daniel gets a bit of luck, stays clear of injury, he can be that world class striker. Last week was significant of his rest.

Credit to Daniel [Sturridge]. He's been focussed, and worked very hard to be back. He's mentally refreshed, too.
On the 5-3 victory at Stoke last Sunday…
The Stoke win set up a standard for us, similar to the wonderful footballing display at Tottenham. A great benchmark of our mental fitness.

The Stoke game showed we can go and deliver a mentally tough performance and win.

In football, there will be games that will be broken, like at Stoke. We lost our concentration. So I set a challenge at half-time.

I asked the players to show the character they've been building these last few months. And they did, what a great response.
On this Saturday's opponents, Aston Villa…
Paul Lambert is an outstanding manager and has had a big job to do at Aston Villa. They're a team that will always fight.

The other night, Aston Villa gave Arsenal a fight in the second half. I would expect it to be similar for us. They pose a threat.

We can't make any mistakes this weekend.
On Liverpool being in the title race…
We're only six points off the top, so we feel we are part of the title race. Of course, people will talk about the clubs ahead of us.

We will continue to work and fight to be up there. It's very close and the league lead keeps changing. It will continue to do so.

We just want to maintain our focus and concentration. My group of players are brilliant at that – we take that to every game.

We've shown consistency over a long period of time. I just need to keep the pressure off the players, so we can concentrate.

I'm delighted with our progress and the hard work my players are putting in – focussed and professional.
On the importance of psychology in sport…
The psychological side of things is a massive part of it for me. We're trying to fully develop a player. It's a massive part of life.

At the elite level of sport, high performance, the psychological side of things is vital. Success comes from confidence.
On young players being loaned out this month…
Tiago Ilori will probably be sent on loan. He knows what we're about now, but hasn't had much game time. As a defender, Ilori nees to be playing so we will try to get him out on loan.

Jordon Ibe is in between youth and senior squad. He has possibilities to play and shows every day in training he's capable of being a great first team player in the future.

At some point Ibe will need some game time though.
Liverpool vs Aston Villa gets underway at 5.30pm on Saturday, 18th January 2014 and it's live on Sky Sports in the UK.