Adam Griffies explains why he thinks the Porto midfielder would be worth splashing the cash on this January.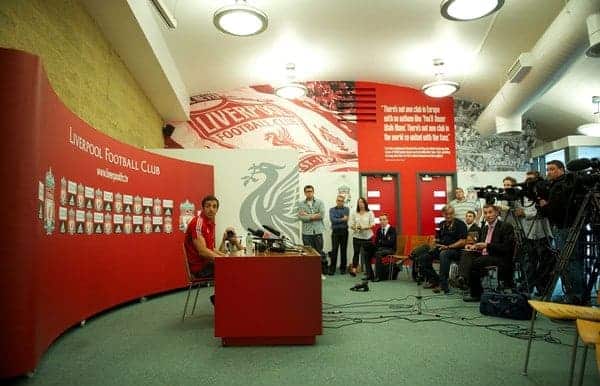 It's pretty glaring, if you ask me, that we need a better holding midfielder if we are to progress properly and reach both our short and long-term targets.
Just over two years ago, if I had seen that statement, I would have been asking my future self one or two questions. Lucas Leiva had developed into arguably the most accomplished player of his type in the Premier League, memorably monopolising a star-studded Manchester City midfield to send Liverpool to the final of the League Cup.
Now though, after a series of cruel injuries, the Brazilian doesn't look the midfield lynchpin he once was.
Having lost a yard or two of pace, Lucas still does a competent job for the Reds, relying on his tactical nous and positioning to get through games, but his lack of mobility often proves fatal for us – particularly against fast, sweeping attacks. This was obvious in our two festive fixtures at the Etihad Stadium and Stamford Bridge.
We are crying out for a more physical, imposing player at the heart of our midfield. He must still be reasonably cultured though.
There is hope! @FabRomano21 says 4 clubs in talks with Fernando Reges' agent including #LFC. If we get him …

— MrBoywunder (@MrBoywunder) January 3, 2014
So who's our man?
Fernando Reges. I remember seeing the Brazilian, now a Portuguese citizen, play for his current club FC Porto against Manchester United around six years ago, and being impressed by this young, leggy midfielder. He seemed to be everywhere, breaking up moves at will, and recycling possession intelligently.
Some years later, in November 2013, I saw Fernando play for FC Porto again, this time in Russia against Zenit. Now 26 years old, he looked every bit the complete defensive midfielder I thought he would become.
Reges is 26 years old – so plenty of experience, including in the Champions League, but still young enough to develop further.
http://www.youtube.com/watch?v=mnUn5nDzpJs
He was linked with Liverpool last month in the Daily Mail, although they claimed he would cost £17m – considering his contract expires next summer that seems unlikely.
A cut-price, or Bosman move in the summer, would inevitably mean high wage demands, but it would be worth it – if Liverpool could sign Reges this January, it would secure a top four finish.
Adam
(@whatahitsonlfc)