Liverpool fans have taken to Twitter to debate Saturday's 2-2 draw at home to Aston Villa, with feelings of anger and disappointment an obvious trend.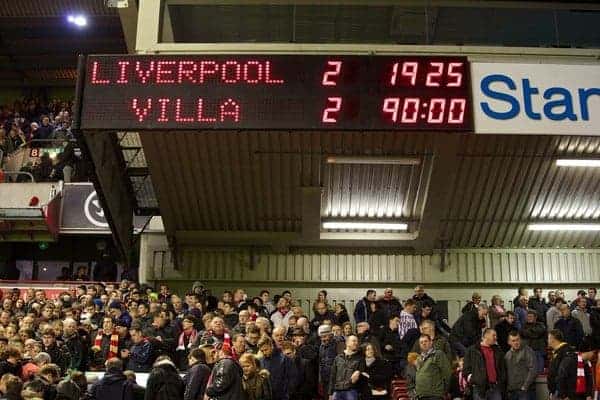 It was a game in which the Reds never really got out of first gear, but had it not been for some ambitious first half tactics, Liverpool may not have been 2-0 down after 36 minutes.
With Daniel Sturridge starting his first game since picking up an ankle injury in November, Brendan Rodgers opted for an offensive formation, playing Raheem Sterling, Luis Suarez and Philippe Coutinho with him in attack.
With Steven Gerrard left in a holding role with little support from Jordan Henderson, Villa walked through Liverpool's midfield time after time.
Nevertheless, goals either side of half-time from Sturridge, and a penalty from Gerrard, rescued a point for the Reds, who stay fourth in the Premier League table.
Aly Cissokho continued to look inadequate at left-back, whilst Martin Skrtel had a solid game with a number of vital clearances and tackles, breaking down Villa attacks which could have lead to more goals.
John Henry watched on from the stands as the final week of the January transfer window nears, and Rodgers will surely use the draw against Villa as an example of his need to upgrade areas of his first team.
Here are a selection of tweets from fans at and around the full-time whistle. Let us know your post-match thoughts in the comments below, or on Twitter @thisisanfield.
Hope stats prove me right but #Gerrard's passing improved as he played further forward. He is no Pirlo, play him higher up, or not at all

— LFCZA (@LFCZA) January 18, 2014
Point gained there. Never at the races today. Derby next league game need to bounce back. #LFC

— Scott Fowler (@FowlerS88) January 18, 2014
Improved a bit in the 2nd half but after we scored the penalty we had all the time in the world to score another, no urgency shown

— LFCTS (@LFCTS) January 18, 2014
The Weiman run though is what's happened to Gerrard every time he's off the ball, defending, all season. Stop saying "he can do it".

— Dan Shepherd (@liverpooldeep) January 18, 2014
On a positive not I thought #Sterling and #Henderson did very well & #Allen when he came on was very composed #LFC

— Moley (@MoleyBTK) January 18, 2014
And to top that off are next two home games are Everton and Arsenal. Great…

— Connor (@ConnorwilsonLFC) January 18, 2014
Let's face it – we need a new LB, but we're not interested in spending £20m+ on one. Full backs are extremely important in our system, but

— Lenny Aidefors (@lfcindex) January 18, 2014
Stevie very honest with his performance in that first half. Have to respect that at least.

— AnfieldIndex (@AnfieldIndex) January 18, 2014
At 23 years old, I've largely given up on my hopes of becoming a professional footballer, but Aly Cissokho gives me hope.

— Si (@PhantomGoal) January 18, 2014
One point gained or two points lost; depending on whether you are of a positive bent or not.

— Paul Grech (@paul_grech) January 18, 2014
The over reaction on here when we drop points is quite unbelievable, we are having a brilliant season, its one game – wind your necks in.

— Steven Halliwell (@Ste_Halliwell11) January 18, 2014
That isn't a terrible result IF IF IF we win a few of the big home games. Ramps the pressure up though. Need W10 D2 L4 from here for 4th

— Andrew Beasley (@BassTunedToRed) January 18, 2014