Luis Suarez and Daniel Sturridge exchanged angry words with each other during the Merseyside derby on Tuesday evening, just like Jamie Carragher and Alvaro Arbeloa did back in 2009. Henry Jackson (@OnFootballTweet) believes it's good to see.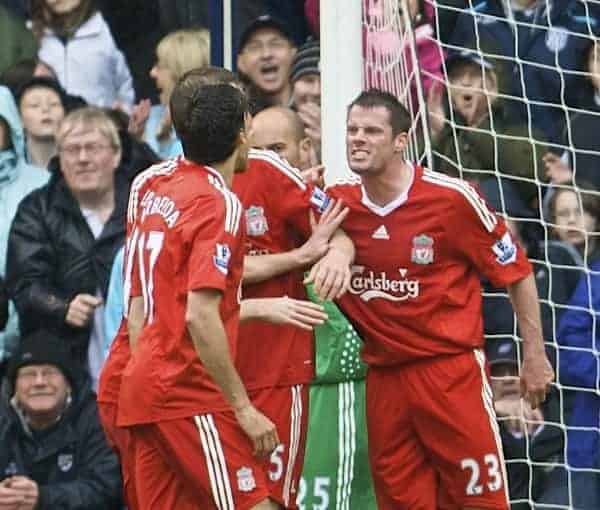 Liverpool were facing this weekend's opponents West Brom back in May 2008. In all honesty the game wasn't particularly meaningful. It was the Reds penultimate league match of the season, and their title dream had gone. Second place was all but secured too.
With Liverpool 2-0 up and in control at the Hawthorns, the most talked about moment of the match occurred late on. After West Brom striker Marc-Antoine Fortune was not closed down properly by Alvaro Arbeloa, almost leading to a goal for the hosts, Jamie Carragher launched into a furious rant at the Spaniard. It came completely out of the blue, and both players remonstrated with each other.
After the game Carragher explained why he was so cross with his teammate:
"We want to keep a clean sheet and we want Pepe [Reina] to have a chance of the Golden Glove for the third season running. Pepe is one behind Van der Sar now and there's a chance Van der Sar won't play next week, so we wanted to make sure he got a clean sheet today."
Rafa Benitez echoed his vice-captain's words:
"Carragher and Arbeloa wanted a clean sheet so they were a little bit nervous. I think it's a positive message in terms of the mentality of the team. We wanted to show character and a winning mentality and to win and stay as close as possible to United.
This was typical Carragher. He was a born a winner, and such was his passion and desire he wanted Reina to win a personal award. Liverpool had had a tremendous season in the league, and it was this mentality that earned them second place.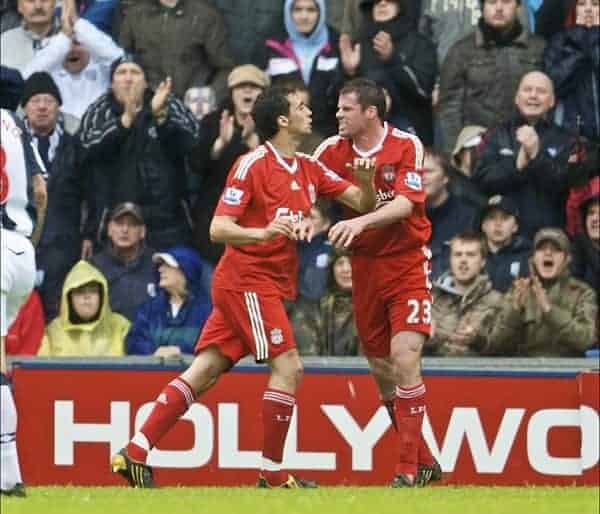 It showed that there was a real team spirit among that squad, and anyone who felt otherwise simply had the wrong end of the stick.
Fast forward almost five years, and a similar incident occurred at Anfield during Liverpool's superb win over bitter rivals Everton at Anfield on Tuesday.
With the game won and Brendan Rodgers' side 4-0 up, Sturridge produced a moment of hesitation in front of goal and Suarez let him know exactly what he thought.
Words were exchanged between the two, who have been superb together this season, before a frustrated Sturridge was substituted. It didn't quite have the same ferocity as Carragher and Arbeloa's spat, but they were still clearly unhappy with each other.
Sturridge admitted he was in the wrong after the game:
"When I missed that chance, Luis was obviously fuming with me, and I don't blame him… I was fuming with myself too. I think everyone was fuming with me."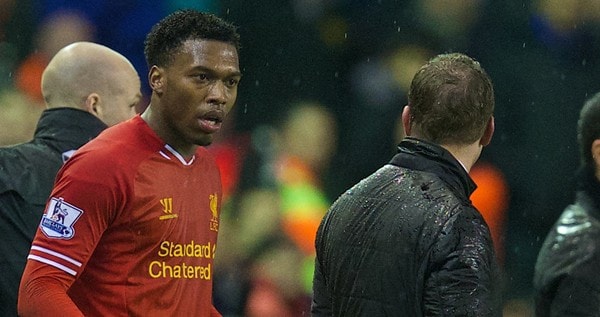 In my opinion, both of the above incidents are great to see as a Liverpool fan. It shows how much it means to be representing the club. Neither incident was at a particularly pivotal moment of a game, but they both mattered hugely to the players involved.
As Dirk Kuyt put it following the 2009 incident:
"It shows that the team always wants to win even though we weren't playing for anything."
When it comes to the crucial time in a season, as Liverpool currently are in their quest for Champions League football next season, you need winners in the side.
Suarez and Sturridge have that competitive edge to their game that will be key in dragging Liverpool through vital matches.