Liverpudlian provides his own unique look back at Liverpool's recent fixtures and form; hard not to be positive at these optimistic times.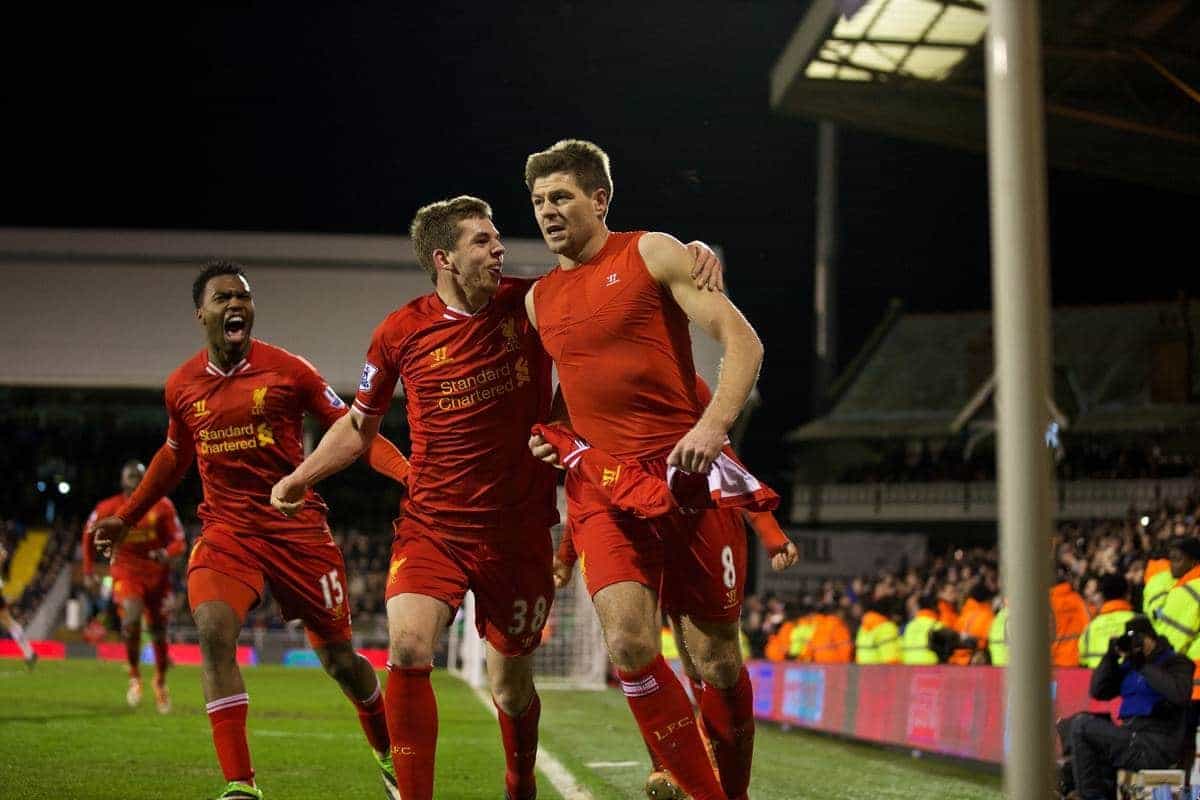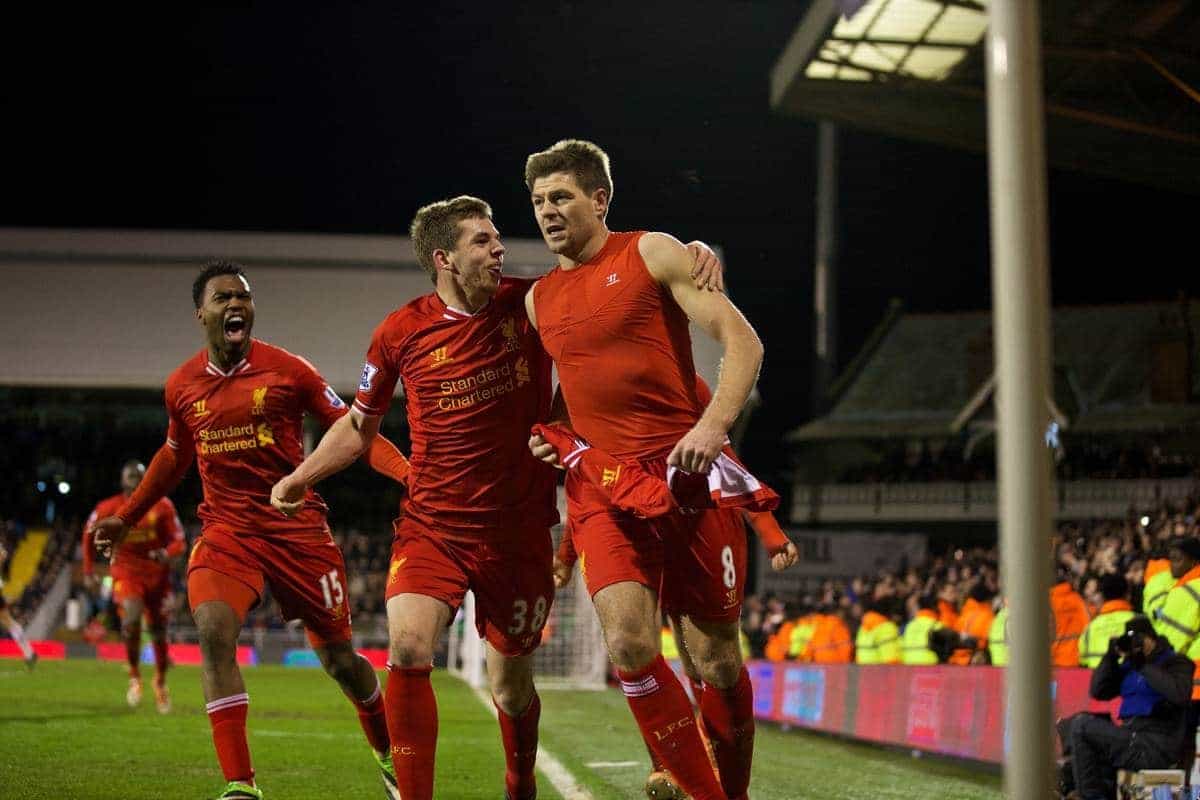 Have you ever seen Stevie celebrate a goal like that?
In bucking the trend of good-game bad-game sequence, we collected a bonus two points when most of us, pessimistically, had it as a nailed on to draw given the way things normally pan out. Now far be it from me to start making predictions because god knows we have seen so many false dawns over the years, but the faltering form of other teams has seen us claw our way back into contention and maybe, just maybe, we are starting to see the start of something different here.
How many times have we seen things "work out" for Man United or Chelsea in the past the way they have for us recently? The bore draw at the Emirates followed the two points dropped late on by Chelsea and just as City, Spurs and Everton were sitting pretty and looking good, we get that last minute penalty to change everything.
Last minute penalties and late, late winners in Fergie time have been the hallmark of United for years and how many times have we cursed them for it while begrudgingly appreciating that this is the way to success?
Our attacking options are being touted as the difference between us and the rest apart from City, once Aguero is fit, and yet again the ability of any of our front three to conjure something out of nothing proved the difference in a match we would never have won in the past. Defensive lapses are our Achilles' heel, and in a tight game it is going to cost us of course.
Blunders to blinders is how one headline summed up our victory at Fulham but at the end of the day, three points is three points, regardless of whether you play well or not. As I say, any negativity surrounded the defence and the way we gifted them both goals but this is a roller coaster we should just enjoy and see where it takes us. We simply "don't do" nil- nil or one-nil so, like the fairground ride, it's going to be great entertainment right up to the end and very much a case of buckling up your seatbelts because we're going have lots more thrills and spills.
Our new found ability to see off even our closest challengers at Anfield though, in a style reminiscent of the halcyon Barnes, Beardsley and Aldridge era, really does see us going into the last third of the season in a supremely optimistic mood. Supporters of both Everton and Arsenal have been predictably quick to close ranks and air brush over their results as either "blips" or "bad days at the office" but there can be no doubt that these are real psychological blows struck against teams who, on each occasion, really fancied their chances against us. The haunted expressions on the faces of the respective managers said it all as they witnessed the carnage. Martinez, at least, remained active and articulate on the touchline during his teams debacle whereas there has been some debate regarding the demeanour of Wenger, who appeared to be suffering post dramatic stress disorder, apparently bereft of leadership qualities as he remained crestfallen in his seat during a half where only the "gooners" in the Annie Road emerged with credit.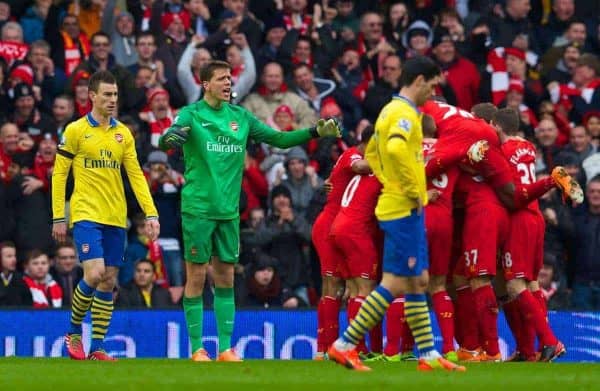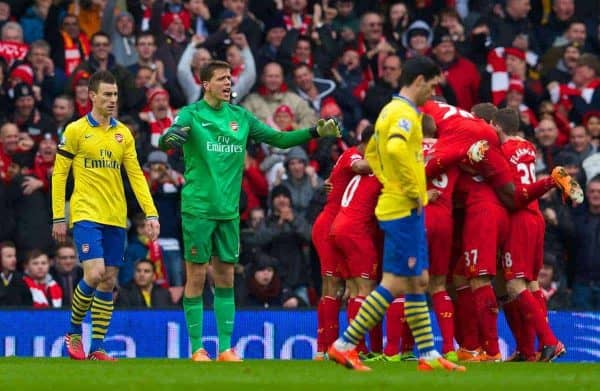 This detectable shift in the structure of the Premier League is due to our ability to start beating the teams around us and was well documented last term as the reason for our impotence in challenging then. Having the four main components of our attacking threat in place, fit and in form at last is of course the catalyst now in a season where we stayed on track though to our credit, despite the times when Suarez, Sturridge and Coutinho missed games, along with the early season inconsistency of Raheem.
The away defeats and loss of points at City and Chelsea remain significant of course, even though we have clawed back some of the deficit, but they were tight games and our performances were ok and the results in each case might well have been different had some decisions gone our way. The determining factor of course was, and still is, the massively disproportionate outlay on transfers but this is the lay of the land in terms of the premiership and the hurdle to be overcome if you want to compete nowadays.
Borussia Dortmund remains the model and saviour for those who yearn to prove that money does not always win. Ok they are adrift of Bayern recently but they produced a team under a dynamic young manager that transformed the Bundesliga "procession" until the men from Munich reversed that trend and began buying their best players – a lesson I hope that is not lost on John W Henry.
Our top two then, remain that almost impregnable barrier that we must all over come to win the league with the Gunners (maybe) punching above their weight in staying alongside them, although in this most unpredictable of seasons with so many new managers in place, their stability with the Frenchman still there is perhaps a telling factor.
Mourinho is, of course, loving the situation with Pellegrini who is no match for him, at least in the mind games scenario, though for the rest of us, Jose remains, at least a character, bless him, despite his nickname of "thrush" due to his ability to be an irritating c**t. All this has not stopped the press though, who have become detached from Alex Ferguson's rectum and are now salivating at the special one's every word and swimming remora-like in his slipstream, awaiting the chance to latch on.
Obviously he is "good press" and always worthy of a headline or two but he kidded no one with his defence of Eto'o and his swimming pool dive reference to Luis, seeing that his player should not have even been on the pitch after his assault on Jordan early in the game. Jose is not stupid and he sees our threat and is readily trotting out rhetoric that we are playing less games due to our inactivity in Europe but I would counteract his premise that the vast overspend in his squad, compared to ours, more than levels the playing field out in his favour.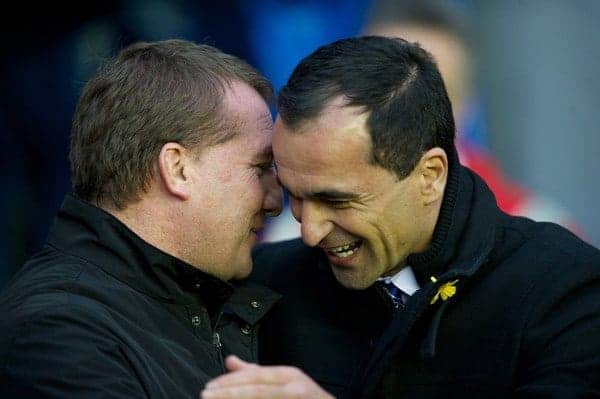 Back to the derby game then and this was supposed to be a tight affair. The experts would have had you believe both teams were level in terms of ability and some were even postulating that Everton had the stronger squad. We had read how Leon Osman was bristling at the supposition that we were the better team and indignant that they were still in our shadow. Research had shown that our friends from across the park had not won at Anfield in 15 years.
Indeed they were wetting themselves at the prospect of a win now that their own Spanish revolution had gathered pace enough to usurp the dour style of play endured under David Moyes. The bad, bad days of the dogs of war, humping the ball up to the likes of big Dunc and looking for free kicks or corners as the only way to score, we were being told, were long gone. The shackles were off now and it was an expansive attacking style now being enjoyed at Goodison Park, a return to the halcyon days, ala the school of science, the top four, Infinity, and beyond…..and all that.
All we heard about in the previous week was the clash of two teams from one city both challenging for this prestigious fourth spot with the game being touted as a massive psychological blow should Everton indeed win at Anfield. References to their performances at Old Trafford and the Emirates were supplied as some sort of CV to endorse their credentials in coming into a derby, at Anfield, and not being intimidated. A radio interview had the Everton manager extolling the virtues of his players, their mind set and maturity in the weeks leading up to this test. "We fear no one" said Roberto Martinez in a battle cry of the new found confidence searing through those blue blooded veins boosted by the, ahem, best left back in the premiership signing a new long term contract and all the stats were, accordingly, poured out on Sky sports news to back this up.
Shaking at the knees with trepidation then, we awaited the "inevitable" beating by a team with "one of the best defences in the league" and for the first time in living memory we were going to see an Everton team come into a derby atmosphere and take on Liverpool in terms of attacking play and football. The "best left side pairing in the league" would be too much for the inexperience of Sterling and Flanagan, we were told. This was going to be decided by just the odd goal as both attacks were better than the make shift defences on view and if we were to win at all, we would need to score more goals than Everton because our defence is rubbish compared to theirs, etcetera, etcetera, etcetera.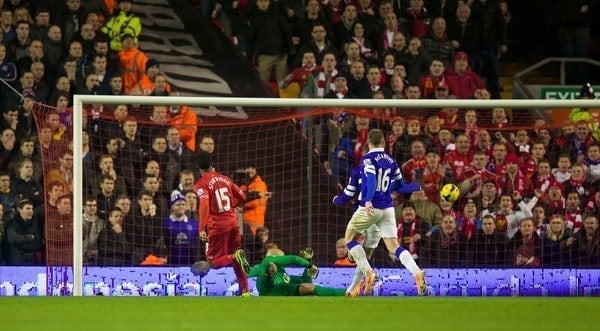 For the umpteenth time in derby history, though, the blue boys bottled it. Like so many times before it was a case of all talk and no action .For over fifty years now, I have watched derby games and it never ceases to amaze me how often they have done this. They say the fans deserve the team they support and oh my god is it true with our blue friends who were yet again the epitome of sportsmanship. Couldn't you just feel the love emanating down from the terraces? Why, they even had a whip round and showered Luis with a coin collection, presumably, as a gesture of good will and their contribution towards his present for being upcoming player of the year.
Indeed their ongoing acknowledgement of his presence and greatness was not lost on anyone watching their strained and contorted faces, trying to make themselves heard by expressing their feelings in a manner in which we have all become accustomed. They really are an example to us all and symbolise the spirit and pure embodiment of Everton FC and they truly are wonderful ambassadors for the club. While the whole world of television looked on, they and their relatives must have been so proud.
Our captain was predictably instrumental in this victory and indeed his facial expression when scoring, was more like the teenager just starting a career of tormenting Everton as opposed to the magnificent twilight he is currently enjoying, though his shorts must have been weighing him down having had the "best prospect in English football" in his pocket all night. It still did not stop him soaring like a bird though, to power a header in, though the stamp on Lukaku by Gareth Barry, in the build-up, was definitely a red card offence and would have been quite amusing but for the injury the lad collected.
All over the park we had stars playing with the spirit and determination and our defence in particular was great though special mention again to young Flanno who gave another faultless derby performance.
All the praise in the media is obviously being given to our attacking player who found it easy against arguably the worst defence seen at Anfield all season and the crescendo that greeted the site of Luis running half the length of the pitch to score number four with two lumbering carthorses in his wake was euphoric. Indeed their naivety in defence was matched by only the by the clueless performances both in midfield and attack intermingled with the usual fouling all over the pitch. All over the park we were better and we won the tactical battle hands down and without a doubt on that night, EFC stood for 'Eadless Fucking Chickens.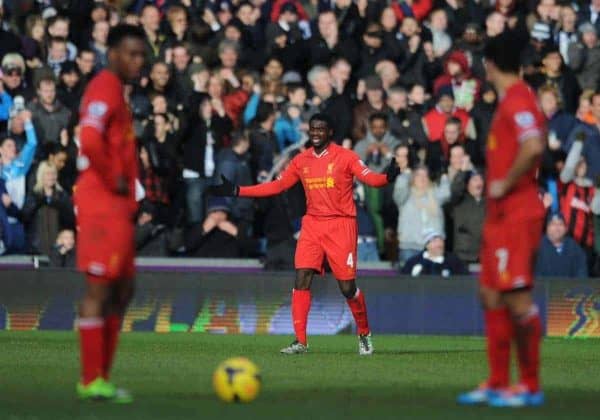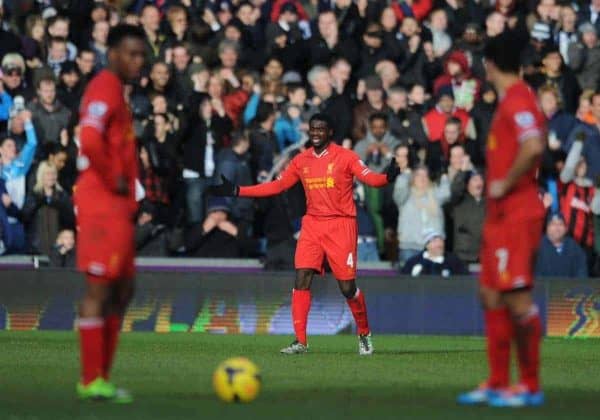 Sadly for us, the almost predictable performances and dropping of valuable points against Villa and West Brom sandwiched the derby win as we awaited a very confidant Arsenal to Anfield. Again this was supposed to be the test of our credentials against a team who we have really struggled in recent times but again, we need not have worried as once more our lads tore into the opposition from the off.
In the ultimate example of how to start a game on the right foot, Arsenal were a beaten side after only twenty minutes in perhaps the greatest ever start by a team who were four up by that time, having missed at least two more very presentable chances and had also hit a post. If we thought the defending by Everton was naïve, the Gunners back line bordered on that of a school boy standard with Skrtel twice finding room unmarked from dead ball positions to score early on. Liverpool's tactics of hunting the ball down in packs, in the centre of the park gave their lads no time to regain their composure or time to lift their heads up and two mistakes were quickly forced on their beleaguered midfield led to us sweeping up the field to add further punishment.
Henderson overwhelmed a prostrate Ozil to provide the springboard for Suarez to provide an inch perfect cross for either Sterling or Sturridge to score and it was the teenager who swept the ball in from close range. Not to be outdone, Sturridge added the fourth, galloping clear of pedestrian defenders to score courtesy of yet another magnificent through ball by Coutinho after our brilliant young Brazilian had intercepted yet another wayward pass in Arsenal's midfield.
Similar in many ways to the derby game, we played the rest of the half in second gear, inviting them on, safe in the knowledge that our feared pace on the break was available at any moment. We then hit the opposition with a further goal, not long after the restart, to remove any remote possibility of a fight back.
Again the contrast between the relative teams performances was stark and Wilshere was the only one among the visitors ranks with any stomach for the fight. In my last article, I labelled Ozil "ineffective" even before a ball was kicked this season and several people commented and took me to task, challenging that premise – but based on the evidence so far and in particular the display on Saturday, I would say my mind and judgement are still sound and I rest my case as he spent more time on his backside complaining than he did justifying his £43 million price tag. "The best centre half pairing" in the league also did very little to enhance that reputation as again, we saw a master class of attacking play, leaving them looking distinctly second rate.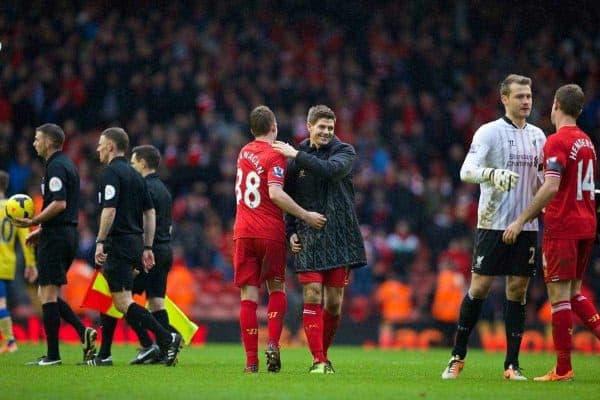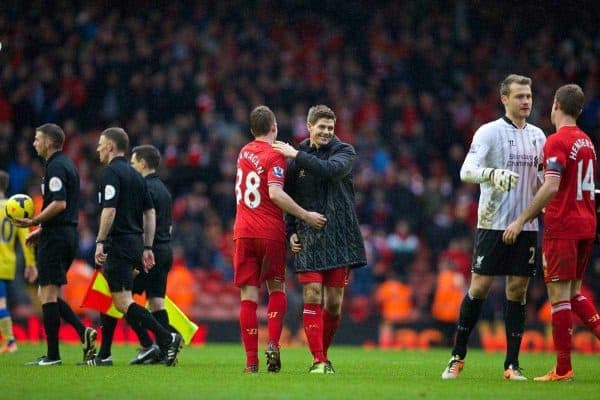 As with Everton, we are again seeing inquests all over the media and it is refreshing to see as much praise coming our way as there is vitriol at Arsenal's. Suarez, even without scoring, shows quality in everything he does. He never stops moving and compromises the defending before the ball even reaches him by positioning his body, very adeptly, so he can either draw the foul or roll his opponent. His Zidane-like volley would have been a candidate for goal of the decade had it not hit the post and the incredible accuracy of the second half free-kick was true genius.
Far from being a one man team, Sturridge keeps producing it match after match and his ice cool demeanour in front of goal is reminiscent of Robbie or Rushie in their heyday. Not to be out done, young Raheem rightly won the man of the match award and now he has added goals to his game, there is no limits to how far this kid can go given the maturity and strength already in evidence.
Coutinho is again reaching the heights we saw earlier in his short time here and again, at only 21, what a prospect we have on our hands here. Yet again Flanno was excellent but Jordan, in particular bearing in mind the news that he fractured his wrist during the game added credence to his performance, where he is winning over all his doubters – and that includes me. His consistency and of course, energy are superb attributes and he may well yet prove to be indeed, the man to take over from Stevie in the middle of the park if he too can add goals to his all round game to the quality required. Let's be honest though, they are all doing well, especially because, let's not forget, we have arguably our best back five on the treatment table.
The pessimists out there will point to the fact that we are not yet at the final stretch and there is still plenty of football to be played but hey, let's enjoy ourselves for the first time in ages. The football is exciting and enjoyable with a future as bright as it can be. A little bit of luck with regards to injuries and a steady bit of form till the end of the season and the Champions League and all that it brings is within our reach.
Thoroughly enjoyable times to be a red.
Liverpudlian