As the season has developed we have seen that having a strong midfield is key if you are planning to launch an assault on the title, writes Jim Fishlock (@JimFish286).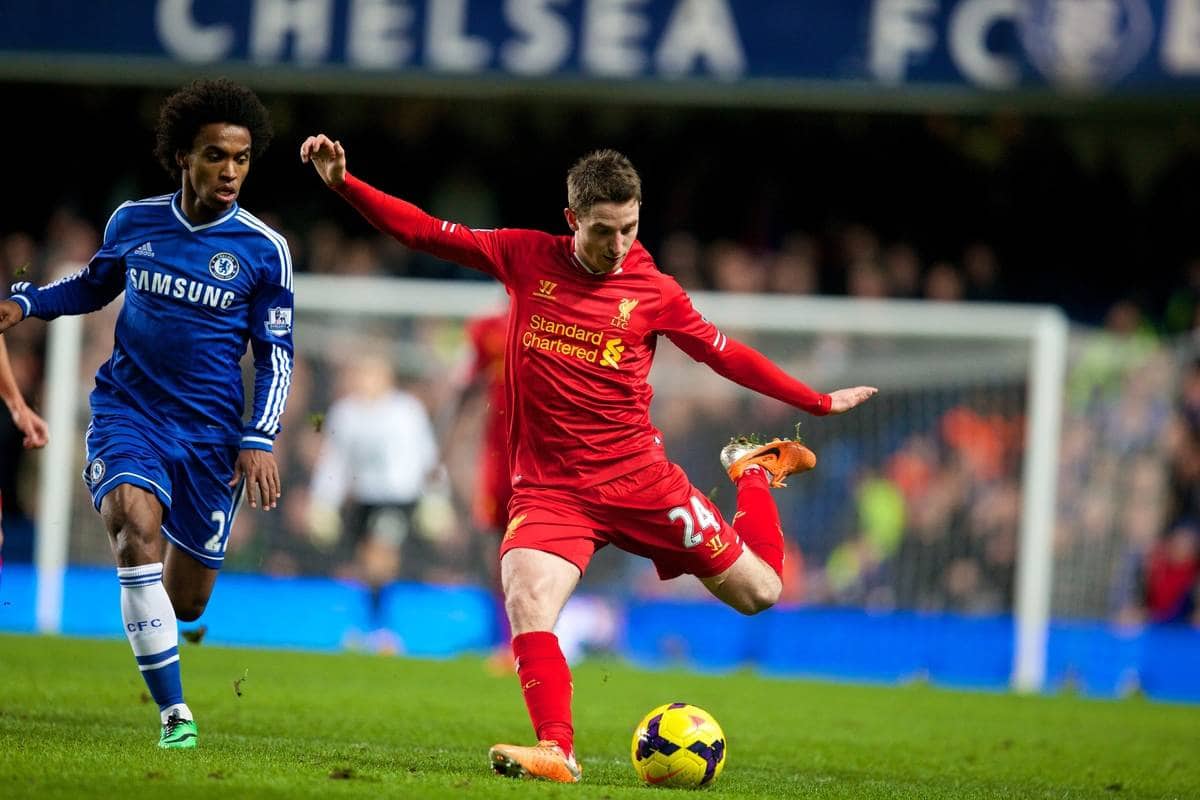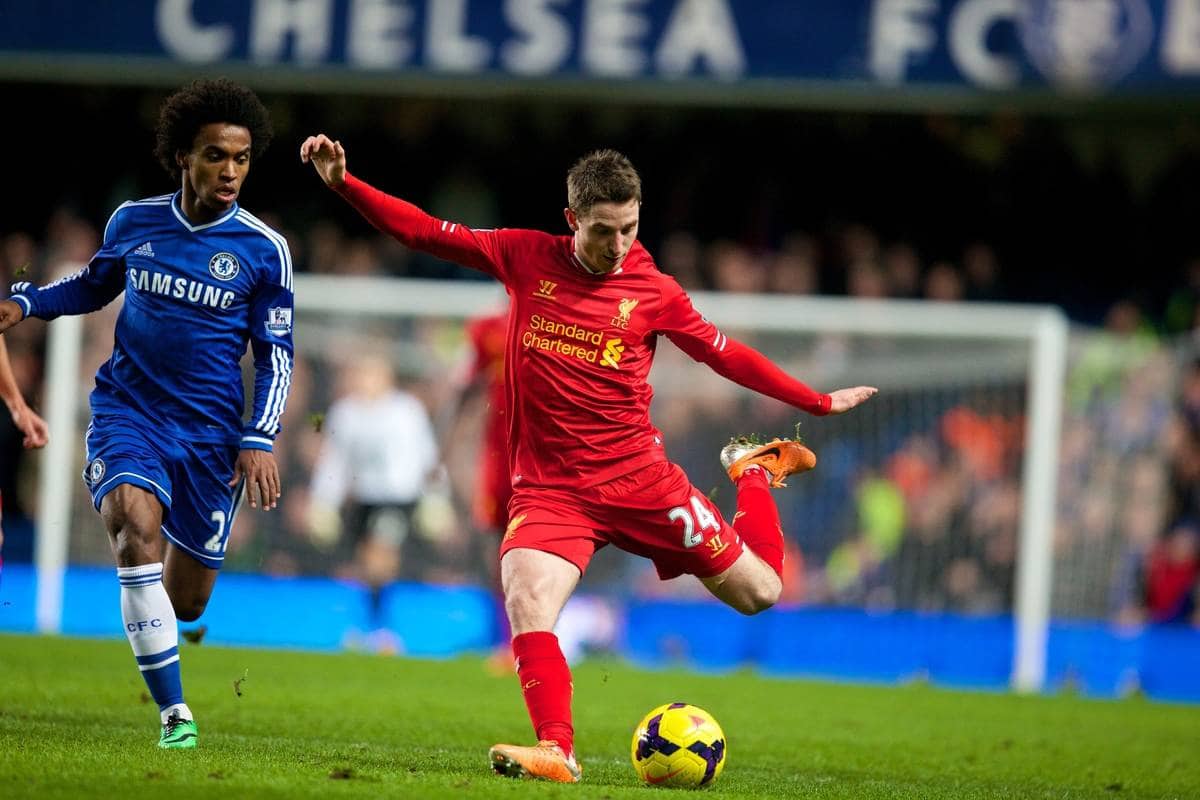 It would be easy to look at Luis Suarez, Daniel Sturridge and Raheem Sterling and say that they are the reason that we sit where we currently do – and they certainly have played a major part. However, if you look at all of our most impressive performances they have come off the back of a midfield masterclass.
Whether it be a set up that enables us to play in a counter attacking style like at home to Everton or Arsenal or whether it is a set up that enables us to press high, win the ball back early and then launch our impressive attack further up the pitch, such as games like Southampton, Tottenham and more recently Manchester United all away from home.
It's interesting to see that in the home games in particular, Phillipe Coutinho has excelled and been a pivotal player in the quick transition and counter attack style that has seen us tear Everton and Arsenal apart. He has however been a lot less effective away from home.
These away games have seen Joe Allen come to the fore, his ability to keep hold of the ball, to press high and the energy he brings to the side works wonderfully well alongside the ever impressive Jordan Henderson, whether it be in a diamond shape or a more traditional 433 shape.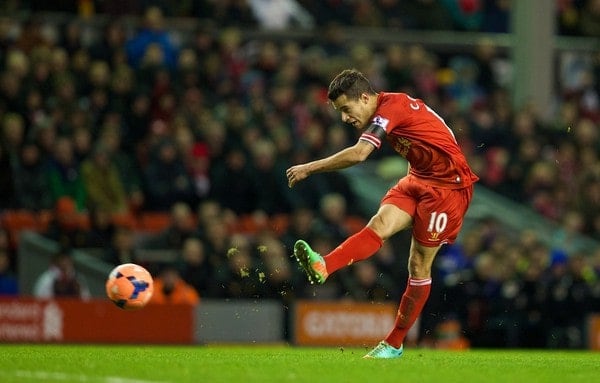 Now, as a lot of fans, I like to pick my ideal team and my ideal formation and unless we are struck by injuries then that's the team I would always like to see start each game. After all, Brendan Rodgers has shown all season that he has the players to be able to switch formations and tactics without changing the personnel.
This, is where I have somewhat of a conundrum. Who starts; Joe Allen or Phillipe Coutinho?
I am a self confessed Allen fan, in fact, given the chance I would open an Allen appreciation society. However, I am also a huge fan of what Coutinho brings to our side, aren't well; he can find the space for the through ball that nobody else can see and so far this season he has created 10 clear cut chances (stats via EPL Index).
Allen has been extremely impressive in a different sort of way since coming back into the side, his performances away to Southampton and in particular Manchester United were excellent. Rodgers praised him in his pre-Cardiff press conference, saying:
"Joe was outstanding at Old Trafford, he covered more ground than anybody, and he pressed the ball and passed the ball well. I believe he is one of the top Premier League talents. He came here, and started in the first three months remarkably well. He was the supporters' player of the month in that time.
"He then had a little difficult period, trained very well but then got injured, so his first season was up and down, purely in terms of that injury.
"But I know his talent better than anyone. He had a great pre-season then unfortunately got injured again. He's such a courageous player, in the way he passes and presses the ball.
"In this country it can be frowned upon to a certain extent. We want midfield players scoring goals, or smashing into challenges. Joe, though, is an intelligent player who protects the ball very well.
"He will prove to be an outstanding player here. He's near the top of his game, performing well. Hopefully that continues this weekend."
That last line seems to indicate that Allen will retain his place away at Cardiff City on Saturday. So if Coutinho doesn't replace Allen, how does he get back into the team?
You could argue that there is a way to play both, you could play a diamond and fit Coutinho in at the No 10 position or you could as him to play wide on the left as he did when he first joined. The problem with that right now is that Sterling is in the form of his life and he got the nod over Coutinho for the role at the tip of the diamond in the game against Manchester United.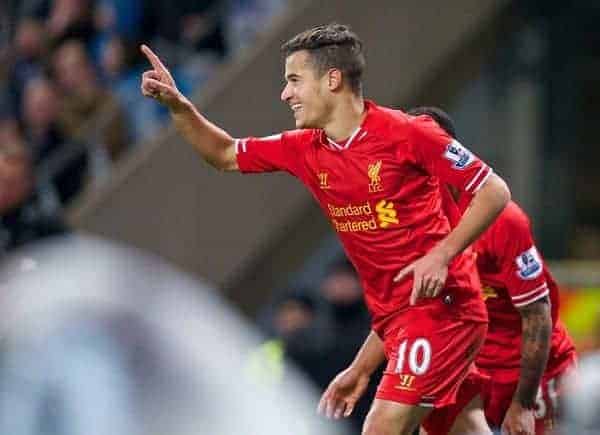 For me though, neither of those are Coutinho's best position. He is a number 8, in the same way that Andreas Iniesta plays that role for Barcelona I feel that Coutinho would be perfect in that role for us, maybe more long-term. He is similar in style and stature to Iniesta, when on form he has that rare ability to unlock defences with a through ball that nobody else had even spotted.
We have seen in games this season when he has played in a more central midfield role how effective he can be, he was incredible at home to Everton and Arsenal, he also works harder off the ball when more central and of course, he can cause more damage in a when he is in possession. The issue is, how do we get him into the team?
Do we just rotate him and Allen for the rest of the season dependant on who we are playing? Does one play at home and the other away from home? How can you justify changing a winning side after the midfield unit has performed so well game after game?
We could play both, that way we have the Brazilian Iniesta alongside the Welsh Xavi. However, can anyone see Henderson being rested or rotated? I certainly cannot. He's been vital this season, starting every Premier League game.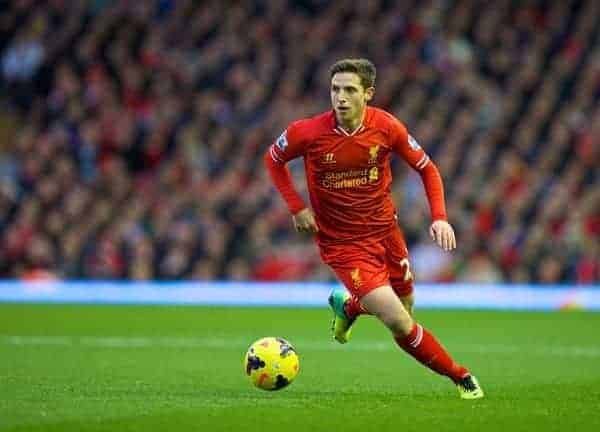 Each player offers so much diversity when they play that perhaps the solution is to rotate them on a game by game basis, both Allen and Coutinho are still young men and are prone to injuries and loss of form so perhaps that would work. However, if they know that they are unlikely to play every week will that cause them to lose confidence in their abilities? Will they feel that no matter what they do on the pitch, they will back on the bench dependant on whether we are at home or on our travels? That's where Rodgers' superb man management skills come into play.
With Manchester City and Chelsea both to visit Anfield, would you rather Allen alongside Gerrard and Henderson or Coutinho? I know who I'd prefer.
So as I sit and type away, I find myself going back and forth between the two. It's not a problem we have had to thing about for a long time as Liverpool fans, which top player do we leave out of our side?
So what is the solution?
If it were down to me, I'd say same again lads at Cardiff. I'd have Coutinho chomping at the bit and ready to fire for the last 30 minutes, what a prospect that is for any team to face. With tired legs and minds then he could have the run of the midfield area and cause chaos for the opposition.
But that's only my thoughts, how would you solve this particular conundrum?
[poll id="180″]