Former Liverpool manager Kenny Dalglish, Chair of the Hillsborough Family Support Group Margaret Aspinall, and Reds captain Steven Gerrard spoke at a press conference at Melwood on Thursday afternoon about the forthcoming 'Celebration of the 96' day at Anfield.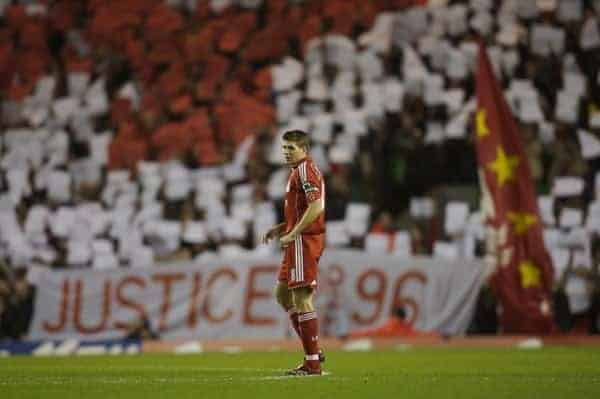 On Easter Monday (21 April), fans will attend Anfield for an afternoon of events to remember and celebrate the lives of the 96 fans who lost their lives at Hillsborough in 1989, centred around a charity match involving Liverpool legends of the past.
Dalglish will lead a British XI, including Robbie Fowler and Gary McAllister, whilst fellow former manager Gerard Houllier will manage an XI made up of Liverpool's foreign heores of the past, including Luis Garcia and Jan Molby.
The game has been planned shortly after the 25th anniversary of the Hillsborough disaster and organisers hope it will be a chance for fans to have a good day out at Anfield, enjoy the football and entertainment, whilst raising money for the HFSG and LFC Foundation.
https://twitter.com/PooleNeil/status/444127819304824832
Margaret Aspinall told press, "The Celebration of the 96 Day will be a great occasion. We want to raise money for charities, and give something back to the community.
"It's not been easy for the families, constantly being knocked back in fighting for justice. We thought we need to do something to celebrate the lives of the 96; have a good day together, be united. Give something back to fans.
"If people enjoy themselves, and have a great day at Anfield, that's the main thing at the end of the day."
Dalglish, who was manager of the club on that fateful day in April 1989, added, "Fowler, McManaman, Beardsley, McAllister will all play. Jan Molby will make it a crowded midfield!
"It's important that everyone comes together, and that it's the 25th Hillsborough anniversary."
Gerrard said the club and the first team players are behind the day, and hope it will give them inspiration towards the end of the Premier League season.
He said, "A lot of first team players will be there to play their part. Hopefully we can make it a special day for everyone.
"If the team can use this as inspiration to finish the season strongly, that will be excellent too.
"I'm looking forward to seeing little Luis Garcia and catching up with him. I've not seen him since he left the club."
Tickets for the event are on sale now to members and season ticket holders from the club's ticket office in person or by phone, whilst the general sale begins on Friday, 14th March.
Tickets are priced at £15 for adults, and £5 for children and fans who purchase a ticket by Friday, April 4 will also have the chance to enter a competition to go onto the pitch at Anfield to meet with first-team players and put a question to one of them as part of a Q&A session.