As Liverpool loanee Conor Coady looks ahead to Sheffield United's FA Cup semi-final tie, Jack Lusby asks whether the Academy prospect has found his level at the Yorkshire club.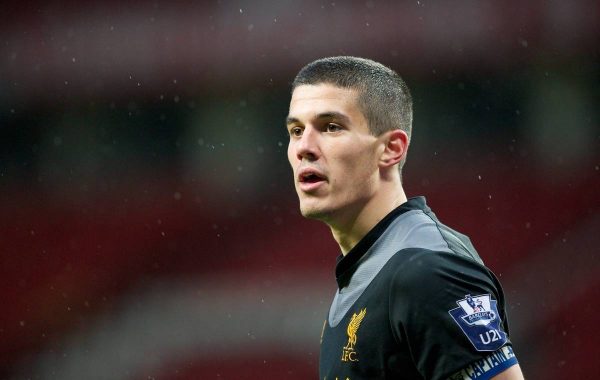 With Sheffield United's 2-0 win over Charlton Athletic in Sunday's FA Cup quarter-final, another of Liverpool's loan stars has reached a major Wembley cup tie, and 21-year-old Conor Coady has set his sights on a return to the Reds and the first-team next season.
Neil Jones, writing for the Liverpool Echo, reported on Coady's Premier League ambition in the build up to the semi-final, the Liverpool-born youngster outlining:
"[I]t's up to me now to prove I can cut it. That's what I am aiming for at Wembley, and in the remaining league games as well. It's a big challenge for me, but I'm well up for it."
Making the step up to the Liverpool first-team would represent a marked shift in quality for the Academy prospect, and it is pertinent to question whether Coady has what it takes.
Life at Liverpool
Joining the club as a 12-year-old in 2005, the defensive-midfielder has always been highly-regarded by the powers-that-be.
Coady was handed his Liverpool debut in a Europa League tie with Russian side Anzhi in 2012, in a 1-0 defeat.
Speaking after the game, the then-19-year-old showed his delight, with the Liverpool Echo's James Pearce relaying: "I've waited a long time for this day and it was really special to get out there and play."
For a local-lad this was clearly a big deal, and Coady impressed in the game despite the team's loss.
A further substitute's appearance against Fulham in the penultimate game of the 2012/13 Premier League season followed, and many would be forgiven for pencilling in a place in Liverpool's squad for the current season.
As things transpired, Rodgers deemed it necessary to pack Coady off on loan to Sheffield, initially in a BBC Sport-reported six-month deal which was later extended till the end of the season.
Surely a drop down two leagues would traditionally spell the end of the top-flight career for a 21-year-old?
Sheffield Loan
Culminating, so far, in the club's upcoming semi-final trip, Coady has wholly impressed in his first full season as a senior player.
As per WhoScored, the 21-year-old has so far made 25 league appearances for Sheffield United, completing the full 90 minutes on 22 occasions and making himself a key fixture in Nigel Clough's first-team.
Coady has also scored four times in all competitions, the last coming in the club's 1-0 win over Gillingham: a result which has kick-started a league-run of five consecutive clean sheets.
Sheffield United have now won nine consecutive games and Coady, as a defensive-minded midfielder, has been integral to this run.
James Shield, of the Sheffield Telegraph, wrote recently on Coady's admiration for Clough, quoting the youngster:
"This season was the right time for me to go out and learn my trade and to come to a club like this has been superb…The gaffer has come in and helped me loads and I could not have asked for anything better really."
[youtube http://www.youtube.com/watch?v=ClpVOlg5oms&w=560&h=315]
With some encouraging performances, and the careful stewardship of his manager, perhaps Coady is ready for a big step towards the Liverpool squad?
Contract
At 21, Coady has reached somewhat of a crossroads in his career, as opined in my previous article on Liverpool's loanees on this site.
As mentioned, Coady faces a potential conundrum at the end of the season, as reports by Transfermarkt suggest that the prospect will be entering the final year of his contract.
It is likely that this summer is a make-or-break situation for Coady within Rodgers' squad.
Given the midfielder's form, it wouldn't be remiss to suggest that the Blades would be interested in making the loan spell permanent.
Elsewhere, Rodgers was recently quoted by the Liverpool Echo outlining the importance of Coady's loan spell: "He needed to go away and prepare himself to play every single week."
Whilst not the most glowing review, this could suggest a glimmer of hope for the youngster, as his performances have surely impressed.
If all parties are partial, this would leave Coady with plenty of options this summer.
Options
Surely Coady's most-preferred move, a return to Liverpool could well be assisted by the increasing number of games required by the club: with the Reds' return to the European stage at this juncture all but sealed.
This has its pros and cons for the local-lad.
Naturally, with more games to be played this necessitates a larger squad, and Coady could well act as a squad player possibly rotated with Steven Gerrard in domestic cup games.
However conversely, with the club performing at such a high level, expectations are sure to be increased. Despite an impressive spell in League One with Sheffield United, this may prove to be too high a level for Coady.
With the Blades currently stagnating in mid-table of League One, Coady's ambition may well keep him from signing permanently with Clough's charges.
Looking elsewhere, some impressive performances may alert potential suitors from lesser-Premier League or Championship sides.
Verdict
Again as per my previous, Coady, having reached this stage in his career, could well be sold this summer.
However, with competition heightening and an emphasis on resurrection within the club outlined by another Academy graduate, Jon Flanagan, this season may prove heartening for the midfielder.

Jones continues to quote Coady in the Liverpool Echo: "[T]he semi-final, being such a high-profile game, might just be the one that sticks in everyone's mind."
Sheffield United's semi-final tie may prove pivotal in Coady's future: definitely one to watch.
Does Coady have a future at Liverpool? Or is time with the club coming to an end? Let us know in the comments below.