With rumours circulating about Brendan Rodgers' interest in signing Steven Caulker, Jack Lusby (@LusbyLatest) looks at why this would be a good move for the Liverpool manager.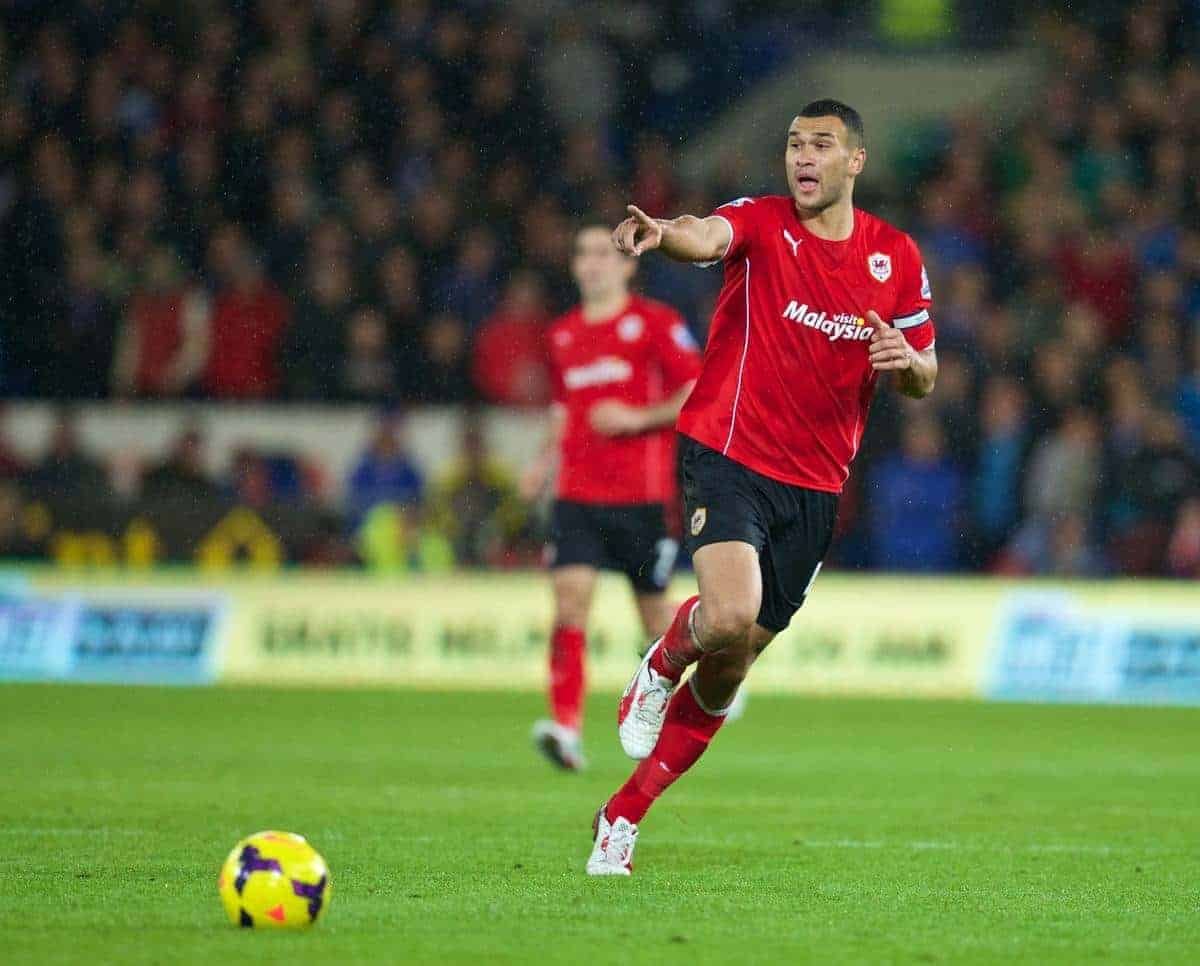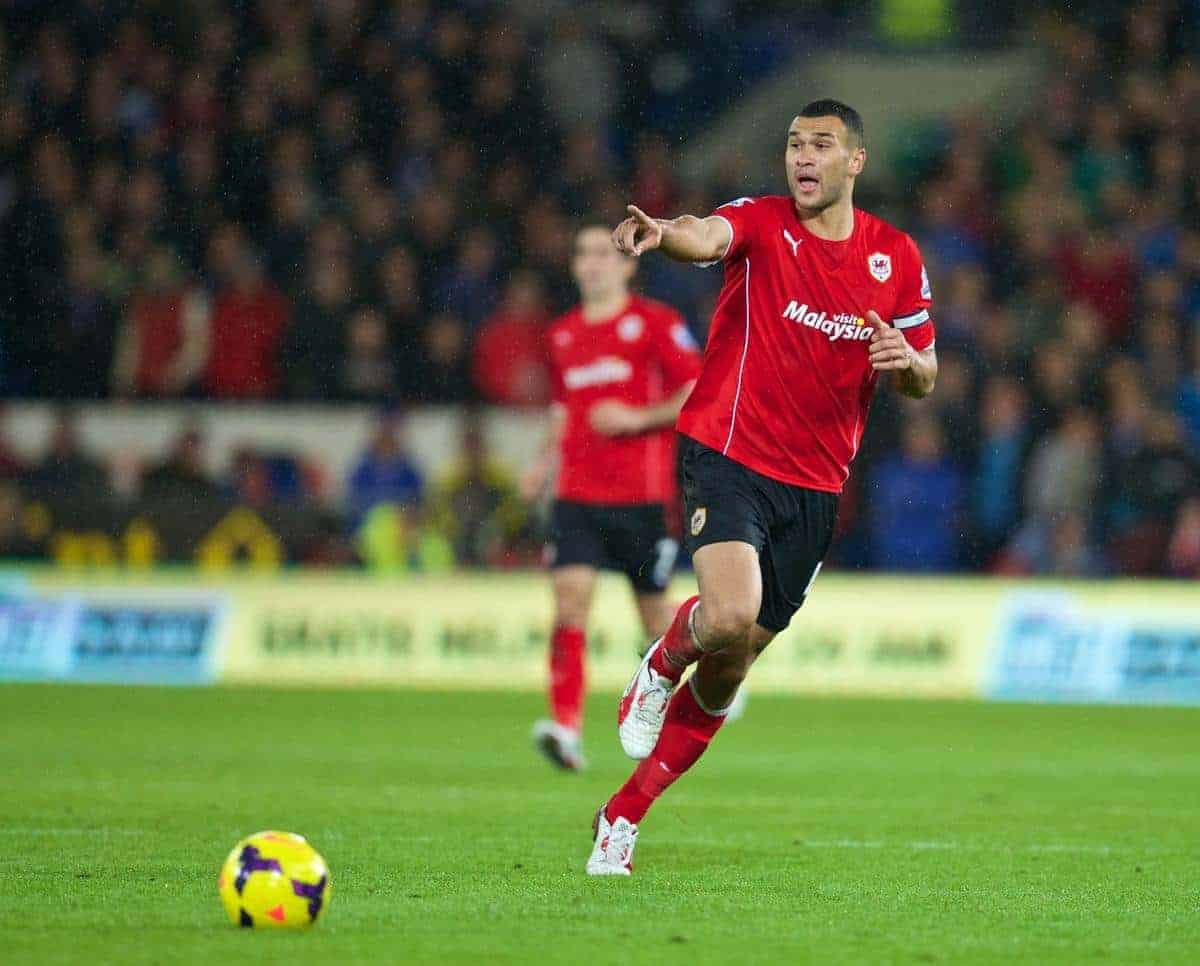 Last week, The Telegraph reported Brendan Rodgers' interest in signing another of his former charges, current Cardiff City captain Steven Caulker:
"Brendan Rodgers is interested in Cardiff captain Steven Caulker as he considers how to tighten up Liverpool's defence in the summer."
Signing Caulker, as journalist Matt Law astutely points out, would significantly enhance Liverpool's often shaky back line; as an added bonus, at 22 years old, the English centre-back has plenty of years left to develop.
The Current State of Affairs
Assessing Liverpool's current first-team centre-back options, at present Rodgers possesses two senior left-footed and two right-footed defenders – Mamadou Sakho and Daniel Agger; and Martin Skrtel and Kolo Toure respectively.
Therefore, Caulker, as a natural right-footer, would pose a threat to Skrtel and Toure if he were to join the club.
Toure, brought into the club over the summer to compensate for the loss of leadership and experience following the retirement of Jamie Carragher, initially performed admirably for the Reds.
However, his early form has since diminished. This is particularly shown with an outfield-high of two defensive errors leading directly to goals, courtesy of Squawka: a statistic made more significant given Toure's infrequent game-time.
Elsewhere, Skrtel boasts, again according to Squawka, an average duels won percentage of 60; the defender also averages at 15 defensive actions per game.

However, statistics cannot cover all aspects of a player's game.
Skrtel's increasing propensity to grapple with his marker in the box in dead-ball situations has led to many believing the 29-year-old is an accident waiting to happen; this was initially brought to the spotlight this season after several altercations with Caulker earlier this season.
The likely future is that Rodgers will hold onto Toure, and whilst he continues to publically back the often-shaky Skrtel – as reported by The Guardian's Andy Hunter – the Northern-Irishman could well consider the future of either Skrtel or Agger at this season's end.
With at least one centre-back surely headed for the Anfield exit at the end of this season, Caulker would provide a solid solution on the right-side of defence for many reasons.
An Impressive Campaign
Along with the composed Peter Whittingham and the Mascherano-lite Gary Medel, Caulker has proven one of few bright spots in Cardiff City's dreadful maiden Premier League campaign.
[youtube http://www.youtube.com/watch?v=J-kniAWL8cs&w=560&h=315]
In a team under-the-cosh in seemingly almost every fixture, Caulker has managed to near-equal Skrtel's average of duels won with 58 percent and an average of 12 defensive actions per game.
The Englishman also seemingly has an eye for a key pass, his total of eight chances created double that of Skrtel's this season.
It is also worth noting that Caulker hasn't made a single defensive error this season, despite consistent attacking pressure; all statistics courtesy of Squawka.
The ex-Spurs man is a composed presence amid a shaky back-four, something which could be allayed with his projected future centre-back partner Sakho.
Youth
As previously mentioned, Caulker as a 22-year-old presents a long-term defensive prospect for Rodgers were he to sign for the club.
The Daily Express recently reported the manager as claiming his club as vital in the development of young British players:
"I think it is a good signal and a good statement – especially for young British players – that if you come to Liverpool, you will get your opportunity if your focus is right."
It would be natural to assume that if Caulker were to join the club, as evidenced by the immense progress of Raheem Sterling, Jordan Henderson and Jon Flanagan under Rodgers, he would be in the best place to develop his game.
Moreover, an impressive 2011/12 season spent on loan with Rodgers' Swansea side should be more than enough to convince the pair this is the right deal.
Experience
Whilst Caulker undoubtedly has time on his side, the London-born defender would also come into the squad with a wealth of experience.
As mentioned, the towering centre-back was employed by Rodgers to marshal his defensive ranks in Swansea's debut Premier League season; Caulker made 26 starting appearances in total, as per WhoScored.
Returning to parent-club Spurs, Caulker played a significant part in their Premier League and Europa League campaigns for the 2012/13 season, providing the young defender with vital experience amongst elite competition.
Signed by Cardiff City for a BBC Sport reported £8m this summer, Caulker now has experience in leading a side, with ex-manager Malky Mackay appointing the Englishman captain upon his arrival.
With Toure currently, purportedly, filling the void left by the influential Carragher, Caulker should have more than enough experience to step into the breach.
Opposing Factors
Naturally, there are opposing factors to the signing of Caulker.
With Skrtel, on the whole, performing admirably at the heart of defence this season, it could be argued that the Slovakian should command a first-team position for the foreseeable future.
Elsewhere, with the return of Tiago Ilori from a loan spell at Granada next season, many would favour the adept young Portuguese to partner Sakho for years to come.
Finally, with recent Daily Mirror reports linking Spurs' Jan Vertonghen with a move to Anfield, this may raise the argument that Caulker isn't the high-profile signing Liverpool should be looking to make for their projected Champions League campaign.
The Verdict
Whilst these factors could also be argued convincingly, as a player with the Premier League experience, defensive influence and vast potential to develop under Rodgers, Caulker surely fits the bill.
With Cardiff City relegation-bound, a cut-price move for the England international would be an astute piece of business for Rodgers and Liverpool this summer.