Mark Pearson looks at Liverpool's run-in towards the Premier League title race — where will it be won?

"We are generally afraid to become which we can glimpse in our most perfect moments; under the most perfect conditions, under conditions of greatest courage, we enjoy and even thrill to the god-like possibilities we see in ourselves at such peak moments, and yet, simultaneously shiver with weakness, awe and fear before the same possibilities."
—Abraham Maslow
Mind Games
In my previous article, "Breaking Liverpool's mental barriers – Playing without Fear", I talked of how Brendan Rodgers and his coaching staff had been working tirelessly on the mental strength characteristic of the team's game.
A resounding display of lethal fast paced attacking football, shown in the deconstruction of Tim Sherwood's £200 million squad under the pressure of being "last up" in the fixture list for the title race is testament to this.
Now leading from the front and with just six games left until possible inconceivable scenes of euphoria at Anfield that pressure has just gone up a notch…Big Time! 
There is a story about a wrestler who was traveling by train from Glasgow to London to fight the legendary Bert Assirati, renowned for 'hurting' his opponents.
As the journey proceeded the wrestler fought with his inner opponent who relentlessly reminded him of the prowess of Assirati. Each time the train stopped at a station, the wrestler's inner opponent tempted him to get off and head back to Glasgow.
At every stop that inner opponent grew stronger and stronger, the wrestler's willpower getting weaker and weaker. By Birmingham the wrestler could stand no more. He got off that train and took the next one back to Glasgow.
Mr Assirati received a note from the wrestler that said, "Gone back to Glasgow, you beat me in Birmingham".
Mental toughness for Liverpool during this run in is going to be as equally important as a Luis Suarez moment of pure footballing brilliance.
Anfield 
Last Wednesday night there was an entirely different texture about the match against Sunderland.
That quick goal, which should be elusive for the overwhelming majority of games, but, for Liverpool is becoming as regular as a Jose Mourinho moan about lack of squad strength didn't transpire.

The tension was becoming suffocating; everybody had estimated us to be 3-0 up inside of the first 30 minutes and for the Liverpool "Goal of the Month" road show to carry on. It didn't happen. Pressure bred.
The inner opponent of 40,000 supporters cultivated stronger and stronger and was unquestionably emanating down to the players.
When Steven Gerrard decided scoring a penalty from 12 yards was becoming mundane and strode up to arrow a free kick from 20 into the top corner the deafening roar from the stands was as much in relief as it was in celebration of another "Stevie Wonder".
Make no mistake – Chelsea and Manchester City are not Tottenham, they are not going to be "Beaten in Birmingham" like those from White Hart Lane.
It is entirely conceivable the early goal will not arrive. Pressure will mount. When it does, the training that Brendan and the management team have been drilling into the players will be essential. You can be certain of that.
Six 
Before those gargantuan and possibly title defining matches West Ham are undoubtedly a hurdle that has to be jumped and in the last two seasons that has been less than a formality.
An unconvincing 3-2 win last year was preceded by a 3-1 thumping loss in 2011/2012 season.
With West Ham collecting four wins at Upton Park from their last six outings on home soil in the league and fresh off the back of a win away at the previously mentioned Sunderland this is no "Gimme".
Add to that mix a Liverpool team without the experience within the squad of being in this position so close to the end of a season and that pressure will be there from the first whistle.
Six games left in this extraordinary season. Six wins and the league title will be back at Anfield after a very long tour away from L4.
After Sunday's performance Brendan Rogers said, "We showed everything we have been working towards in the last year and a half and our dominance in possession, in particular, was very impressive. You can see the confidence in the side and they are great to watch."
If Liverpool are truly unafraid to become that of which we can glimpse in our most perfect moments.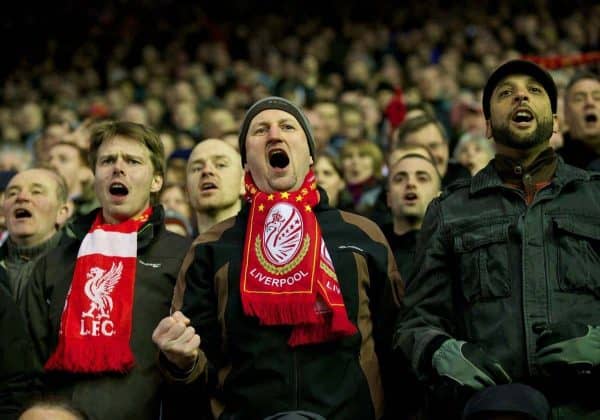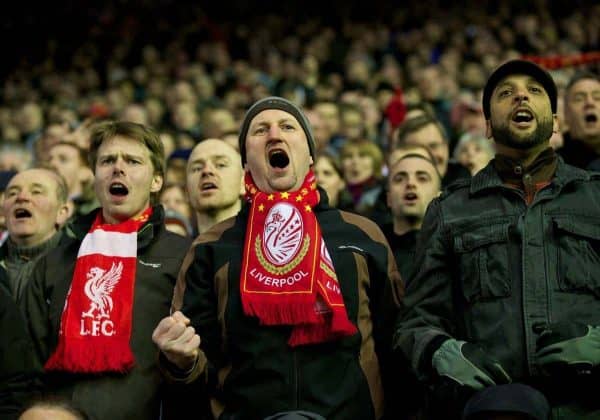 If they can really enjoy and even thrill to the God-like possibilities they see in themselves at suck peak moments and not shiver with weakness, awe and fear before those same possibilities then there is no question that the title is coming back.
Let those who have to play us be crushed by their own inner opponents and maybe, just maybe, by the time Chelsea come to visit they will, after all, have been "Beaten in Birmingham".