Andy Yates describes what it's like to be a Liverpool fan right now — the endless cycle of "what if" thoughts and dizzy day dreams.

71 points. 88 goals. Eighty-eight. That is an average of 2.75 goals per game. There are 6 left. 6 games left. And Liverpool… are top.
I speak only in short sentences because right now I'm short of breath. My lungs are bursting. My eyes seeing double whilst my perforated ear drums from 'that roar' are still in recovery mode.
6 games left. Six.
And Liverpool… are top.
I made the trip to Anfield on my own for the visit of Tottenham Hotspur, a routine I have become accustomed to in this the age of almost impossible entry to a ground of Anfield's calibre.
I ended it on my own as well, in a state of glorified shock in the nearest pub I could find. I hugged a man who I had never met, our embrace as loving as two friends who had been apart for say, 24 years. I shook hands with another bloke, who stared into my eyes and said to me, "we can do this lad".
I gazed around the Albert, the pub I chose to walk into in my delirious state. I looked up at all the scarves which hug every single bit of wall and ceiling, pictures of Istanbul which seem to capture every single angle of Jerzy Dudek's slight Polish frame, of Steven Gerrard's lactic acid ridden body lifting the European cup in the Turkish night sky.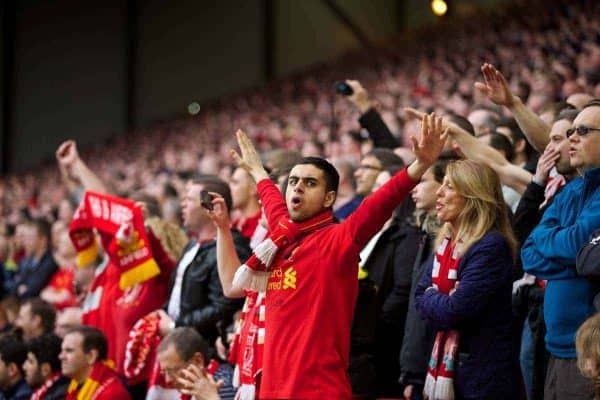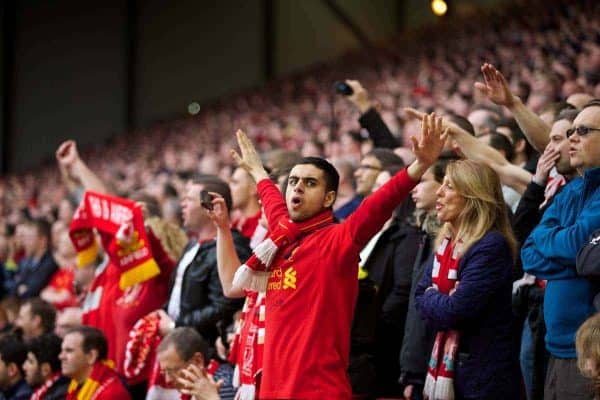 I thought about sentimentality, of how most say it is a dying art in modern football. It is a hardened business with no time for the emotional mush that people need to just let go of.
They may be right, and Liverpool, the people's choice seemingly, may not win the league. But sentimentality still exists. It may not be in its truest form but if we didn't have it, what is the point of all this?
I trotted back towards the city centre, the hazy early spring sunshine a delight after months of tiring rain and despicable windy conditions.
I walked along the road with which I met the bus that carried the Champions League trophy in 2005.
Sentimentality came flooding back, as the bus creeped through towards St George's Hall and the 15-year-old in me came alive again.
All of a sudden I began to panic. For months I've lived vicariously through the next game, through Brendan Rodgers and his steely words of focus in his most endearing of Northern Irish accent:
"The lads did brilliant today. We've worked hard in training and today that paid off on the pitch. We have the three points and now we focus on the next game."
Honestly, I tried to do that. I tried to think of the next game. But then I didn't.
West Ham. Set pieces. Andy Carroll. Stewart Downing (Please God, not him). Joe Cole. The old players haunting our dreams. Those pesky bubbles blinding Simon Mignolet. Kevin Nolan the old Scouser, him and his old chicken dancing ways.
Manchester City at home. Sergio Aguero's almost fit. Yaya Toure is a steamrolling monster, running through the cornfields eating all the children. Alvaro Negredo hasn't scored in 10. He'll score against Liverpool, won't he. Of course he will. The Beast.
Norwich away. 6 points from relegation. Teetering on the edge. Ricky van Wolswinkel literally cannot hit a barn door. Oh no. He's going to get three isn't he. Suarez is going to get nothing. He'll bite someone again won't he.
I'm one mile away from the city centre now. Profusely sweating. Why did I wear a grey t-shirt? It's 15°C with a light wind. I can't see. A double vision has devoured my eyes.
Chelsea at home. 2005 and 2007 relived. Or is it? We don't have Rafa. Mourinho is better now than he was then. Hazard is a joke on the ball. He rivals Suarez (sort of). John Terry and Frank Lampard's last stand. The Chelsea revenge. Jose Mourinho's hush. And… surely not… a Torres winner. Title theirs isn't. Of course it is.
Crystal Palace. South London. Too hot down there. The Palace Ultra's. Tony Pulis. Quidditch FC. Cameron Jerome. Long ball specialists. Mile Jedinak the destroyer. Martin Skrtel own goal on 52 minutes…..Just. Like. Terry.
Newcastle at home. The Alan Pardew Parade. Mike Ashley's sweaty white shirt sitting smugly in corporate. Geordies taunting us. Papiss Cisse decides to show up. Dreams in tatters on what should be our crowning glory in May.
I needed a hug at that point, the motions I had gone through walking for just 15 minutes had destroyed me, mentally and physically. I had gone into a state of euphoric panic, convincing myself more and more that we had lost the title.
I thought then, in that moment, about 'that roar' which I had heard only 30 minutes previous. The hairs on my neck were still saluting, upright and mobile. The players had clapped the fans, and a cry as loud as I had heard all season bellowed from the upper echelons of our Spion Kop.
It was a message which spoke a thousand words. It was to tell fools like me to not dissect every minute of the last 6 games, but to believe in a story which a fairytale ending is near.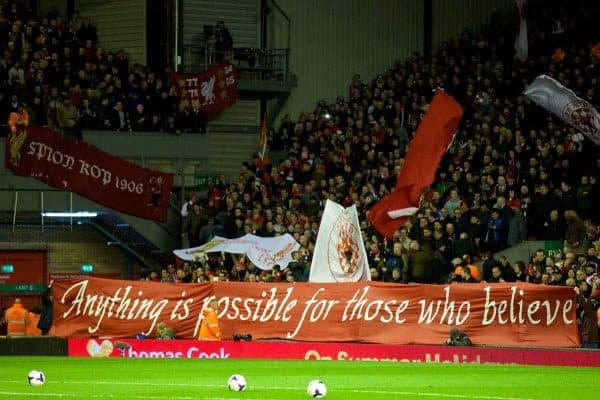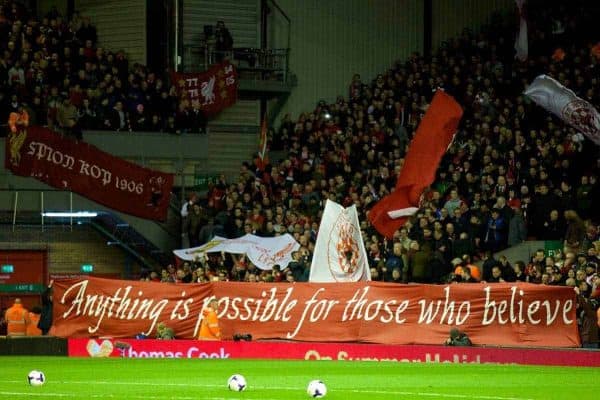 It told us to believe, all of us. It told us to pack all our fears away, dismantle whatever obstacles lay in our path, and believe in the glory.
Of course we can. West Ham, Manchester City, Norwich, Chelsea, Crystal Palace, Newcastle.
Every single one of them. With the madness of the away day travellers and the souls of Anfield, past and present, the roar will show you the path. Through the mirage of the water fountain, there is golden sand. A golden sky.
Take the game to each and everyone one of them. Intensify 90 minutes of football like nothing the Premier League has ever seen. The pressing, the movement. The spinning diamond formation that bears comparison to a roulette wheel. Gamble on everything you have. Put the hopes and dreams of thousands on Red.
Make us dream.
http://www.youtube.com/watch?v=yTfpn_xsKhE
Much have I travelled, Much have I seen
I have absorbed and inhaled, laughter lines and forward lines
Drawn battle lines across timelines, through good times and bad.
It gets under the skin, it leaves its mark, and is worn with pride
Five stars flicker in the firmament, which warm a deep and unconditional love,
Which serves to remind us, that all we need tonight
Perhaps more than ever, is each other.