Aaron Cutler reflects on the heartache of Sunday but insists the good times are here to stay.

Let's be frank, that hurt. Sunday was gut-wrenching, heart breaking, soul destroying. Enough to make you question whether all this is worth it. Is this game we obsess over truly beautiful or in fact a wicked, unforgiving beast that swallows-up dreams and spits them out with nothing but cold contempt? Gerrard of all people, how cruel.
And it just had to be Chelsea. It had to be Mourinho. The complete antithesis of our club and everything we stand for. The man and team our captain spurned not once but twice. His headline grabbing charge towards the Anfield Road was as predictable as it was sickening. The Jose show, sponsored by our pandering media.
But enough about him, his anti-football and raging hypocrisy. We are Liverpool, as the song goes.
And we are top of the league. This time last season we were seventh, a full 30 points off the eventual champions and 12 adrift of fourth. This has been some turnaround, some season.
The pain of defeat should not mask the astounding progress this squad and manager have made in twelve short months. No longer drifting aimlessly we are on course, ahead of schedule and back amongst football's elite.
I keep conjuring up visions of Hull, Steve Bruce's big fat head et al.
It may seem a lifetime ago but The Tigers once put us to the sword. Devoid of imagination, fight and an obvious game plan that defeat was hard to stomach. It caused many, myself included, to doubt our top four credentials. Useless! we cried, eternal letdowns. In actuality it proved a red letter day. A game changer.
A brutal Christmas period had us succumb twice more before a monumental turnaround. Indeed our loss column was neglected thereafter until Sunday. Four months. 22 games. Consider that for a moment.
It's a remarkable achievement for any team, never mind one humiliated at the hands of Paul McShane and Matty Fryatt.
And this run was not circumnavigated the Mourinho way. No, our title charge was born from truly breathtaking football. 96 goals stemming from a verve and swagger not seen since the 1980s. Everton, Arsenal, United and Spurs – not just beaten, humiliated. Pulverised. Destroyed. Reduced to quivering wrecks by a red tidal wave.
Whatever its conclusion this has been quite the journey. First, second or third Liverpool are back. No slip, figurative or literal, can deny that.
Significantly, strides made on the field have been reflected off it also. Our one club mentality is back. Kopites are singing from the same hymn sheet at last.
We have long billed ourselves as the world's best fanbase but the truth is we became a fragmented one. Fractions appeared at the start of the Hicks and Gillet era and snowballed accordingly. Their destructive reign gave birth to divisions, distrust and discord.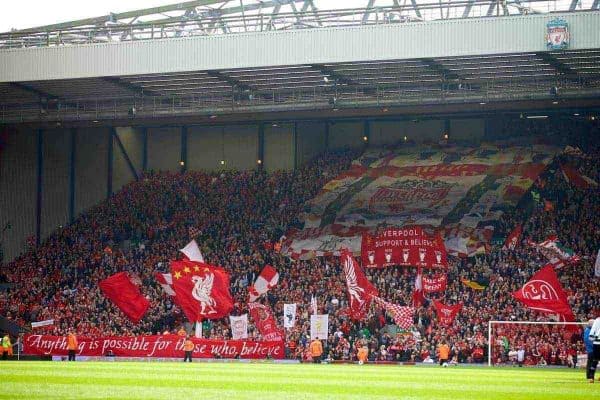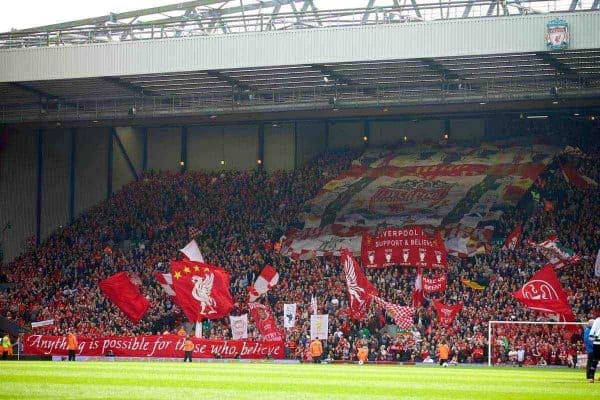 Rafa was the straw that broke the camel's back. Up until this season his fiercest supporters demanded reinstatement.
Then came Hodgson. Oh Hodgson.
An epic swindle, how best to rid ourselves of Tom and George?
Purslow, the lesser of three evils?
Kenny. You must appoint Kenny! But … but you can't sack Kenny!
Brendan Rodgers? Who's he? He's not Rafa! He's certainly not Kenny… You get the idea.
Throw another US buyout, some ill-advised T-shirts, a stadium rebuild and Damien Comolli into that melting pot. Trenches were dug and war raged.
But with one or two exceptions the angst has simmered. Those who doubted Brendan have been won over. We've all bought into this project and see a means to an end. He cannot assume total credit but the boss has come to represent a proverbial band aid. After all, a winning team spawns a happy crowd.
That collective spirit has been evidenced in the run-up to games. A mass show of red strength greeted the squad pre-Sunderland. That army, complete with flags, banners and red mist has grown week on week.
The feel-good factor, that unspoken bond that defines our support is prominent for the first time in five years. Moreover, it's been transmitted to the players. We've fed off them, they off us – a rapport encapsulated by Gerrard's cajoling of The Kop post City.

Going the game is fun again, who'd have thought?
Seldom have supporters of my generation entered May knowing fixtures mattered. But this year is different. We are back in the conversation and talking over everyone. Rest assured, we're intent on extending the dialogue for years to come. Hey, this debate might still hold a twist or two yet (Everton anyone?)
Indeed the future looks bright. How can it not? The average age of our side last weekend was 25.
We have Raheem Sterling, an astonishing talent. While others panicked and forced the issue against Chelsea he remained calm and measured in possession. The best youngster in Europe he belies his tender years.
What about Jon Flanagan? A scouse revelation! Alongside him, the effervescent Jordan Henderson defies fatigue. Daniel Sturridge figured in the PFA's Young Player of the Year vote. These are relative babies tearing up the blueprint.
Not to mention Luis Suarez, arguably the best player on the planet. Scrap that, he IS the best player on the planet. A genius that plays on the edge. A man intent on tormenting his opposition until they submit. He kills them stone dead, particularly those adorning canary yellow.
Bill Shankly once said 'first is first and second is nowhere.' He was right of course but the great man never had to contend with oligarchs and mercenaries. Football has changed. The Premier League has changed and Liverpool, under Rodgers, have changed too.
They have shaken off the weight of history and moved into the modern era. Their philosophy, style and potential have laid the foundations for a sustained period of success. This season is no fluke, rather a launch pad.
So dust yourselves off and look forward. Now is not a time to be downcast and hopeless. If Dr Steve Peters was on-hand he'd tell us to all look at where this team's come from and more importantly, where it's going.
We are Liverpool and we are coming down the road.