Midfielder Jordan Rossiter collected Liverpool's academy player of the year award at the club's 2014 awards dinner on Tuesday night. We spoke to the rising star shortly after collecting the award.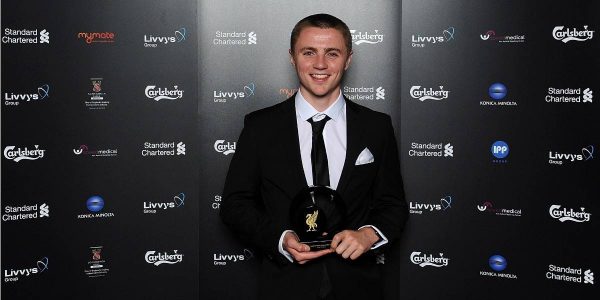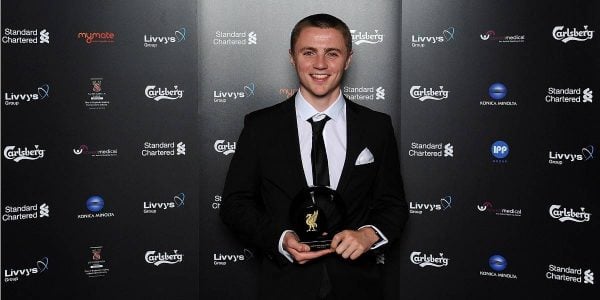 Rossiter, who recently turned 17, was voted for the award by his fellow teammates at the academy. Always an honour for any professional when their work is recognised by their peers.
"To be honest with you, I didn't think my teammates liked me that much" he jokes. "I'm really happy to win this award because there's 18, 20, even more players who deserve this award just as much as me."
Rossiter admitted to nerves upon collecting the award, in front of the whole first-team squad, staff and a host of former players. "I'm not really [used to] talking in front of people but hopefully I handled it alright."
Rossiter was named on the bench for the first-team games against Chelsea and Hull City shortly after Christmas but is yet to make his debut or play on the hallowed turf of Anfield.
"It was great to have a sniff and be around the first-team as that's where you want to be. If you learn your trade off the likes of Steven Gerrard, Luis Suarez, Daniel Agger, it can only benefit you in the future."
With the summer tour to America coming up and the World Cup meaning manager Brendan Rodgers will likely include a host of academy players in his original squad to head across to the States, it represents an opportunity for Rossiter and others who have impressed this year.
"Yeah, it would be great, hopefully if I do get picked for that but I know I've just got to keep on working myself, and even if I don't get picked I know it's not the end of the world as there's always going to be more chances with Brendan Rodgers [in charge]."
Liverpool's academy has a strong talent pool at the moment with several standout performers this season. With Rossiter being picked for the award by his teammates, we asked who he gave his vote to.
"Harry Wilson. He's been in Wales' first-team, he's had a brilliant season."
Rossiter is certainly one with a bright future ahead of him and hopefully he gets a chance to impress on the America tour.