The Reds face a Palace side far more effective than the one they beat with ease back in October. Henry Jackson (@OnFootballTweet) looks at how Brendan Rodgers' side can get the better of them on Monday night.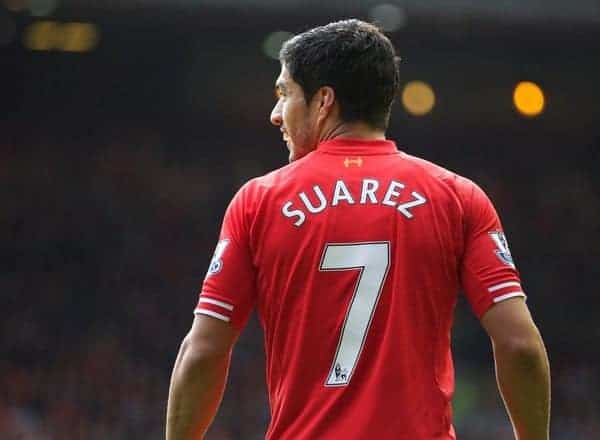 The Palace Revival
When Liverpool dispatched of Crystal Palace 3-1 back in October, the newly-promoted side, then managed by Ian Holloway, looked completely out of their depth in the Premier League. Relegation looked almost certain.
Since Tony Pulis took over in November though, the Eagles are totally different proposition. Vital wins over Chelsea and Everton in recent weeks, which were part of a five-game winning streak – their best in the top flight – has seen them ensure their safety with games to spare.
The former Stoke boss has turned them into a very tough side to beat, and a team who will ensure you leave the pitch feeling like you've just spent 12 rounds in the ring with Mike Tyson.
Similar to Pulis' Stoke side, a team the Reds suffered many a frustrating afternoon against over the years, Palace are physical, hard-working and extremely disciplined. There may be more technically gifted sides in the bottom half of the table, but there aren't many more effective.
Like Brendan Rodgers, Pulis has the ability to create a great team spirit among his players, and a mentality that makes every single one of them want to fight for one another. It's one of the finest traits a manager can have.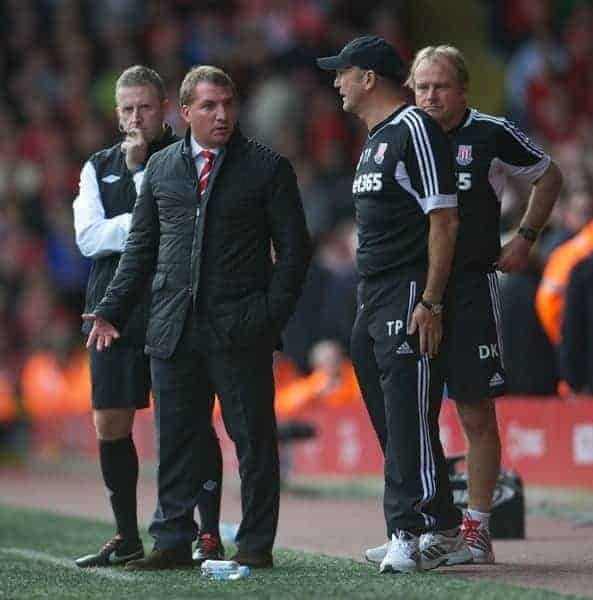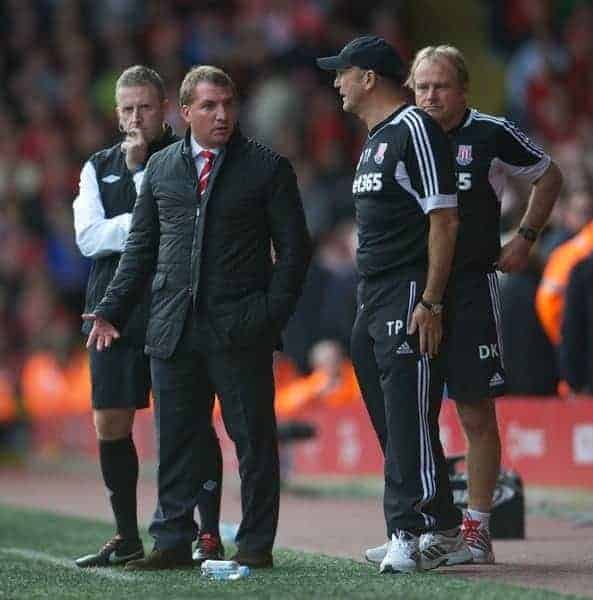 Julian Speroni has impressed in goal recently, and consistent, powerful defenders like Joel Ward, Scott Dann and Damian Delaney performing to the very best of their abilities, it's a very solid base to work from.
Mile Jedinak is a powerful force in the centre of midfield, doing plenty of good defensive work but also getting forward too, with the more subtle but equally hard-working Joe Ledley alongside him.
Although it's easy to label a Pulis side as negative and lacking flair, Palace have plenty of pace and trickery in their ranks.
Yannick Bolasie and Jason Puncheon have both enjoyed excellent runs of form of late, and are always a threat with the ball at their feet. Puncheon, in particular, has been terrific, scoring seven goals from out wide. A number of them have been winning efforts too.
Cameron Jerome and Marouane Chamakh are two strikers who are not exactly thought of in the highest regard, but Pulis' man-management skills have again come to the fore, with both looking more confident at the moment.
David Matthews, a Crystal Palace season ticket holder and academy coach, echoed those sentiments in a recent interview with This Is Anfield:
"Since Pulis arrived, the turnaround on the pitch has been incredible. We have become a well organised, hard-working side and every player knows their specific role on the pitch at any given time. We are not a team that the opposition enjoy playing against."
The table below indicates just how much Palace have improved under Pulis since his first game in charge against Norwich in November:
[table id=55 /]
How Do Liverpool Beat Them?
When it comes to how the Reds get the better of Palace on Monday evening, it's clear that it's going to be far from easy, as Matthews outlined further:
"We will happily allow you to have the ball, but in areas of the pitch where you won't be able to directly hurt us. And despite the reputation that Pulis had at Stoke, we are far from being a side that just plays long diagonal balls up to our centre forward. In fact, some of our football in the last month or two has been quite enjoyable to watch."
With Bolasie and Puncheon a constant counter-attacking threat, Rodgers' men must also be well aware of not over-committing men forward. Glen Johnson and Jon Flanagan will both have to pick and choose when they support the attack, and will be given a tough evening by Palace's two wide men.

Liverpool are not the most dominant side in the air by any means, as the nervy win over Norwich two weeks ago showed at times, so they will have to be very wary of giving silly free-kicks and corners away. Any chance Palace get to deliver the ball into the penalty area, they will.
It's also worth noting that Selhurst Park can be a very intimidating ground to visit, what with it's old-school feel and passionate support. Pulis' arrival has only made it more formidable, and it now has the feel of his former ground, the Britannia Stadium, about it.
Liverpool must start well to potentially quieten down the Eagles' faithful, and must play with the speed and fluency they have all season. If they play with a slow build-up it's playing into their opponents' hands, and the longer the game goes on the more nervous and desperate Rodgers' men may get.
Defensively they are not necessarily the most mobile around, so the likes of Raheem Sterling, Philippe Coutinho, Daniel Sturridge and Luis Suarez should run at them and test their pace. Any long balls will be eaten up, and will be a sign that things are not going well for Liverpool.
For all we know, the Premier League title race may be back in Liverpool's hands come Monday, if Everton can do us a favour and take points off Manchester City, but they must not underestimate a very tricky test against Crystal Palace.
If the Reds win, they'll have overcome one of league's sternest tests on current form.
What are your predictions for Monday's game? Let us know in the comments section below?