Liverpool's Joe Allen is set to captain Wales tonight in their friendly against Netherlands, Jack Lusby writes how this is a coming of age for the midfielder.
Joe Allen will captain @FAWales against Netherlands on Wednesday: http://t.co/lqWae65qKr pic.twitter.com/kmsCuQDzFA

— BBC Sport Wales (@BBCSportWales) June 1, 2014
Wales manager Chris Coleman takes his charges to the Amsterdam ArenA tonight to take on Louis van Gaal's Netherlands side as the latter continue to warm up for the World Cup; a mere friendly for most, but for Liverpool's Joe Allen this will be the most significant of occasions.
With key players Gareth Bale, Aaron Ramsey and Ashley Williams all out of the squad for the fixture, Coleman has selected 24-year-old Allen to captain his side for the first time.
In what is a landmark game for the Liverpool man, Allen's Wales captaincy marks a coming of age for a previously oft-maligned figure in Brendan Rodgers' squad.
Season with Liverpool
On Allen's credentials with regards to captaining his side, Coleman said "[He's] established himself at one of the biggest clubs in the Premier League," as per BBC Sport.
"In the second half of the season he was really, really outstanding. It's something [captaincy] that I never thought twice about."
The former Fulham manager's words underline the slow-burning, impressive season that Allen had under Brendan Rodgers in 2013/14, returning from long-term injury issues to become an important part of the Northern Irishman's side.
The 24-year-old featured 24 times in the Premier League, scoring one goal—a well worked header against Crystal Palace in their unfortunate 3-3 draw.
Initially regarded as Rodgers' pass master, Allen has tailored his game to the Reds' new system of pressing and dominating teams on and off the ball.
Defensively, Allen has become particularly outstanding, with Squawka attributing the Welshman with a 56 percent tackle success rate.
Moreover, the former Swansea City man has developed the confident ability to glide past players with the ball in order to open up play; a 79 percent take on success rate proves this.
With the aforementioned fitness issues limiting Allen's game time at points in 2013/14, the midfielder became Rodgers' go-to-guy when looking to edge a close game out late on, and it is these qualities—paired with a defining bravery—that adhered Allen to this role.

Bravery
When outlining Allen's importance to his Wales side, Coleman spoke of the 24-year-old's bravery as integral to his game plan:
"I think the way we play Joe is at the heart of that. He's a very brave player, one of the bravest players I've experienced working with in terms of he always wants the ball. It doesn't matter whether he's having a good time or a bad time he just keeps going to get the ball and he leads within his play."
In what has become a surprising facet of his game, Allen has displayed a consistent willingness to take up possession in areas in which some players would baulk at.
This is something that Rodgers echoed upon signing the then-22-year-old from Swansea in 2012, claiming "He wants the ball all the time – he has so much courage to get on the ball and play and I think he'll fit in really, really well with all the other clever players we already have here."
Taking the ball, Allen moves play on intelligently and ambitiously.
As per Squawka, 62 percent of the 24-year-old's passes in the Premier League last season were forward passes; this is more than Jordan Henderson (58.8 percent) and comparable with Philippe Coutinho (63.3 percent).
This willingness to receive the ball, even in dangerous areas, and recycle possession forwards is exactly how Allen "leads within his play," and how he will be so important to both Wales and Liverpool now and into the future.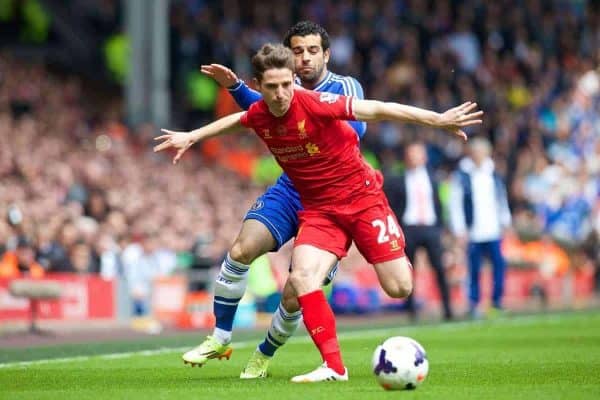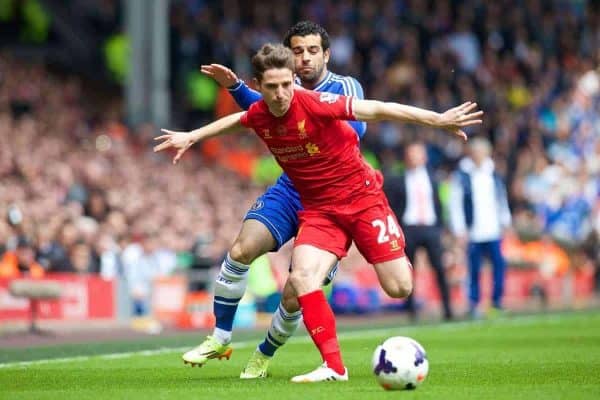 Big Game Player
Clearly facing the prospect of a 'lambs to the slaughter' situation, with a diminished Wales squad up against a Netherlands squad in full flow, Coleman will need to draw upon Allen's experience in Liverpool's title race in order to formulate his game plan.
The 43-year-old said "International football, the way he plays, is for Joe. There's no opposition that we could play that I think Joe would struggle to make an impact on the game."
The notion of the midfielder's ability to impact on any game, regardless of size, could be seen throughout Liverpool's Premier League challenge as he became a genuine big-game player for Rodgers.
Returning to fitness, Allen was included in the starting XI for the 5-0 away victory over Spurs, the 2-1 losses away to Manchester City and Chelsea in December, March's 3-0 victory over Manchester United, and the unfortunate 2-0 loss to Chelsea at the season's end.
None of the respective losses could be blamed on the inclusion of Allen; on the contrary, the Welshman's vitality in the midfield ensured each were a close encounter till the death.
Coleman will hope to utilise this experience with Allen as captain in order to gain an unlikely result from Van Gaal's men.

Amsterdam and Beyond
In light of Liverpool's eventual failure to win the Premier League title, Allen is looking to end his season on a positive note:
"It does help take away some of the hurt of what happened at the end and you always want to end a season on a positive – and captaining your country is a massive moment for anybody."
Pairing this with his marriage, set for this weekend, a win over the Netherlands tonight would cap an exceptional end to the season for the 24-year-old.
Photo: Wales' Joe Allen is all smiles as the press ask him about his big week captaining Wales and getting married. pic.twitter.com/YS9Kx04LCZ

— FA WALES (@FAWales) June 3, 2014
Crystal Palace and Wales midfielder Joe Ledley told BBC Sport "[Allen is] a fantastic player; on the pitch and off the pitch as well…we're all happy for him to lead us out onto that pitch."
The key word surrounding Allen's coming of age captaining Wales is positivity.
It is the positivity, in Allen's game and within the Wales squad, that will be integral for this game and beyond for both club and country.
Has Joe Allen matured as a player at Liverpool? Let us know in the comments below.