With Napoli boss Rafa Benitez recently ruling out a permanent move for Pepe Reina, Jack Lusby explains why the Spaniard can't return to play for Liverpool.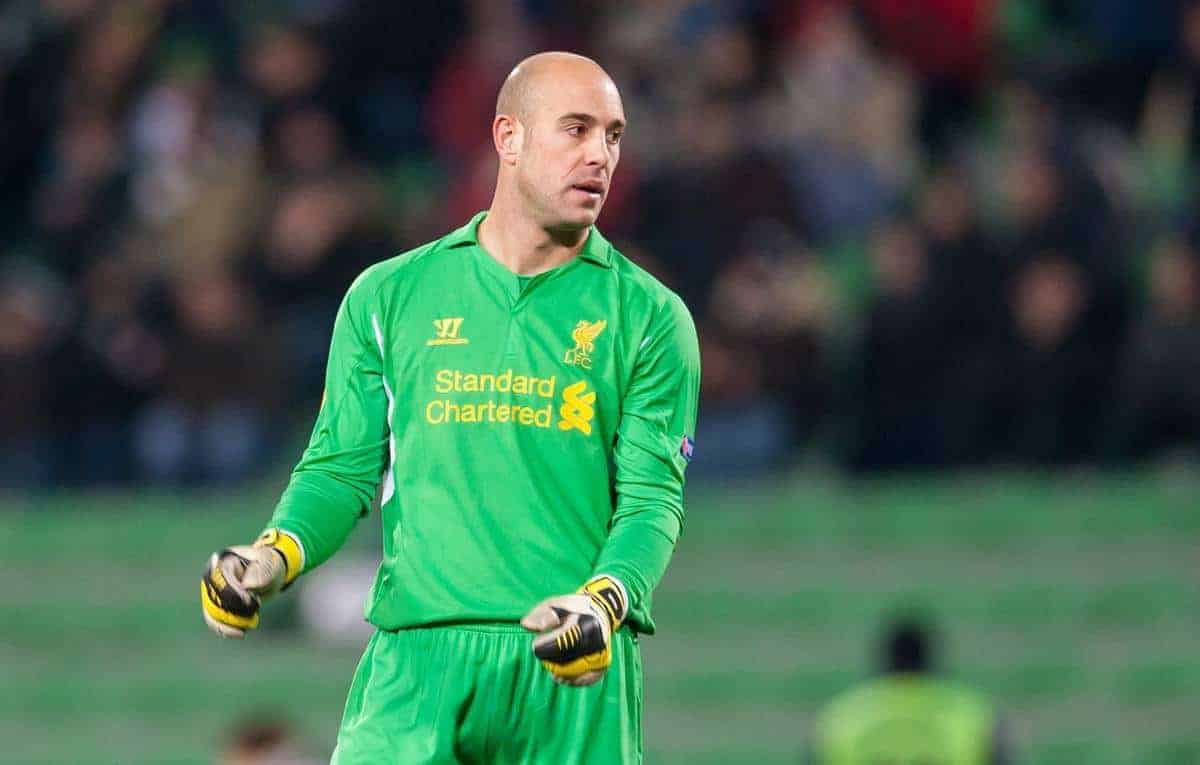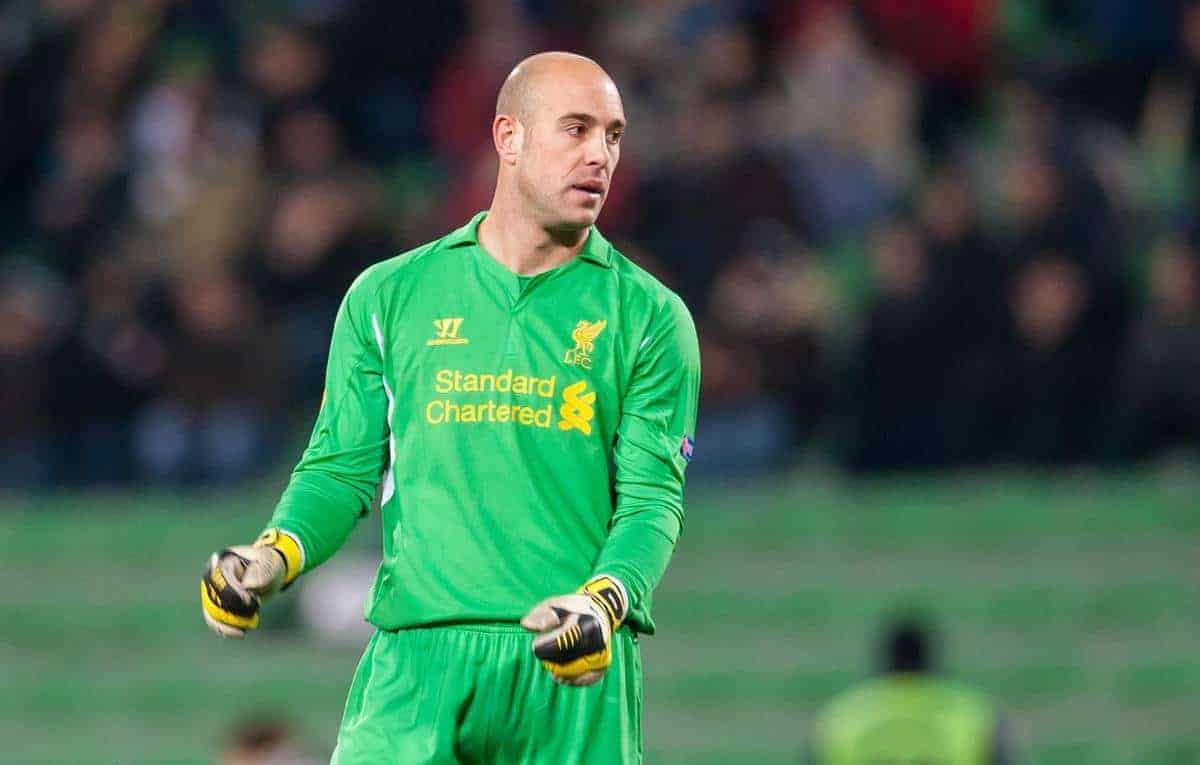 Rafa Benitez has indicated that his Napoli side will not renew their interest in goalkeeper Pepe Reina — a player who spent last season on loan at the Serie A side.
The Champions League-winning boss wrote on his official website, "We don't seek a goalkeeper. Rafael, with whom I keep in touch often to monitor his progress first hand, (Mariano) Andujar and (Roberto) Colombo are a sufficient guarantee for our goal."
This follows reports that Reina's wages are behind this assertion, quoting Benitez as saying "We cannot afford his wages at the moment… we can't pay big salaries in another country like they do in England."
With the Spanish goalkeeper set to return to Anfield next season at this juncture, many would be happy with his presence in tandem with current No. 1 choice Simon Mignolet.
https://twitter.com/FootyGossipLFC/statuses/475588829832044545
So, LFC is looking for an experienced and proven goalkeeper who's willing to be the backup for Mignolet… Ever heard of Pepe Reina?

— Bobon .K Official ?? (@bobonobob) June 13, 2014
https://twitter.com/GleesonSam/status/477088557556068352
However, all things considered there is no way Reina can feasibly return to Liverpool next season to act as mere competition for Mignolet, let alone be the Belgian's backup.

Reina's Form
Firstly, claims that Reina is a better standard of player than Mignolet would be wide of the mark, particularly given the context of age.
In 2013/14, Reina played 30 Serie A games for Napoli, conceding 29 goals and keeping 10 clean sheets.
Compared, Mignolet made 38 Premier League appearances last season, conceding 50 goals and keeping the same number of clean sheets.
Whilst it would seem, then, that Reina is the better option, it is hugely arguable that the Reds' shaky defence throughout 2013/14 was the significantly contributing factor in the number of goals conceded amid their title challenge.
A settled defence next season, paired with a more comfortably Mignolet in his second season at the club, will see the Belgian improve.
One of the main criticisms of Mignolet's game is his lack of confidence in the box, but his 96 percent claim success rate is comparable to that of Reina, who managed 97 percent of his attempted claims.
Furthermore, Mignolet was much more successful when it came to punching the ball clear, making 42 percent of punches on average, as opposed to the Spaniard's 23 percent.
#Mignolet – great shot stopper. needs to work on commanding his area, and possibly distribution. Defence needs to step up. #LFC

— LFCZA ?? ???? (@LFCZA) April 20, 2014
Elsewhere, when focussing on Mignolet many claim that his distribution is often his downfall; however, when compared to the traditionally accurate Reina, Mignolet surprisingly comes off better.
According to Squawka, Mignolet has a 69 percent distribution success compared to Reina's 68 percent at Napoli last season.
Both are seemingly lazy criticisms of the Belgian's game, particularly when compared to his Spanish counterpart.
Underlining all of this is the main reason Reina can be considered to have taken a downturn in form and fortune at the tail end of his Liverpool career—a tendency to make mistakes.
Pepe Reina: In the last 2 Premier League seasons, only Ali Al-Habsi (11) has made more individual errors leading to a goal than Reina (8)

— WhoScored.com (@WhoScored) July 29, 2013
As Liverpool's No. 1 goalkeeping choice prior to the signing of Mignolet, Reina was second only to Wigan shot stopper Ali Al-Habsi in terms of mistakes made leading directly to goals; hardly the insurer of confidence amongst the defence.
Furthermore, the Spaniard was the cause of twice the amount of goals when compared to Mignolet in 2013/14.
Simon Mignolet made two errors in total last season, both of which led directly to goals. Pepe Reina made six, of which four led to goals.

— Squawka Football (@Squawka) June 15, 2013
It's clear that this is a huge flaw in Reina's game of late, and any calls for the Spaniard to replace Mignolet next season would be remiss due to this — adding calamity to calamity would be disastrous.
Finally, with Reina now 31 years old to Mignolet's 26 years, and considering the depreciation of quality in the former's game in recent years, it is safe to assume that whilst Mignolet can only improve as a goalkeeper all-round, Reina is clearly on the downturn.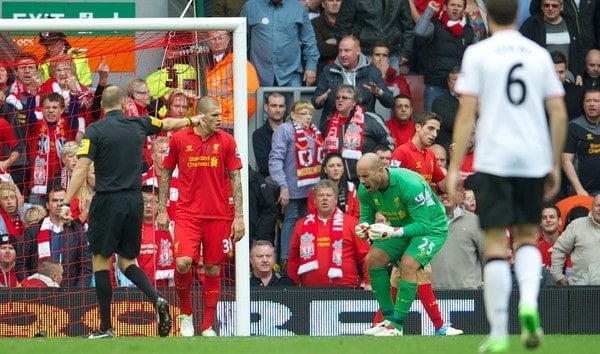 Relationship with Rodgers
Upon his moving on loan to Napoli in July, Reina released an open letter to Liverpool's fans, whom had idolised the Spaniard for years.
There was an immense tinge of regret and sorrow in the 31-year-old's words, but it is perhaps the endorsement of his soon-to-be manager at Napoli that became the most poignant: "I have to look forward to a new challenge with Rafa Benitez, who I consider to be the best manager I have worked with."
This, paired with a criticism of the handling of his move, "It is only natural that I would be disappointed that the Liverpool management agreed to loan me to Napoli without telling me first, I thought that I deserved better," underpins a resentment in Reina.
There is clearly bad blood between Rodgers and Reina, debatably due to the way in which the former handled the Spaniard's move last summer.
Rodgers is in no doubt that the Spaniard has no future at Liverpool, alluding to his "goodbye letter" in reference.
This goes to show that it would be difficult for the goalkeeper to forge a renewed career at the club under the Northern Irishman.

Finance
Reina's move last summer was typical of Rodgers' reign under FSG at Liverpool, with the Northern Irishman and the club's Boston-based owners looking to weed out any overpaid players.
Tony Evans – "For nearly 2 years #LFC have tried to drop #Reina's wages. They've tried to undo #Purslow's deal of 110,000 pounds a week"

— LFCZA ?? ???? (@LFCZA) August 10, 2013
Players such as Maxi Rodriguez, Craig Bellamy, Dirk Kuyt and Joe Cole were all swiftly moved on, as their high wages—combined with age—made little sense in the evolution of the club under Rodgers.
It can be argued that two such players remain on the books at Liverpool, one of which being Reina.
If no team is prepared to match the wage you pay a player it suggests you are overpaying them!! #reina #johnson last of a long line at #lfc

— Trevor Gerrard (@TrevorPGerrard) June 12, 2014
Reina and Glen Johnson are surely the last of a line of mistakes made by the club's previous owners.
Their long-term deals, on such high wages, have hindered the Reds' attempts to supplement the squad further.
The suggestion that Reina should return as competition for Mignolet with this in mind is completely unfeasible.
A backup goalkeeper on wages significantly higher than that of the No. 1 is surely unprecedented at a genuinely successful club.
In fact, upon Reina's move in July, Rodgers even said the same thing, quoted by the Liverpool Echo as saying, "Financially it is something we needed to look at…It reared its head over the last few months and I had to prepare for it by bringing in a new goalkeeper."
Bringing in a comparably talented goalkeeper in Mignolet, with much more scope for development, makes complete sense from both an economical and personnel viewpoint, a return for the Spaniard would undo this entirely.
The assertion that Pepe Reina should return to compete with Mignolet next season is wholly unfounded.
There may be a place in any Red's heart for the Spaniard, but there isn't in Brendan Rodgers' squad.
Do you agree that Pepe Reina's Liverpool career is over? Let us know in the comments below.