The imminent loss of Luis Suarez this summer will be a huge blow to Liverpool, but Daniel Sturridge can make up for the sale of his strike partner.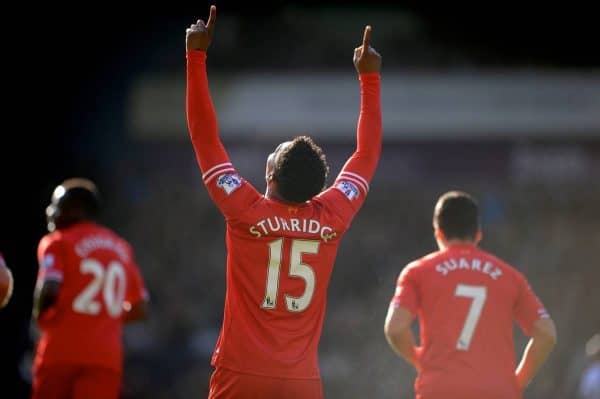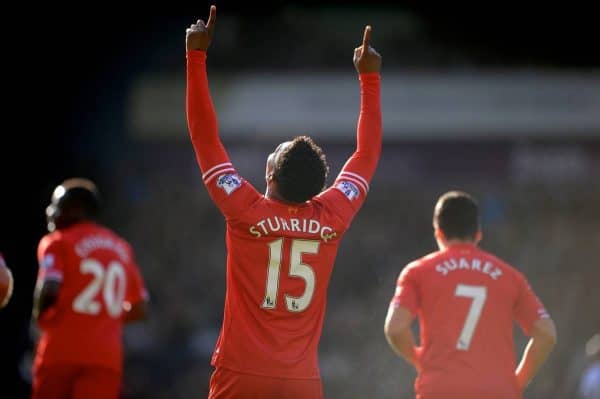 The sale of Luis Suarez to Barcelona this summer is creeping ever closer, but Liverpool fans can find solace in the endurance of Daniel Sturridge.
The pair scored 52 goals between them last season as the Reds stormed the Premier League.
In Suarez's absence, however, it is currently all left down to his soon-to-be former partner.
James Pearce, of the Liverpool Echo writes that "it's not as if Sturridge will be left impotent by Suarez's exit. In fact it will probably have the opposite effect on him."
This is a notion echoed by the 24-year-old's manager, Brendan Rodgers, who wholly believes the Englishman can become "world-class."
Brendan Rodgers: "@D_Sturridge has all the abilities to become a world-class player." – http://t.co/q9t8eNgE7h pic.twitter.com/MfnNr5CNHE

— Liverpool FC (@LFC) March 14, 2014
In the absence of Suarez, Sturridge can prove himself and shine in a central role for Liverpool.
Liverpool's SAS

The likely loss of Suarez this summer is a killer blow to Rodgers' long-term plans, as the Uruguayan formed a sensational partnership with Sturridge last season.
However, there is nothing to suggest that a move into a genuine centre-forward role next season couldn't see Sturridge flourish just the same, as can be seen in comparison with Suarez.
Suarez age – 27
Sturridge age – 24
Firstly, it is worth considering, before any comparison is made, that Sturridge is three years Suarez's junior, and—fingers crossed—yet to reach his peak as a centre-forward.
Also, Rodgers' system was wholly tailored to accommodate the talents of Suarez, with the majority of the Reds' attacks focussed on his movement, ball-play and goalscoring abilities.
This, clearly, will need to be adapted in lieu of the 27-year-old.
Suarez league goals – 31
Suarez goals to games ratio – 0.94
Sturridge league goals – 21
Sturridge goals to games ratio – 0.72
Suarez's main threat last season was, evidently, his knack for finding the back of the net, and an astonishing haul of 31 goals in 33 league games in 2013/14 is testament to that.
The Uruguayan scored a goal every 0.94 games.
Sturridge's record is yet to match up with that of his strike partner but, with 21 league goals last season and a record of a goal every 0.72 games, the Englishman is right behind Suarez in the 2013/14 leader boards.
Suarez goals to shots ratio – 0.17
Sturridge goals to shots ratio – 0.21
The above statistics show, however, that Sturridge was the more clinical presence in front of goal, netting with over a fifth of his shots.
Suarez is not far behind but, at a goal every 0.17 shots, trails behind the 24-year-old.
Suarez passes per assist – 105.7
Sturridge passes per assist – 105.7
Furthermore, Sturridge was also ultimately as creative as his strike partner, registering an assist every 105.7 passes.
Naturally this is skewed due to the much larger amount of passes that the Uruguayan played, in his role as the focal point of Rodgers' system.
This is further skewed by the exceptional positional relationship the pair enjoyed in the Premier League last season—it is fair to say the majority of Sturridge's assists were aided by Suarez's movement, ending in a Suarez flourish.
However, in theory, if a confident Sturridge plays a central role he will provide in the same vein.
(All statistics via WhoScored.)
Adapting the System
Why LFC signed Lallana. #Chances #Wingplay #Homegrown pic.twitter.com/KQBuZpy1Zz

— Pz (@PascalZidane) July 1, 2014
The addition of Adam Lallana, a player who created only 16 less chances from open play than Suarez did last season, will help to alleviate the creative pressure on Sturridge next season.
The Englishman, who featured alongside Sturridge at this year's World Cup, thrived as Southampton's main creative outlet last season, a quality which Rodgers will certainly look to harness as a renewed challenge for the Premier League title in 2014/15.
Players such as potential signing Lazar Markovic and Brazilian No. 10 Coutinho will also help to fill this void.
Suarez's absence will be felt hugely, but Rodgers is likely already looking to adapt his system to cope without the mercurial striker.
Sturridge can be key within this.
Speaking on the signing of the 24-year-old in 2013, Rodgers identified Sturridge's role within a malleable system for the Reds:
"There is not one way to play 4-3-3. You can have one up and two wingers, a floating nine like Luis Suarez, you can have one like Daniel Sturridge central, two in and around him narrow with full backs bombing on. The principles of your game are based on your players. I think for Daniel his best position will be straight through the middle with his pace."
Substitute Suarez's name in the above quote and you have an admittedly weakened Liverpool side, but one which a pragmatic Rodgers is set up to cater for.
His assertion that the "principles of your game are based on your players," is key, and with the Reds certain to invest the £75 million fee quoted for Suarez this summer, the manager will likely have the players to adapt around.
Concerns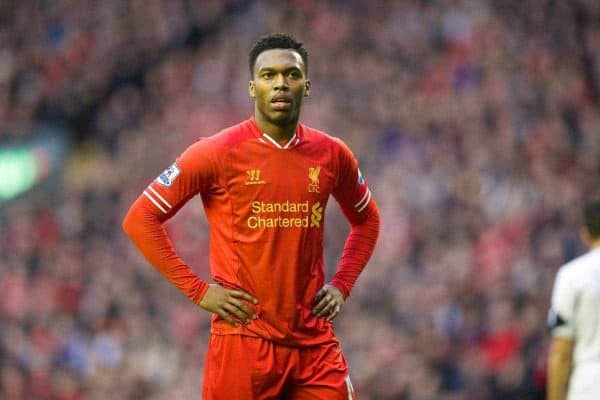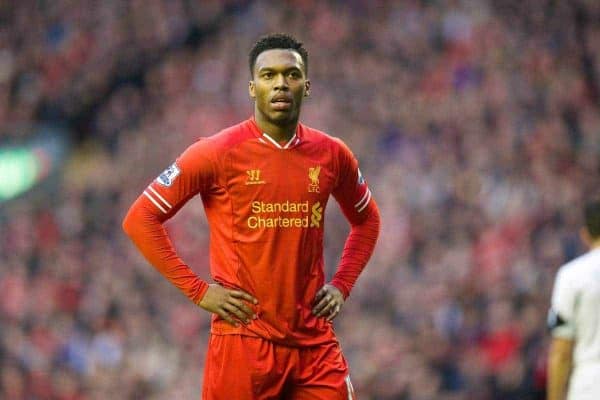 However, Sturridge cannot be the be-all and end-all for Rodgers' side next season, and the Ulsterman will do well to accommodate for the absence of the Englishman at times.
This concerns me: Daniel Sturridge % of #EPL minutes played last 4 seasons:
10/11 33%
11/12 66%
12/13 37%
13/14 67%
Overall 51%#LFC

— Dan Kennett (@DanKennett) July 7, 2014
As seen above, the Englishman has been dogged with injury issues in recent season, and his missing nine league games last season will surely ring alarm bells for Rodgers.
The signing of Rickie Lambert from Southampton will relieve this pressure to an extent, and the 32-year-old is an exceptional acquisition—a player who scored 13 and made a further 10 in 37 appearances for the Saints last season.
However, it is likely that the Reds will need to sign another centre-forward, who could play in tandem with Sturridge or as a replacement when the going gets tough.
A player such as QPR's errant Loic Remy or Swansea City's Wilfried Bony could fill this void.
As seen within Sturridge's performances for England at this year's World Cup, devoid of support once the spectacular Raheem Sterling was shunted into the periphery, the 24-year-old can't do it all alone.
This is a quality reserved for a one-in-a-million talent such as Suarez, capable of turning water into wine.
However, Sturridge showed last season that he is able to perform consistently in the Premier League, scoring and creating with aplomb.
With the right support and a tweaked system courtesy of Rodgers, Sturridge is well within his means to be the focal point of a hugely successful Liverpool side in the absence of Suarez.
All hope is not lost.
Do you think Daniel Sturridge can be Liverpool's main man next season? Let us know in the comments below.