Amid reports linking Lucas Leiva with a move to Italy this summer, Jeff Goulding can't help feel that Liverpool could do with keeping his services.

Speculation is rife that we are about to lose our Brazilian number 21. Rumour has it his former boss is waiting to take him to Napoli. He has always divided opinion, but should we be in a rush to let him go?
Lucas was born in 1987. At around that time I was about to start my first full time job. I didn't sleep much the night before my first day. Would I be any good at it? How would I fit in? What if I was no good and I got the sack.
I was only a bus ride away from my place of work and pretty much the only thing I had to worry about, was getting there and back. I had a ready-made network of friends and family all around me.
Twenty years on and the story for a young Brazilian kid, Lucas Leiva, was very different. At 20 he was travelling 5 ½ thousand miles to take up a new job at Liverpool Football Club.
He was entering an entirely new culture to the one he was used to. He didn't speak the language and worse still he was very far away from his family and friends. It was a far greater challenge than I ever faced.
Rafa Benitez had scouted the young midfielder, who had begun his career at Gremio. He looked an exciting prospect. He had already played at International level and had become the youngest ever player to win the prestigious Golden Ball Award. Previous winners of this accolade included Zico and Radamel Falcao. It's hardly the Golden Samba, but still…
At the time his new manager spoke of his goal scoring ability, but also his character and tenacity. We haven't seen many goals from Lucas during his spell at the club. However we have seen character and tenacity in spades.
Adjusting to a new time-zone, culture and language was actually the least of his problems. In order to break into the team he had to compete with the likes of Javier Mascherano and Xabi Alonso. His problem was made worse by the fact that, rather than see him as a young understudy, many unfairly compared him to those two midfield maestro's.
Despite this he put in an impressive 39 appearances in his first season (19 coming from the subs bench). Like many young players, particularly those desperate to make an impression, he was prone to errors and lunging into tackles recklessly. This saw him booked five times and receive one red card. A certain Steven Gerrard, no stranger to this in his early career, would doubtless sympathise.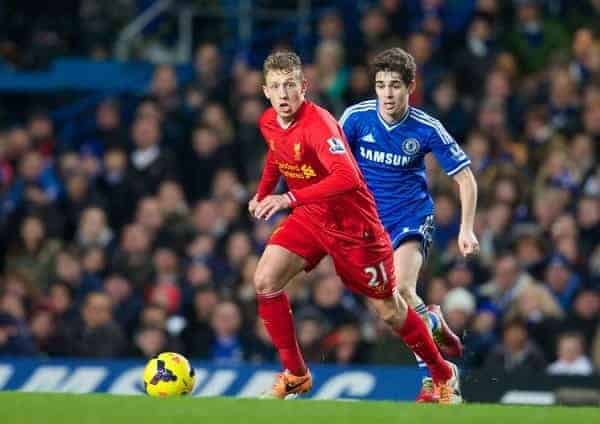 However, fans and pundits quickly grew impatient with him. Not many of us, myself included, fully understood that he was also adjusting to a new tactical position. At Gremio he had been a box-to-box player. Benitez seemed keen to deploy him in a holding role.
In his second full season, 2008-09, those frustrations boiled over during a terrible 0-0 draw against Fulham. In what was, to my mind, an unprecedented step, a section of Liverpool fans actually booed one of their own as he came on as a sub.
It would have been entirely understandable if he had folded at this point. It's bad enough living half way around the world and trying to learn a new language. Throw in trying to adapt to a new position and getting stick off your supporters and most would at least consider their options.
Not Lucas. Where some would have called it a day, he chose to get better. He used that experience to drive himself on and prove his critics wrong. Here was the character and tenacity Benitez had spoken of.
Lucas will never be regarded as a world beater, but all the best teams have a player like him. Back in 1987 we had one just like that. Always the fans whipping boy, Ronnie Whelan was regarded by his fellow professionals as an indispensable member of the team. Most fans only really knew what they had, when he was gone.
Lucas' team mates certainly appreciated what he brought to the team. Eventually he won the supporters over too, picking up the Kop's Golden Samba award in 2011.
The following season we were given a graphic illustration of his importance to the team. Under his new manager, Kenny Dalglish, Lucas started in his now familiar position in front of the back four. This was a transitional year with Kenny still picking up the pieces from Roy Hodgson's ill fated spell at the club.
Just as he was getting into his stride, Lucas sustained a season ending knee injury in a League Cup game against Chelsea at the end of November. He had been one of the best players on the pitch; in a game the Reds won 2-0. The injury would prove to be a huge blow to Liverpool's league campaign.
Prior to this Liverpool lost only 11% of their matches, conceding 0.88 goals per game. Following his injury they were defeated in 37% of the remaining fixtures, conceding 1.15 goals per game. In the first half of the season Liverpool consistently hovered around the European places. By the end they were a dismal 8th.
In typical fashion Lucas battled back from this, but further set-backs and a change in playing philosophy under Rodgers have seen him fall out of favour.
To make matters worse he now has another world class player ahead of him in the pecking order. Steven Gerrard's switch to a deeper role has restricted his opportunities for playing time. Still, are we right to let him go?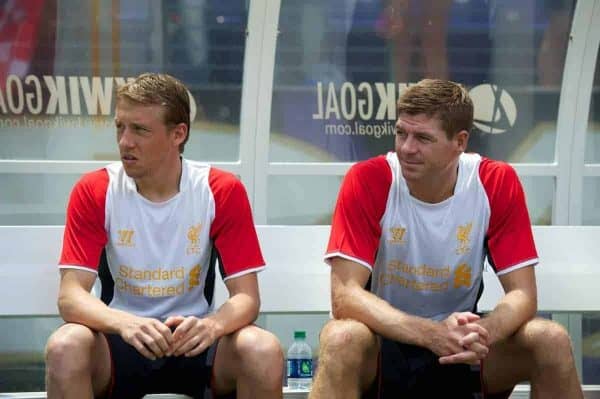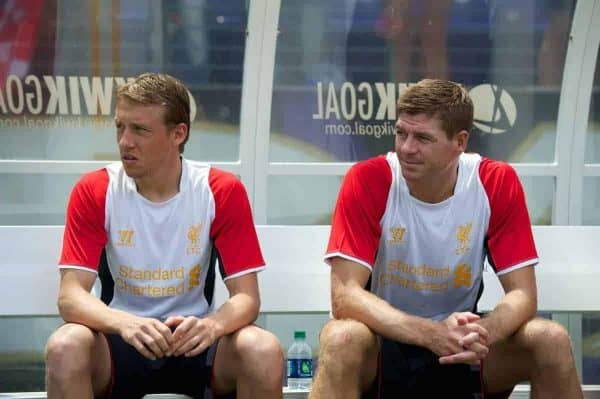 Next season, Liverpool will be battling on four fronts. There will be many more games and rotation will become a greater factor than it was last season. For me, Lucas could offer much needed depth in that position. He would also offer a defensive option when looking to close games out.
However, it seems he is now available for transfer, if the right offer comes along. Will prove the right thing for the club in the long term? I can't help wondering if we'll only come to realise the player we had, after he is gone.