With Liverpool preparing for life without Luis Suarez, Henry Jackson takes a look at some potential replacements for the Uruguayan and assesses their strengths and weaknesses. Today's man under the spotlight is Real Madrid and France star Karim Benzema.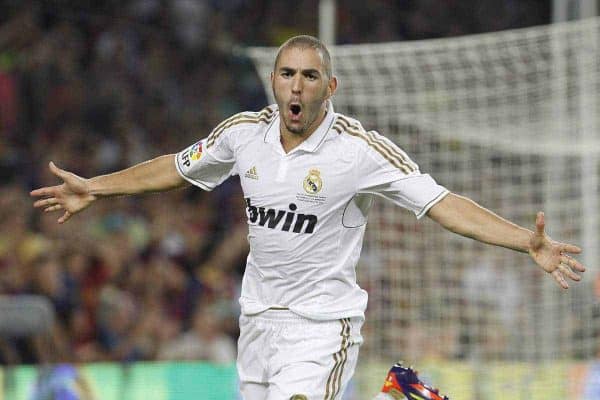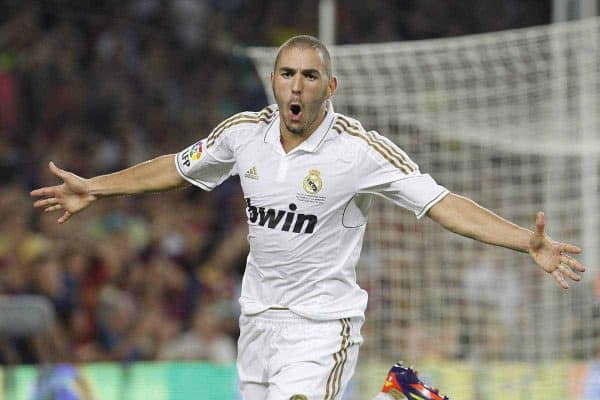 A number of sources, including the Daily Star have reported that Karim Benzema is wanted by Liverpool manager Brendan Rodgers as a direct replacement for Luis Suarez, but is the Frenchman an adequate replacement for the brilliant 27-year-old?
Strengths
Benzema enjoyed an impressive 2014 World Cup in Brazil, scoring three times as France reached the quarter-finals.
The 26-year-old Real Madrid star is an aesthetically pleasing player on the eye, gliding gracefully across the pitch with an elegance not dissimilar to former Liverpool striker Nicolas Anelka.
He is a strong finisher, has underrated pace and can link up very well in a front three which would appeal to Rodgers. His form at the end of the campaign alongside Cristiano Ronaldo and Gareth Bale as Los Blancos won the Champions League was terrific.
17 goals in 35 La Liga appearances for the Spanish giants is a good, if not spectacular, return, and while he may lack the genius of Suarez, he is a hugely talented footballer in his own right. 192 goals in 403 career games is very impressive.
Weaknesses
There have been slight question marks over Benzema's attitude at times, with a lack of work-rate often labelled at the Frenchman.
Whereas Suarez's work ethic and constant pressing were exactly what Rodgers looks for in his forwards, this is not a part of Benzema's game that comes naturally to him. An ability to drift into offside positions can also be hugely frustrating at times.
The former Lyon star can also lack consistency in front of goal, often scoring in bursts rather than solidly throughout the course of a season.
Comparisons
The below table shows a comparison between Benzema, Suarez and Daniel Sturridge last season (stats via Squawka):
[table id=67 /]
What the table does show, not that us Liverpool fans needed reminding, is just how sensational Suarez was last season, and what a tough job it will be to replace him.
Not only were his goalscoring exploits phenomenal, but he also created 12 goals and many others chances for teammates too.
Benzema, like Sturridge, is clearly more of a finisher of moves rather than a creater. With an abundance of inventive attacking players in the Reds' squad — Steven Gerrard, Raheem Sterling, Philippe Coutinho, Adam Lallana and the incoming Lazar Markovic spring to mind — that is no real issue.
Although his impressive pass completion statistics indicate how technically sound he is, you would have to question why Benzema hasn't scored more goals in a side brimming with the talent of Ronaldo, Bale, Xabi Alonso, Angel Di Maria and Luka Modric.
Conclusion
Karim Benzema is undoubtedly a world-class striker on his day, and if Liverpool were to sign him it would be a big statement of intent by the club.
At 26, he is at a good age where his peak should just be around the corner, and the quality service he would be provided with at Anfield would see him flourish.
He's not in the same league as Suarez, but then who is?
Would you like to see Benzema at Liverpool next season? Let us know in the comments section below.