We bring you the latest Liverpool transfer rumours, with a medical reportedly in place for Benfica star Lazar Markovic.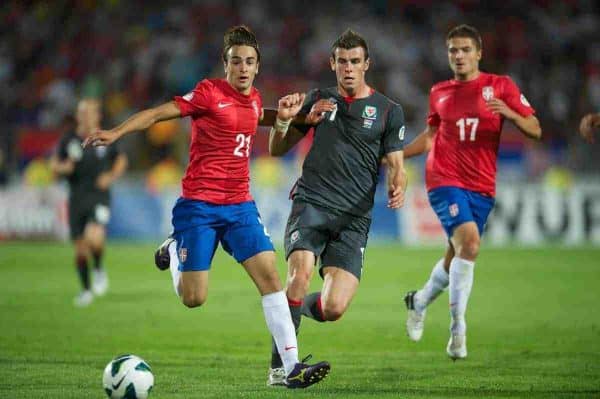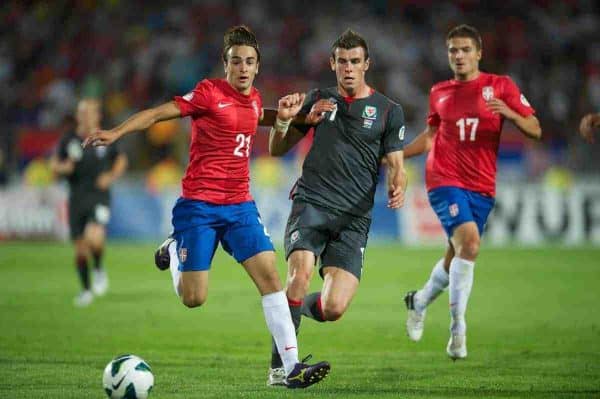 As ever, the rumour mill is working overtime to facilitate the feverish needs of the Liverpool faithful, and this week many ups and downs for the Reds have been mooted.
Most encouragingly, Benfica forward Lazar Markovic is set to have a medical with the club later this week, according to ESPN.
The 20-year-old, reportedly subject of a £25 million move by manager Brendan Rodgers, made 26 league appearances for the Portuguese outfit last season, and can operate on either side of an attacking system.
The news outlet reports that "Markovic is due on Merseyside to put the finishing touches to the transfer as manager Brendan Rodgers continues to add to his squad with the departure of Luis Suarez pending."
ESPN differ on the fee reported for the youngster, but write that Liverpool "should secure the £20 million deal for the Benfica winger within the next few days."
Markovic would join signings Rickie Lambert, Emre Can and Adam Lallana as part of a significant upheaval within the Reds' squad.

One player to be at odds with this upheaval is Brazilian midfielder Lucas Leiva, with the Liverpool Echo reporting his availability this week.
Plus, no bids for Lucas Leiva and Napoli switch unlikely but #LFC open to offers for long-serving Brazilian http://t.co/tvbGzynwMs

— James Pearce (@JamesPearceLFC) July 9, 2014
The publication reports that the Reds have "received no approaches for [Lucas] but the long-serving midfielder's future at the club remains uncertain."
Italian clubs Inter Milan and Rafa Benitez's Napoli have been rumoured as likely destinations for the 27-year-old, but as of yet nothing has materialised.
The Echo write that "[Napoli] would be interested in taking him on a season-long loan but they believe it's unlikely Liverpool would agree to a temporary switch."
Either way, the future at Liverpool doesn't look bright for the midfielder, who removed all trace of the club from his Twitter profile earlier this week.

Another potential signing, Belgium forward Divock Origi, is subject of unsurprising interest from Liverpool's Premier League rivals Spurs.
The Telegraph write that the North London side are attempting to hijack any deal in place this summer.
Liverpool remain "confident of completing a £10 million deal," but reports claim that "Spurs are believed to have made a move for the youngster."
According to the Liverpool Echo, Origi told press in Belgium that a decision will be made "in the next two weeks."
The 19-year-old is quoted as saying "It is true that there are offers from all over Europe. Now I have to look carefully where I will grow as a player and as a person. I think there will be clearer. Within two weeks of the most."
It is likely that this destination will remain at Anfield, with The Telegraph claiming "having been in constant talks for the player it would be a surprise if he was not Anfield bound in the near future."

The lights have seemingly gone out on two long-term reported interests for the Reds, with moves for Ukraine winger Yevhen Konoplyanka and Swiss star Xherdan Shaqiri seemingly thwarted.

The Telegraph reports that fellow Premier League side West Ham United have made a £9.5 million bid for Dnipro midfielder Konoplyanka, who was subject of sustained interest from Liverpool in January.
The Boleyn Ground would be a significant climb down in terms of prospects for the 24-year-old, who would likely have featured heavily in Brendan Rodgers' long-term plans.
However, reports claim "The actions of [Dnipro president Ihor] Kolomoyski put Liverpool off reviving their interest in Konoplyanka this summer and the Anfield club have since signed Adam Lallana and Lazar Markovic."
Elsewhere, the Daily Mirror report that Italian side Roma have declared their interest in Switzerland wide man Shaqiri, seemingly ending Liverpool's interest in the 22-year-old.
Citing Sky Italia, the publication claims "The Giallorossi have spending money ahead of a Champions League return, and with their American owners looking to make a splash, they have entered the race for the Swiss star."
Finally, in perhaps the least likely transfer of the summer, the Daily Express have linked the Reds with a move for errant Manchester City star Yaya Toure.
Citing French newspaper Le Parisien, the Express purport that "an unnamed Ivory Coast international teammate" believes the midfielder's position with the Premier League champions have become untenable.
Happy 22nd birthday to #LFC's No.10, @Phil_Coutinho! pic.twitter.com/tn7SIt6ZNL

— Liverpool FC (@LFC) June 12, 2014
Happy birthday to former #LFC star and Istanbul hero @LuchoGarcia14 who turns 36 today! #HeDrinksSangria pic.twitter.com/E9fMVeHpcI

— Liverpool FC (@LFC) June 24, 2014
As Liverpool stars past and present have been subject of birthday wishes courtesy of the club in the past month alone, perhaps the unfortunate 31-year-old would be happier on Merseyside?
How do you feel about the latest Liverpool transfer rumours? Let us know in the comments below.