After Liverpool's 1-0 home humbling at the hands of Aston Villa, Jack Lusby analyses the performances of Adam Lallana on his Reds debut.

Any momentum built from the 3-0 win over Spurs at White Hart Lane two weekends ago, already thwarted by an unwelcome international break, was scuppered by Liverpool's insipid loss at home to Aston Villa on Saturday evening.
A shambolic defensive outing in the early stages saw Gabriel Agbonlahor bundle home the tie's only goal; shutting up shop at 1-0, Villa managed to withstand an unusually uninspired Liverpool attack.
Losing Daniel Sturridge and Joe Allen to injury sustained during the aforementioned sojourn into country ties was a big loss for Brendan Rodgers, and the Reds manager was forced to switch his tactics for this game.
It was a day of debuts, with Alberto Moreno and Mario Balotelli making their first starts at Anfield, whilst Lazar Markovic was joined by Adam Lallana in making a full debut in a Liverpool shirt.
PHOTO: Adam Lallana's jersey hangs in the #LFC dressing room ahead of his debut pic.twitter.com/rOyAHhQLk6

— Liverpool FC (@LFC) September 13, 2014
Big day for Lallana, Markovic, Balotelli and Moreno, who all make their home debuts for #LFC

— James Pearce (@JamesPearceLFC) September 13, 2014
Signed for £25 million after a lengthy summer pursuit, the start to Lallana's Liverpool career was unfortunately hampered by a pre-season injury.
A disappointing result on the night, Lallana's debut was quiet with encouraging aspects, but with much room for improvement in the near future.
Adam Lallana makes his LFC debut today against Aston Villa. #MakeUsProud pic.twitter.com/YnNyTSqLpq

— LFC USA (@LFCUSA) September 13, 2014
Prior to the game, Lallana's versatility was a big talking point, with the former Southampton able to operate as comfortably on the left-hand side of the attacking midfield, as in the No. 10 role or deeper in a midfield three.
This would, ostensibly, allow Rodgers to tinker with his side and his tactical layout without needing to compromise on quality.
In this instance, the Ulsterman opted for a 4-2-3-1 formation, as previously utilised—unsuccessfully—against Southampton on the opening weekend.

So it looks like a 4-2-3-1 for #LFC with Lallana left and Markovic right. Coutinho behind Balotelli.

— James Pearce (@JamesPearceLFC) September 13, 2014
Starting on the left-hand side, Lallana was deployed in a familiar role.
In this role, the midfielder would be required to consistently support the attack, whilst providing cover for a rampaging Moreno at left-back.
In the early stages, it was clear that the Reds No. 20 was keen to make his mark, with some bustling play and energetic runs.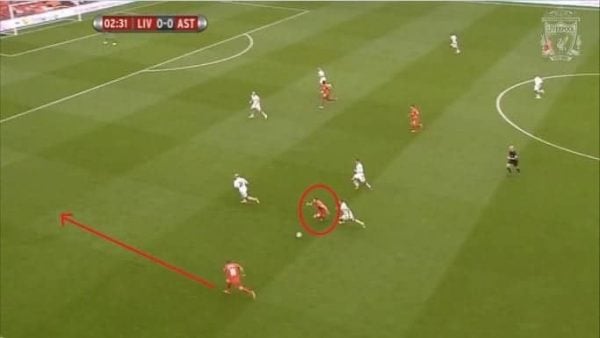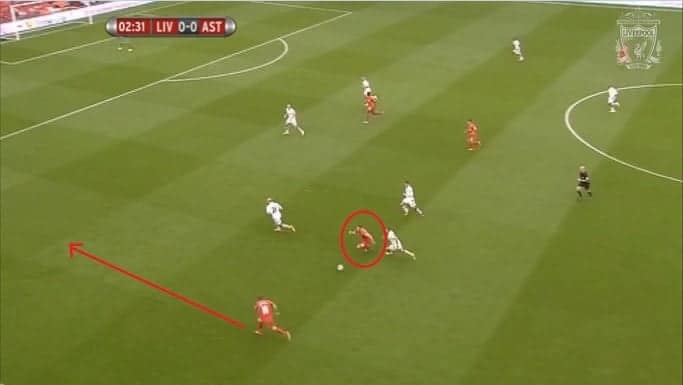 An early link-up with Moreno saw Lallana provide a great through ball for the onrushing Spaniard on 3 minutes.
The resulting cross was launched over the bar by Markovic on the volley, but the build-up play and the chemistry between Lallana and Moreno on the left-hand side was cause for encouragement.
In terms of supporting Moreno defensively Lallana was busy, too, in the opening quarter of an hour.

On 4 minutes this could be seen for the worse with a late block challenge on rejuvenated Scottish full-back Alan Hutton.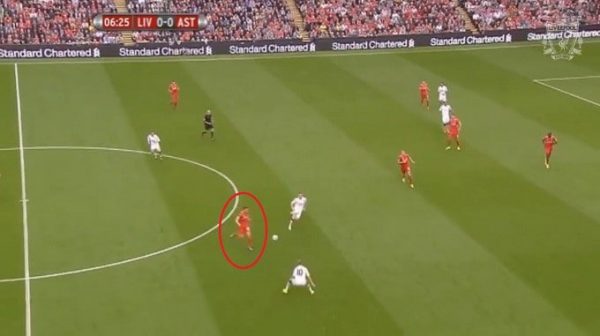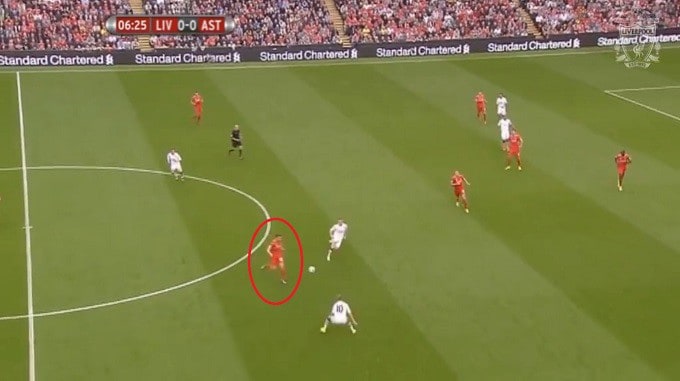 Soon after, however, on 7 minutes Lallana's ability to slot into Rodgers' high-tempo pressing system was apparent as the midfielder was swift to mop up a loose ball in order to thwart a Villa opening.
As is often the case with a highly-charged debut in an inspiring atmosphere, Lallana was perhaps guilty of trying too much, or overly imposing himself in areas.
Some making their home debut today! Enjoy the special Liverpool atmosphere! #YNWA @LFC

— Ian Rush MBE (@Ian_Rush9) September 13, 2014
This was encapsulated unfortunately in a poorly timed challenge on new Villa loanee Tom Cleverley on the left of midfield.

12 mins: Lallana picks up an early yellow card following a challenge on Cleverley

— Liverpool FC (@LFC) September 13, 2014
Rightly collecting a yellow card for the challenge, Lallana's clumsy tackle was late and dangerous—later on in the game, the ramifications could have been more severe.
The 26-year-old grew into the game as the half went on, and in turn his attacking output became more finely-tuned.

The midfielder showed his ability to inspire with a great turn on the edge of the box on 25 minutes—this is the quality that Lallana must show consistently in a Liverpool shirt.
Working his way into the box with this move, Lallana was comfortably challenged by Hutton.

Drifting into a more central, No. 10 role, Lallana became more dangerous in the first half; in this area the midfielder was able to capitalise on a Jordan Henderson knock down in the box to send a volleyed effort towards the goal, an effort unfortunately blocked.
32 mins: A well-worked move results in Henderson heading Coutinho's pass into Lallana's path, but his strike is blocked by Senderos

— Liverpool FC (@LFC) September 13, 2014
The Reds continued to turn the screw, with Villa stoically holding on, and Lallana came closest for his side with a half-volleyed effort on 43 minutes.

In keeping with proceedings, this was dragged wide, disappointment reigning.
43 mins: Balotelli tees up Lallana on the edge of the box, who drives one not too far wide of the post #LFC

— Liverpool FC (@LFC) September 13, 2014
In a muted first half display, Liverpool's No. 20 showed his versatility by drifting from the left into the No. 10 role, but was in effective on the whole.
Despite working well with Markovic and Mario Balotelli at times, Lallana's best work in the first half was in his defensive tracking.
PHOTO: Adam Lallana in action on his #LFC debut pic.twitter.com/Fd3ZGQfN9e

— Liverpool FC (@LFC) September 13, 2014
Moving into the second half, Lallana kept his position on the left flank, but continued a disappointing display on the whole.

The midfielder's biggest contribution after the break was by displaying his set-piece prowess with a floated corner which nearly found a prowling Balotelli—Liverpool should have another option on both free-kicks and corners after Lallana's signing.
That this came to nothing said it all about Lallana's performance and Liverpool's display overall.
60 mins: #LFC sub – Sterling on, Lallana off

— Liverpool FC (@LFC) September 13, 2014
Here he is, Raheem. On for Lallana who will definitely play better games for LFC.

— Jim Boardman (@JimBoardman) September 13, 2014
It came as no surprise when the 26-year-old was replaced by substitute Raheem Sterling on 61 minutes.
Overall Analysis
With Villa in great form at the start of the season, and well-drilled under Paul Lambert and Roy Keane, perhaps this game proved the wrong opportunity to give Lallana his first start, given this was the midfielder's first appearance after returning from injury.
Nevertheless, despite showing promise in his defensive work-rate and in movement in the attacking areas, Lallana was disappointingly muted in this loss.
Some comedown for #LFC after the high of hammering Spurs. Both Sturridge and Allen sorely missed. It was all far too easy for Villa.

— James Pearce (@JamesPearceLFC) September 13, 2014
This was representative of Liverpool's display on the whole, with the midfield in particular missing the work of Allen in keeping the ball moving and quietly dictating play.
A disjointed performance hampered by a lack of creativity and space—with credit due to the Villa defence—there is much work to be done.
Time to bounce back starts now!!!!

— Raheem Sterling (@sterling7) September 14, 2014
Luckily, the perfect opportunity is dished up in mere days, with Liverpool welcoming Bulgarian champions Ludogorets to Anfield on Tuesday night.
Lallana Statistics
Minutes Played – 61
Shots – 2
Shots on Target – 2
Successful Tackles – 1
Chances Created – 1
Passing Accuracy – 75%
Overall performance rating: 5 out of 10.
Do you agree with Jack's analysis? Let us know in the comments below.