It's early days and we should expect more bumps ahead, Joseph Cousins pens a new Kopblog with his thoughts on the opening to the new season.

At the start of the season most bookies had us fifth favourites to win the Premier League and most pundits and journalists had us finishing outside the top four. Clearly the thinking was that last season we punched well above our weight and for a number of reasons it would not be repeated this time around.
Fans of other clubs suggested we had done / will do a Spurs. Sold our best and most influential player and replaced him with several unknown players. Most said we'd do well to get 4th place.
Most Liverpool fans laughed this off and pointed to a number of things such as our record without Suarez, our record in general since January 2013 and the potential of the promising players we had signed in the summer.
So far this season though, the team is proving everyone else right and most of us Liverpool fans wrong.
Played 5. Won 2. Lost 3. Scored 7. Conceded 8. This isn't the start to the season any of us foresaw, not even the most pessimistic among us (Gaz, I'm talking to you). The most disappointing aspect for me is that in all but one of our games this season including the Champions League game against Ludogorets we have not looked like the team that made us dream last season.
It wasn't all perfect last season. Up to Christmas we had played a number of formations, to varying degrees of success and the defending was poor throughout. We scored a lot of goals when Suarez returned from suspension and won every game bar one at Anfield. However we were very inconsistent away from home. Brilliant at White Hart Lane. Abject at Hull City.
After 19 games we averaged 1.89 points per game which when extrapolated over a full season would have given us 72 points. At the start of last season we'd probably have been happy with that but as it turned out 72 points would have gotten 5th place last season.
We averaged 2.53 points over second half of the season which extrapolated over a full season would have given us 96 points which would be a Premier League record.
Obviously the 11 game winning streak helped improve those stats so dramatically from one half of the season to the other but there are a few key aspects of our game that I think were the main reasons behind it.
Midfield pressing
I don't remember there being too much evidence of the high energy pressing in midfield during the first half of last season. For the most part we played with Lucas and Gerrard as a double pivot and often we were overran. The last we saw of the Lucas/Gerrard partnership was at Hull when we were as bad as the recent performance at Upton Park.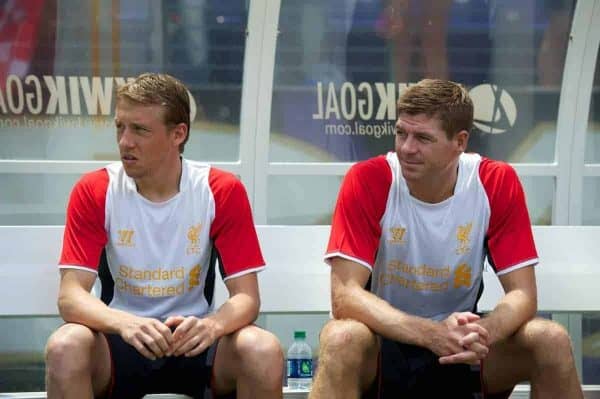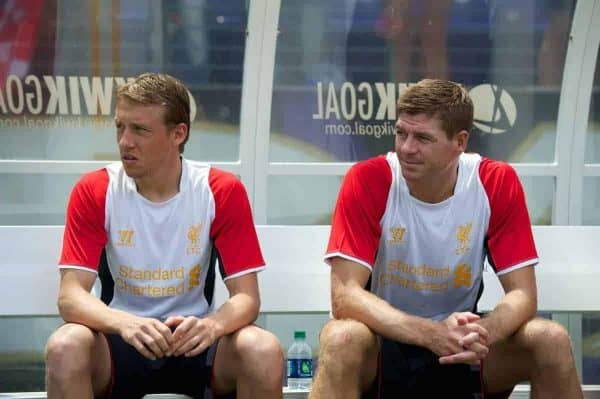 After that game Lucas was dropped. Allen Partnered Gerrard in a 5-1 win over Norwich. The following game against West Ham saw Lucas on the bench again although he came on for an injured Gerrard early in the second half. We won 4-1.
These two home wins saw a return to form but the midfield pressing was still absent.
Lucas returned for the next game at White Hart Lane with Gerrard out injured. He played the holding role with Henderson and Allen ahead to his right and left respectively. It was the first time I had seen the midfield press properly under Brendan Rodgers. We never went back to the double midfield pivot for the rest of the season. When Gerrard returned from injury he took Lucas' place and had Hendo to his right and either Coutinho or Allen to his left. The energy and intensity in midfield got better and better and we won virtually every week.
Jordan Henderson and Raheem Sterling
The midfield shape helped get the best out of Henderson as it lets him free to press and make forward runs. He would often link up well with the right back and right wing forward. Hendo's form went up a few levels during the second half of last season.
Sterling's form was also key. It meant we had 3 forwards all playing at a world class level. The opposition just couldn't cope and in matches where Suarez and Sturridge were a bit off the pace. We still had a genuine threat and won games anyway.
Steven Gerrard
There has been and there will be plenty of debate on Gerrard but I thought he was at his creative best in the second half of last season. Both from open play and set pieces. His high pressure penalties were vital as well. I don't think it's a coincidence that when he was shifted to the holding role after Christmas the team went on to average 3 goals a game. His game lacked energy off the ball and he'd often lose runners in midfield but the pressing from Hendo and Allen/Coutinho was covering over the cracks.
Forward pressing
With Sterling/Coutinho and Suarez in the front three we were able to win back possession deep in the opposition half and hurt teams. As Everton and Arsenal found out. The term defending from the front couldn't be more of an appropriate description.
(Note: I haven't included the incredible goal scoring of Suarez and Sturridge because although it was a huge factor in us challenging for the title, it was a constant throughout the season, and not the reason, I think, we went from being a top 5 team to a team that almost win the title).
Readjusting expectations
At the start of this season, although we had lost Suarez, my expectation was that we would continue our form from the second half of last season. I wasn't expecting 96 points but I was expecting a continuation of what made us such a good team. In only the one game this season have we managed to combine the key aspects I mentioned above.

The high energy midfield pressing, getting the best out of Henderson and Sterling and the forward pressing. At Spurs we pressed them well all over the pitch which enabled us to build attacks from inside their half. Sturridge, Sterling and Henderson had great games.
The performance at White Hart Lane last month is the type of performance the side is capable of and is what I expected to see in most games this season but I've now readjusted my expectations. I think when all is well, When we have all of our key players fit and we play with 2 strikers (Sturridge-Balotelli) with the 3 in midfield (Coutinho/Allen-Gerrard-Hendo) I expect us to play well and win most of our games.
However when we have some injuries or suspensions or when the manager decides to rest players and we're having to rely on our new signings or bring in the likes of Lucas or Borini then there is a high chance we'll drop points. We no longer have the world class x factor that can score a wonder goal from nothing when we are not playing particularly well and finding it difficult to create.
Instead of continuing our form from the second half of last season I think we'll go back to our form for the first half of last season. A team that challenges for a champions league place but not good enough to challenge for the title. I've gone from hoping we'd get around 88 points and win the league to now expecting around 74 points and scraping 4th. This was a painful process for me because after watching the defeat to Chelsea, the collapse at Crystal Palace and watching the Manchester City players celebrate with the Premier League trophy, I had consoled myself with the idea that we would be back this season to go one better and win the thing.
Some fans would be quite happy with a 4th place finish but I must say I'd be disappointed. Having come so close to winning the title to lose our best player and then be satisfied with 4th seems rather defeatist to me. I'm hearing fans talk about consolidating. I've never heard of a football club going close to the title one year and then being happy with 4th the next. Unless of course the club in question fails to address prior weaknesses, sells its best and most influential player and then fails to replace him whether directly or indirectly.
Poor recruitment
I think we're in a position where we have to consolidate because since the 2013 summer transfer window we have bought poorly. There are only so many miracles Brendan Rodgers can produce. At some point he needs help. At some point he needs a player or number of players to land at the club and just be boss.
Here are the players we've signed since the summer of 2013:
Luis Alberto, Iago Aspas, Kolo Toure, Simon Mignolet, Tiago Ilori, Mamadou Sakho, Emre Can, Ricky Lambert, Adam Lallana, Lazar Markovic, Dejan Lovren, Divock Origi, Alberto Moreno, Javier Manquillo, Mario Balotelli.
Out of those 15 players you couldn't say any of them have been a success so far. I know it's very early days for the players signed this summer but the fact remains none of them has so far help improve their area of the field.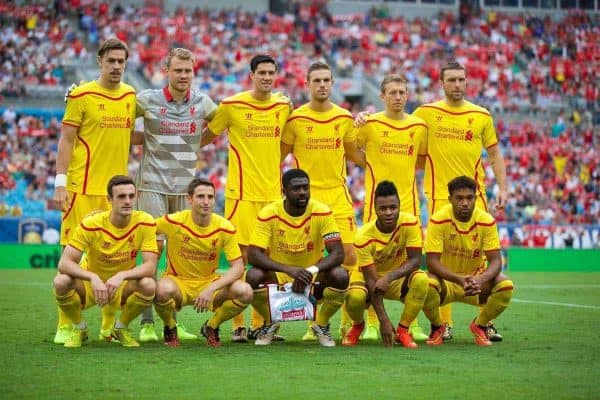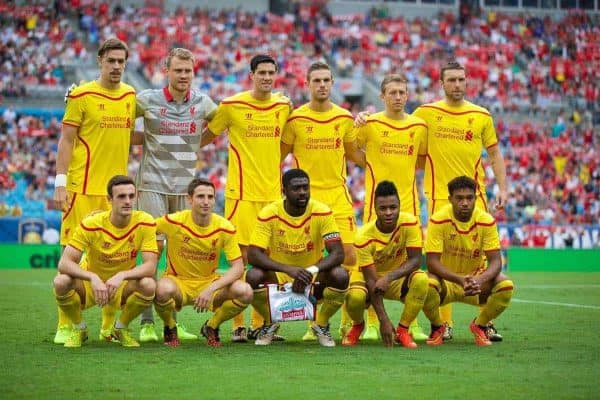 After a promising start the goal keeper has been poor and often a liability since Christmas. We've spent £45m on center backs but it remains an area of weakness. £82m has been spent on attacking players yet we're desperately reliant on Daniel Sturridge.
I love the way Brendan Rodgers sets the team up to play but it does expose the center backs and defensive midfield player.
For such a system to work I would have thought we would need quick aggressive center backs who are not vulnerable in one on one situations. Instead we have center backs that are easily outpaced and look extremely vulnerable in a one v one situation.
Of course the goal keeper can make the defenders lives much easier. Someone like Neuer who often comes to the rescue of the German national side and Bayern, whenever their slow center backs get caught out. Rushing off his line to clear up any danger. He or someone similar would be ideal for us. Instead with have Mignolet, who at the moment doesn't look like he has a clue what he is supposed to be doing. £9m we spent on him just over a year ago and most of us are now talking about bringing in a replacement.
Defensive midfield is a key position and we've shoehorned Gerrard in there. It has worked wonders from a creative/goal scoring point of view but continues to let us down defensively. You could argue that Gerrard in that position took us to the brink of the title and then ultimately cost us the title against Chelsea and Crystal Palace. We haven't signed a defensive midfield player since FSG took over the club. I think Christian Poulsen was the last one we brought to the club. Says it all really. I don't know if Emre Can is the long term answer. I've not seen much of him but have read that he can play a number of positions but doesn't have much experience playing as a DM.
I'm not expecting him to challenge Gerrard for his position any time soon.
Gerrard's dip in form is alarming because at 34 you wonder if he can get it back. There's been many world class legends down the years that all of a sudden lost form and never regained it especially as they approached their mid-30s. I think its ambitious to think Gerrard will play at a consistently high level up to the age of 36 and then retire. There is likely to be a drop off before then and we might be seeing the beginning of it now. Not just from a defensive point of view. But from a creative point of view as well.
It is negligent that we do not have a quality player ready to fill such a key position. Unless of course Emre Can is that man.
Our lack of a replacement for Suarez shows poor planning or if a good plan was in place it has been executed poorly. Suarez tried his damnedest to leave the club last summer and eventually signed a contract with a cast iron release clause. It meant that if the clause was met we lose the player. One would have thought the club would have a list of players to get in order to fill the Suarez shape void should that release clause get triggered.
We signed Lambert, Markovic, Lallana and all but signed Remy before doing a u-turn for whatever reason and eventually signing Balotelli somewhat opportunistically. So is Lambert, Lallana and Markovic the modern day Aldridge, Beardsley and Barnes? Not quite.
Aldridge, Beardsley, Barnes first 5 games in 1987-88. 7 goals.
Balotelli, Lambert, Lallana, Markovic first 5 games in 2014-15. 0 goals.
A harsh comparison? Maybe but when replacing your star player at least some of the replacements need to deliver (early season games count too!). We are more in line with doing a Spurs than doing a Kenny in 87-88.
Sturridge should be back for the Derby but how sharp he is remains to be seen. He'll probably be on the bench which means one of the new attacking signings having to make a proper impact. Hopefully one or two of them can come good and make me look like a wally.
I think we will bounce back against Everton but there will be more bumps in the road ahead certainly until the end of the calendar year. It's a good job the likes of United, Everton and Spurs all have their own problems this season so a top four spot should be attainable.