Centre-backs Dejan Lovren and Mamadou Sakho partnered each other for the first time in Liverpool's win over Spurs, and Jack Lusby believes this should continue.

With defensive mainstay Martin Skrtel suffering injury late on in Liverpool's 3-1 defeat to Manchester City, Liverpool manager Brendan Rodgers was forced to shuffle his pack for Sunday's visit to Spurs.
Opting to partner Dejan Lovren with Mamadou Sakho the Ulsterman gave a glimpse into the future of the Reds' central defence.
Maintaining the first clean sheet of the season, the Sakho-Lovren partnership was not without its faults—but keep a clean sheet it did all the same.
Skrtel may return following the lengthy international break, but the Sakho-Lovren partnership has shown enough to earn a consecutive run-out against Aston Villa in Liverpool's next Premier League encounter.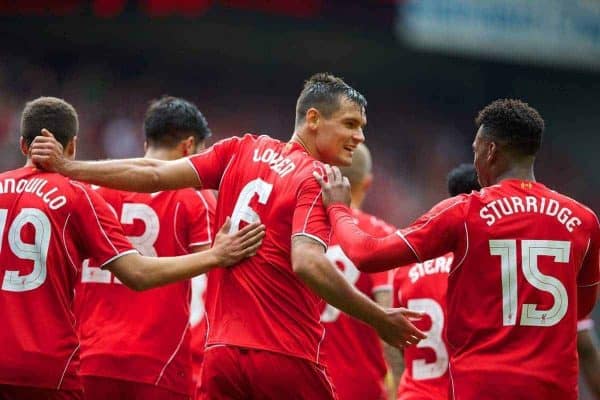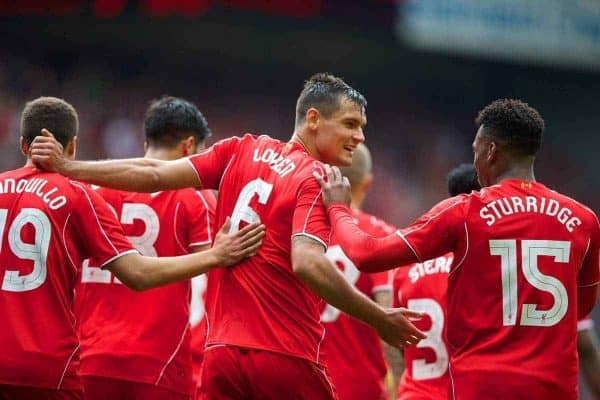 Keeping his place for the third game running against Spurs was £20 million summer signing, Lovren, who is continuing to find his feet in a Liverpool shirt.
Much has been made of Lovren's leadership qualities at the heart of defence, but with an ever-changing back line so far—be in centre-backs or full-backs—this has proved an issue.
This remains one of the Croatian's enduring qualities however.
A respected authority is joined by a welcome ease on the ball in possession and a no-nonsense style when it comes to defensive work.
Against Spurs, according to Squawka, Lovren made 13 clearances, two interceptions and three tackles.
Moving from the left-hand side of central defence to the right in this encounter, Lovren gave a good account of himself physically; however, the perceptive qualities of his game were somewhat lacking.
Mamadou Sakho

It was of great surprise to many that Rodgers waited this long to re-introduce French centre-back Sakho to his Reds first-team, but the former PSG man made his first outing of the season against Spurs.
Sakho is the archetypal modern defender: aggressive, front-footed and comfortable on the ball.
Against Spurs, the Frenchman made five clearances, two interceptions, and boasted a phenomenal passing accuracy of 92 per cent, according to Squawka; only Jordan Henderson found a teammate more often of any Liverpool starter.
"@lfcredynwa: @Roy_Evo @Murph080 do you think Sakho is too slow for the Premier League?"no not too slow just a bit careless on the ball

— ROY EVANS (@Roy_Evo) August 31, 2014
Despite the misconception that Sakho is "careless" on the ball, the Frenchman—given time to settle—maintains a style of play that should instil confidence in his defensive partners.
An imperious option at the back, Sakho should be built around.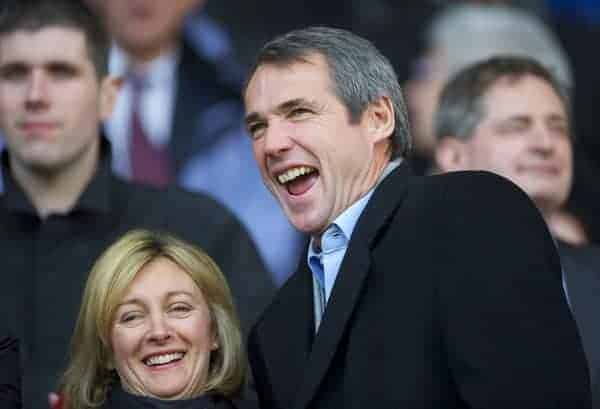 Two Left-Siders?
The main issue that arises with this partnership is that the pair have both played on the left of the two centre-backs for the majority of their career – Sakho, being left-footed, the whole of his.
Arguably Liverpool's greatest ever centre-back, Alan Hansen, was recently asked whether it is difficult for a left-sided centre-back to switch to the right-hand side, to which the Scot replied "extremely difficult":
@mrmarksimpson Extremely difficult, I did it in 89 and it is totally unknown territory.

— The Football Pools (@footballpools) August 21, 2014
Moving to the right-hand side in this instance was Lovren, but it did not seem so much of an issue in terms of technical prowess for the Croat in switching; any problems lay elsewhere.
The 25-year-old does have precedent on the right-side of defence, having been deployed there on occasions for former club Lyon. He has played most his career on the left though, including last season at Southampton, and thus is more comfortable there.
At the moment, it seems that Lovren is attempting to do too much to impress; this could be seen when cutting across Sakho against Spurs in an attempt to win the ball in the air, gifting Nacer Chadli with an opening.
Good save to keep Chadli out. Should really be 1-1 https://t.co/I9xWp0Sudr

— NevsFootyNaps (@NevsFootyNaps) August 31, 2014
This will likely be aided in time, and furthermore with the benefit of a more authoritative Simon Mignolet in goal—the sooner this comes about the better.
https://twitter.com/RyanMcTrippy/status/506905833960402944
https://twitter.com/RyanMcTrippy/status/506906082594541568
Communicative issues were rife against Spurs, but the pair triumphed in keeping a clean sheet nonetheless.
Most impressive was the style of play that Lovren, Sakho, and full-backs Javier Manquillo and Alberto Moreno utilised, and this is the fulcrum of the argument.
In the quartet, Rodgers finally possesses four capably front-footed, aggressive defenders, as adept at taking initiative and winning the ball as they are recycling possession and providing in more attacking climbs.
Look at Lovren and Moreno and then look at Skrtel and Johnson. Lovern leads the line so who is at fault? #LFC pic.twitter.com/Hg6DIbWmJq

— Robbie Sargent (@Sarge1972) August 25, 2014
Analysing City's second goal in the 3-1 loss at the end of August, this clearly demonstrates the discrepancies between Lovren and Moreno as intelligent, front-footed defenders stepping forward and Skrtel and Glen Johnson deceiving the defensive line.
Joined by Sakho and Manquillo, this is less of a quandary.
However, the problem of having two left-sided defenders generally arises when the right-sided centre-back—Lovren in this scenario—is forced to defend in wide areas.

This would be more of an issue with the abject Johnson in the right-back role, but in Manquillo the Reds have found a more dynamic right-back.
According to WhoScored, Manquillo has already made 10 successful tackles and 10 successful interceptions in 180 minutes of football; the 20-year-old will provide ample cover for Lovren on the right side.
Furthermore, Lovren has proven—particularly in his impressive debut against Southampton—that he is comfortable with the ball at both feet.
Lovren is actually right-footed, although very comfortable on his left, so perhaps he will be able to adapt to the right-side role given time to do so alongside Sakho.
[poll id="240″]
Whilst there will likely be teething problems, as seen against Spurs, when this defence settles it can become as formidable as any in the league.
Should Mamadou Sakho and Dejan Lovren continue to partner each other at centre-back? Let us know your thoughts in the comments below.